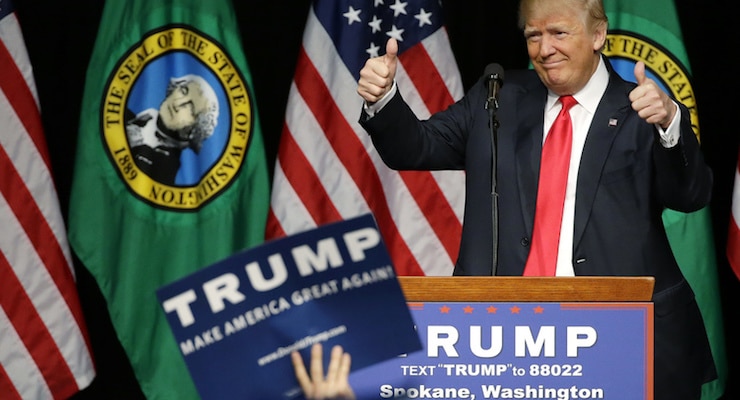 Donald Trump, the presumptive Republican nominee, said Saturday that former Gov. Jeb Bush and Sen. Lindsey Graham are lightweights who don't honor their words. The Donald called out his former rivals for breaking their pledge to support the party's nominee, something all 17 of the candidates agreed to do during the first Republican debate hosted by Fox News.
"Jeb Bush isn't an honorable person. Lindsey Graham isn't an honorable person," Trump said at a rally in Spokane, Washington. The campaign visit comes ahead of the state's May 24 primary and, even though the remaining two candidates suspended their campaigns after his big win in Indiana, Mr. Trump is on track to break the record for the most popular votes ever received by a Republican presidential candidate in the party's primary.
Mr. Trump surpassed Mitt Romney's vote following his five-state sweep through the Northeast last month. Ironically, the record currently belongs to former President George W. Bush, who along with the rest of the family said they will be sitting out the Republican National Convention this summer. Then-Texas Gov. Bush set the record while running for the nomination in 2000.
Nevertheless, all 17 major Republican presidential candidates officially signed the loyalty pledge issued by the Republican National Committee in September 2015, including Mr. Trump. In doing so, they also committed to not running as an independent, third-party candidate, write-in candidate or supporting a candidate from another party.
"Bush signed a pledge. While signing it, he fell asleep," Mr. Trump joked to the crowd, returning to his devastating branding tacts that labeled the former Florida governor as "low energy."
"Jeb Bush and Lindsey Graham are lightweights," he said. "When we went to South Carolina, he thought he had power. My 10-year-old son Barron had more power," adding that he was "a total dope constantly on TV knocking me."
Mr. Trump also took aim at his likely Democratic rival and Sen. Elizabeth Warren, D-Mass., a darling of the far left and potential running mate for Hillary Clinton. The first-term senator went on a Twitter tirade last week calling the Republican candidate xenophobic, racist and a bully.
Mr. Trump repeatedly called Sen. Warren a "goofus" and reminded the crowd she had lied about her Native American background to stage her education and career at an Ivy League college. While it was a minor issue during her successful bid against former Sen. Scott Brown, R-Mass., it was largely ignored by the media. When asked by journalists, she claimed her family always told her she was Native American and cited her mother's facial features.
"She's been going around pretending that she's a minority because she felt that her mother had high cheek bones" Mr. Trump mocked. "Let's see what she does when they say we want real proof that you're a Native American."
In a preview of the general election strategy, he repeatedly referred to his rival as "Crooked Hillary" and once again fired back at her for playing the woman's card by reminding the audience of her husband's history. The two had a similiar showdown a few months ago, when he responded to her calling him a misogynist by bringing up her role in attacking women who have accused her husband of sexual assault.
"She's married to a man who was the worst abuser of women in the history of politics," Mr Trump said of Clinton.