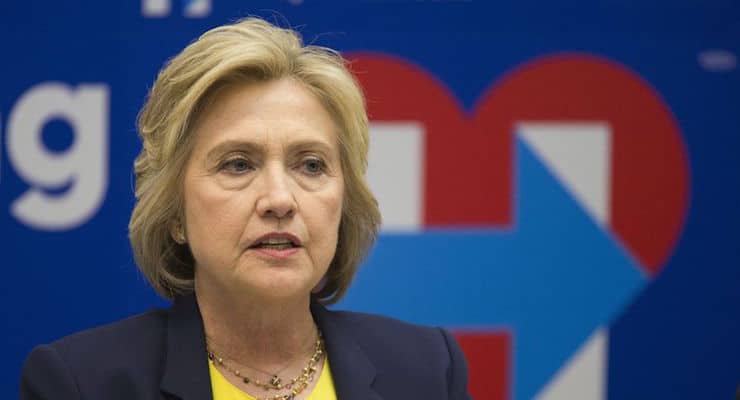 Hillary Clinton, the likely Democratic nominee, has responded to Donald Trump's attacks following a damning report by the inspector general at the State Department. Mr. Trump seized on internal audit conducted by the IG concluded Mrs. Clinton intentionally broke federal records-keeping rules while serving as secretary of state.
"Well I think the report is consistent with what I have been saying," Mrs. Clinton said in Las Vegas on Thursday. "The use of personal email was a practice by other secretaries of state and the rules were not clarified until after I left."
Not only is that statement, alone, not consistent but neither is her interpretation of what she actually said when it was first revealed that she used a home brew personal email server to conduct official state business. While it's true other previous secretaries of state were also cited in the report for poorly managing email, other computer information and slowly responding to new cybersecurity risks, Mrs. Clinton is the first and only one to refuse to 1) cooperate with investigators conducting the review and 2) to have kept her email on a private non-secure server.
It is also not the case that the rules were not clarified until after her tenure. Mrs. Clinton signed a legal document attesting to knowledge of the very same rules she broke and a laundry list of emails showing employees who challenged her on the setup were chastised. Further, the former secretary of state has repeatedly and falsely claimed that she cooperated with investigators, something the IG said neither she or her staff would agree to do.
In response to the report, Mr. Trump said it was "not good" and served as further evidence the nickname "Crooked Hillary" is appropriate. The 78-page report steered clear of speculating as to why Mrs. Clinton intentionally hid her emails, but others have said she w. Nevertheless, intent is not the legal standard for criminal activity, another false claim Mrs. Clinton repeated on Thursday.
"The Inspector General's findings are just the latest chapter in the long saga of Hillary Clinton's bad judgment that broke federal rules and endangered our national security," Republican National Committee (RNC) Chairman Reince Priebus said in a statement. "This detailed inquiry by an Obama appointee makes clear Hillary Clinton hasn't been telling the truth since day one, and her and her aides' refusal to cooperate with this probe only underscores that fact."
Federal investigators are nearing the final phases of their own investigation into "gross negligence" on the part of Mrs. Clinton. She also again characterized the criminal probe as a "security review."
James Comey, the director of the Federal Bureau of Investigation (FBI), pushed back on that assertion recently by stating flat-out he didn't know what a security review even meant. Mr. Comey made clear that FBI conducts criminal investigations, not fictional security reviews. As PPD previously reported, the investigation has expanded into whether there was "public corruption" relating to the Clinton Foundation.
Basically, more than 50 agents are looking into whether Mrs. Clinton was peddling influence, or selling governmental favors to the foundation's donors, a lucrative list that includes foreign governments and non-nation state actors.
"Although Clinton has long claimed her practices were like those of other Secretaries of State and allowed, the report states she was in clear violation of the Federal Records Act," RNC Chair Priebus said added. "And her incredible 2010 email exchange with a top aide ruling out a State Department email address only further underscores her motivation was secrecy, not convenience.
Meanwhile, Romanian hacker Guccifer–who recently claimed he hacked Clinton's server–pleaded guilty in federal court on Wednesday to separate hacking charges. Worth noting, the State Department is now backpedaling on a claim that the server was never hacked into.
Under a deal struck with the federal government, he has agreed to cooperate with federal authorities in the future. The plea agreement does not mention the FBI investigation of Clinton's email practices or his claims that he accessed her private server in March 2013. Such agreements typically do not stipulate how a defendant will aid the government.