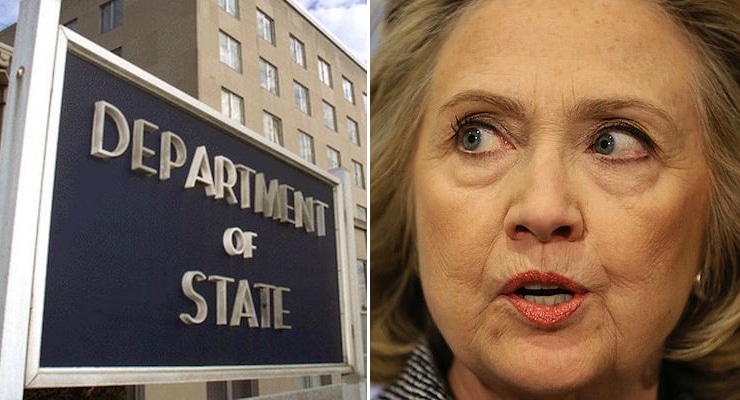 The State Department Office Of Inspector General (IG) released an audit last week that was absolutely damning to Hillary Clinton. Comparing the "Evaluation Of Email Records Management And Cybersecurity Requirements" with the former secretary of state's past excuses and explanations could only conclude she was lying–pretty much at every turn.
Here are a few of the most notable, relevant statements made by Mrs. Clinton that have now proven to be categorically false.
Clinton Claimed to Have Turned Over Emails
[brid video="39286″ player="2077″ title="FLASHBACK Hillary Clinton Claimed to Have Turned Over Emails in March 2015″]
Mrs. Clinton, during her remarks at a press conference in New York, NY, on March 10, 2015, claimed she turned over all her State Department emails that were business related when they were requested. That was not true.
"I  responded  right  away  and  provided all  my  emails that could possibly be work-related,  which totaled roughly 55,000 printed pages, even though I knew that the State Department already had the vast majority of them. We went through a thorough process to identify all of my work-related emails and deliver them to the State Department."
That was not true.
In truth, as we'll see shortly, Mrs. Clinton was well-aware it was her own responsibility to ensure her records were adequately preserved because the State Department did not capture "the vast majority" of anyone's records. Further, the audit stated Mrs. Clinton should have printed and saved her emails during her four years in office or immediately upon stepping down in February 2013.
Instead, Clinton provided those records in December 2014, nearly two years after leaving office and only after her people took it upon themselves to decide what was and was not to be surrendered. She admitted some 30,000 had been deleted, though the Federal Bureau of Investigation has reportedly managed to retrieve at least some of them.
Nevertheless, the IG report makes it clear.
"As previously discussed, however, sending emails from a personal account to other employees at their Department accounts is not an appropriate method of preserving any such emails that would constitute a Federal record," the report stated. "Therefore, Secretary Clinton should have preserved any Federal records she created and received on her personal account by printing and filing those records with the related files in the Office of the Secretary. At a minimum, Secretary Clinton should have surrendered all emails dealing with Department business before leaving government service and, because she did not do so, she did not comply with the Department's policies that were implemented in accordance with the Federal Records Act." — Pg. 23.
Claimed Her Emails Were Automatically Preserved
[brid video="39288″ player="2077″ title="FLASHBACK Hillary Clinton Falsely Claimed Her State Department Emails Were Preserved"]
"Secondly, under the Federal Records Act, records are defined as reported information, regardless of its form or characteristics, and in meeting the record keeping obligations, it was my practice to email government officials on their state or other .gov accounts so that the emails were immediately captured and preserved."
That was not true.
In truth, according to a department spokeswoman. the State Department only began automatically preserving emails in February, 2015. That's more than two years after Mrs. Clinton's tenure. So, what was her responsibility?
"If a senior official uses his or her private email account for the conduct of official business, she or he must ensure that records pertaining to official business that are sent from or received on such e-mail account are captured and maintained." — Pg. 64.
Claimed Personal Email "Was Allowed" and "Predecessors Did the Same Thing"
[brid video="39291″ player="2077″ title="FLASHBACK Clinton Claimed Email Server Was Allowed Predecessors Did Same Thing"]
Mrs. Clinton has also repeatedly claimed that she did not need to get anyone to sign off on the use of her personal email because it was allowed under the rules and her predecessors did the same thing.
"It was allowed under the rules of the State Department," Mrs. Clinton told Jake Tapper on CNN during an interview on October 16, 2015. No, it was allowed. You know, one of my predecessors did the same thing. Others in our government have done the same thing at very high levels because the rules did change after I left state department. But at the time and in prior years the rules allowed it."
First, using only private email to conduct official State Department business was not and is not allowed, and certainly not on a private home brew server. While Secretary Colin Powell did use a Gmail in a limited capacity, the audit completely refuted the latter ever did any such thing.
"Secretary Rice and her representative advised the Department and OIG that the Secretary did not use either personal or Department email accounts for official business," the inspector general stated. "OIG searched selected records and did not find any evidence to indicate that the Secretary used such accounts during her tenure." — Pg. 22
Pundit's Take
As a bonus fact-check, it is also clear that Mrs. Clinton lied about her willingness to participate with investigators. From her first press conference at the United Nations in March to the present she has repeatedly claimed she has cooperated at every turn. That was known from previous reports, but the IG confirmed Mrs. Clinton is not at all being forthcoming.
As the tale of the tape shows, she has completely misled the American people and outrageously continues to do so.