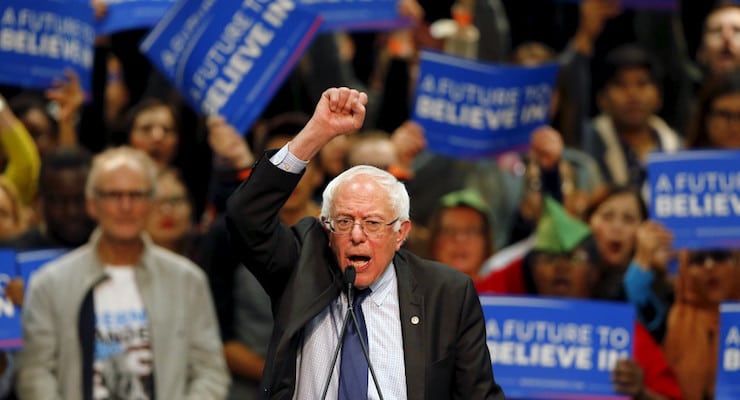 Vermont Sen. Bernie Sanders told Jake Tapper on CNN's "State of the Union" Sunday he had a problem with the Clinton Foundation taking money from foreign governments, particularly while Hillary Clinton was serving as secretary of state.
"If you ask me about the Clinton Foundation, do I have a problem when a sitting secretary of state and a foundation run by her husband collects many millions of dollars from foreign governments, many governments which are dictatorships… yeah I do," Sen. Sanders said.
The self-described socialist's comments come as he is hoping to upset Mrs. Clinton in California, when the biggest delegate prize holds its primary on Tuesday. While the frontrunner hopes to clinch the nomination that same day, she will likely need the superdelegates to put her over the top. But Sen. Sanders hopes a humiliating and fading poll numbers against presumptive Republican nominee Donald Trump will persuade them to change their minds.
Up until this past week, the Vermont socialist has been unwilling to go after his rival on the issue of corruption. As PPD previously reported, the Federal Bureau of Investigation has expanded their probe into whether Mrs. Clinton mishandled classified information to include public corruption with the Clinton Foundation.
Mr. Tapper asked whether he thought that the Clinton Foundation's activities represented a "conflict of interest," Sen. Sanders took it farther than he had been previously willing to do.
"Yes, I do," it is a "conflict of interest."
There are a total 548 delegates up for grabs in the California Democratic primary, including 317 in the congressional districts. Another 105 are at large, 53 are Pledged PLEOs and 73 Unpledged PLEOs.
"This may be the end of the road for the Sanders campaign," said PPD's senior political analyst Richard D. Baris. "They don't believe these numbers and actually feel that they have a good shot to defeat Mrs. Clinton in the Golden State. It wouldn't be the first primary this cycle where the polling was grossly off."
"But if it's the end of a longer-than-anticipated road for Bernie, it looks like the beginning of a tough road for Mrs. Clinton."