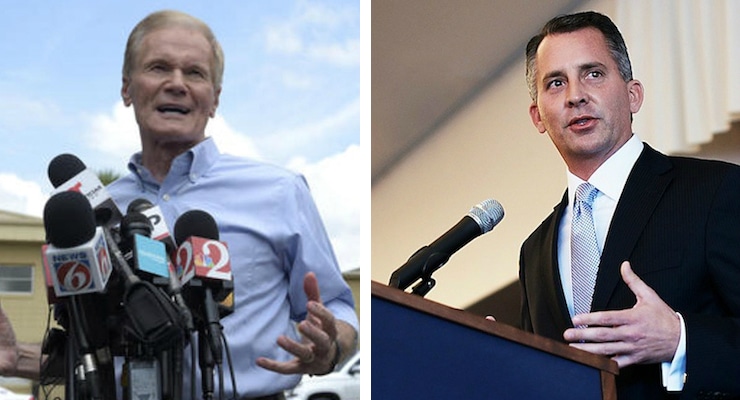 In the wake of the Orlando terror attack, two Florida lawmakers have announced they have proposed legislation aiming to curb terrorist attacks and gun violence.
Sen. Bill Nelson, D-Fla., announced Wednesday that he is filing a bill that would allow the Federal Bureau of Investigation (FBI) to be notified when a person with possible ties to terrorism purchases a gun. Omar Mateen, 29, a Muslim U.S. citizen born to Afghan parents who opened fire and killed at least 49 people, was "on the radar" and previously investigated by the FBI at least two times.
But Mateen was removed from from the FBI's Terrorist Screening Database.
Sen. Nelson, a senior member of the Senate Armed Services Committee and former member of the Intelligence Committee, wants any individual who is, or has been investigated for possible ties to terrorism to be entered into the National Instant Criminal Background Check System (NICS), which gun shop owners use to run background checks on prospective gun buyers.
If a background check is conducted for a prospective gun buyer who is, or has been investigated for potential ties to terrorism, Nelson's bill would require that the NICS system automatically notify the appropriate division of the FBI.
FBI Director James Comey previously said "once an investigation is closed there is then no notification of any sort that is triggered by that person then attempting to purchase a firearm when the cases were closed as inconclusive."
Sen. Nelson's bill would not automatically bar someone previously investigated for possible ties to terrorism from purchasing a firearm, but rather require these individuals be entered into the NICS system and that the FBI be notified if any of those individuals attempt to purchase a firearm.
The bill now heads to the Senate's Judiciary Committee for consideration.
However, Sen. Nelson, who is up for reelection in November, also cosponsored a far more strict measure that would, among other things, bar known or suspected terrorists on government watch lists from purchasing a firearm. Gun rights and Second Amendment advocates oppose the idea of banning those on government lists from purchasing firearms because 1) there is no mechanism to dispute your status on the list and 2), anyone could be put on the list with less than convincing evidence.
"Sen. Nelson is doing the reelection dance with this maneuver," said PPD's senior political analyst Richard Baris. "He publicly proposed a very narrow measure that wouldn't harm his electoral prospects in a rather pro-gun state, but less publicly threw his support behind a much less popular proposal."
Another Florida lawmaker agrees, and is attempting to address this deal-breaker.
Rep. David Jolly, R-Fla., District-13, drafted legislation this week that says a person on the terror watch list would only be temporarily prohibited from purchasing a firearm.
"It is common sense that if you are on a national terror list and can't fly on a plane, you should not be allowed to buy a gun," Rep. Jolly said. "But the fact is the existing proposal repeatedly pushed by some in Congress to ban firearm purchases by those on the no-fly list is fatally flawed because it provides no due process or recourse protections for innocent law-abiding individuals wrongfully or mistakenly included on the list."
According to PPD's research, Rep. Jolly's legislation is the first ever to propose due process protections for lawful gun owners who are wrongly or mistakenly added to watch and no-fly lists. Under Rep. Jolly's proposal, if the person attempts to purchase a firearm and is denied because they are on a watch list, then they must be notified they are on the list within 10 days from the time of attempted purchase.
Further, the bill states an individual is entitled to a due process hearing within 30 days before a federal judge, at which time the federal government must demonstrate "by a preponderance of the evidence" that the individual should be on the watch list and barred from purchasing a firearm. The individual is entitled to see all unclassified evidence against them, and the proceeding remains private to protect the privacy of the individual and the interest of the government.
"The fundamental issues are obvious. Law abiding individuals should be protected under the Second Amendment and have the right to purchase firearms. Dangerous individuals should not," Rep. Jolly said. "And both should be afforded due process under the law."