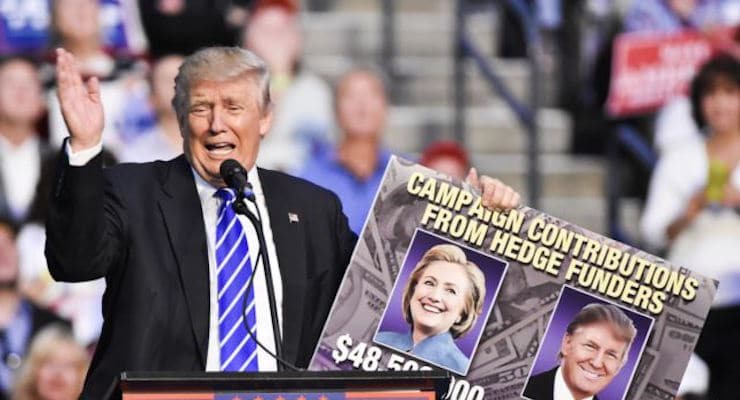 Donald Trump tripled down on the claim President Barack Obama, aided by Hillary Clinton, was the founder of ISIS, the Islamic State (ISIS) in Iraq. The claim, which was met with intense media scrutiny, was a reference to abandoning Iraq.
The Republican presidential candidate was given an opportunity to re-phrase his remarks during an interview with conservative radio host Hugh Hewitt on Thursday. Mr. Hewitt, though a CNN conservative, is and has always been against Mr. Trump.
"You meant that he created the vacuum, he lost the peace," Mr. Hewitt said during their exchange.
"No, I meant he's the founder of ISIS. I do," Mr. Trump responded. "He was the most valuable player. I give him the most valuable player award. I give her, too, by the way, Hillary Clinton."
Mr. Hewitt's response was telling, but the candidate refused to meet him halfway.
"But he's not sympathetic to them," Mr. Hewitt said, referring to President Obama. "He hates them. He's trying to kill them."
That claim in and of itself is debated by many foreign policy and security experts. The U.S.-led air campaign against ISIS has not been a historically intense campaign and has not truly "contained" Islamic State as they spread a global network. A House task force investigating the allegations of a Defense Department whistleblower found this week that U.S. Central Command skewed intelligence reports tracking the Islamic State's rise to paint a more "optimistic" picture for the American public
"I don't care," Mr. Trump said. "He was the founder. His, the way he got out of Iraq was that, that was the founding of ISIS, OK?"
In reality, Abu Bakr al-Baghdadi, who built upon the work of Abu Musab al-Zarqawi, founded the Islamic State.
When asked for a comment, the White House responded with "Are you kidding me?"
Mr. Trump, who now trails Mrs. Clinton by roughly 3 points on the People's Pundit Daily U.S. Presidential Election Tracking Poll, claimed he was being "sarcastic."