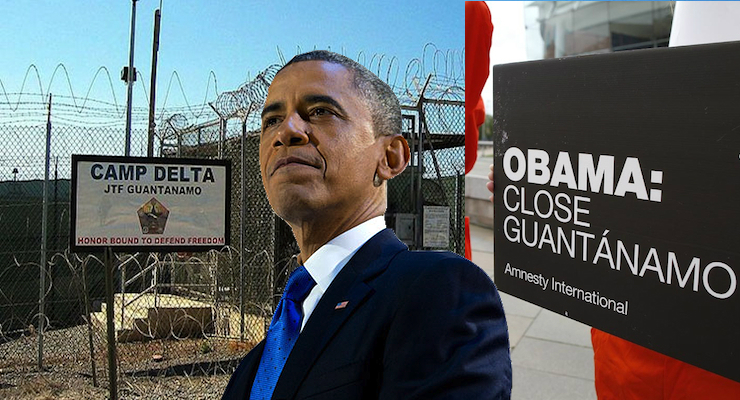 On Monday, 15 Guantanamo Bay detainees were sent to the United Arab Emirates (UAE) in the single largest transfer to date during the Obama administration. The Pentagon said the transfer consisted of 12 Yemeni nationals and three Afghans–to include Osama bin Laden's bodyguard–to the UAE. The transfer also marks a last-minute, renewed push to reduce the number of Gitmo detainees so much that President Barack Obama can argue for closing the U.S. prison in Cuba.
Essentially, he wants the cost to no longer justify keeping the prison open in order to fulfill a campaign promise going back to 2008. As People's Pundit Daily has repeatedly reported, Americans overall are against the closure of Guantanamo Bay, which opened in January 2002 and now only houses 61 detainees suspected of links to the Taliban or Al Qaeda.
During the Bush administration, 532 prisoners were released from Guantanamo, often in large groups to Afghanistan and Saudi Arabia. However, the recidivism rate, or the rate at which prisoners return to Islamic extremist activities, has only been revealed over the last few years and has increased over time.
Still, the latest detainees to be transferred in most part had been held without charge for some 14 years at Guantanamo. They were cleared for release by the Periodic Review Board, which is made up of representatives from six U.S. government agencies. Critics have characterized them as little more than political appointees doing the president's bidding, despite the conclusions.
Lee Wolosky, the State Department's special envoy for Guantanamo's closure, thanked the UAE for accepting the 15 men, which he says ultimately helps to move forward on the detention center's closure. The Pentagon claims the UAE successfully resettled five detainees transferred there last year, a claim critics dispute.
"The continued operation of the detention facility weakens our national security by draining resources, damaging our relationships with key allies and partners, and emboldening violent extremists," Mr. Wolosky said.
President Obama announced in February 2016 that he would seek to close the detention center, a plan that was met with bipartisan opposition in Congress and among the American voter. According to a government report, U.S. intel officials believe upwards of 20 to 30 Guantanamo Bay detainees released by the Obama administration joined the Islamic State in 2015.
A recent Gallup poll found just 29% of Americans support closing the terrorist detention camp and moving its prisoners, while 66% oppose doing so. As with the latest PPD Poll, ideology is the most predictive factor when determining a respondent's answer, not party preference or ID. A recent PPD Poll found just 28 percent of American registered voters supported Obama closing Gitmo, and 59 percent say the administration isn't being truthful when they claim only 6 percent have returned to the War on Terror battlefield.
Voters simply don't believe his administration over the U.S. intel community regarding the rate of return.