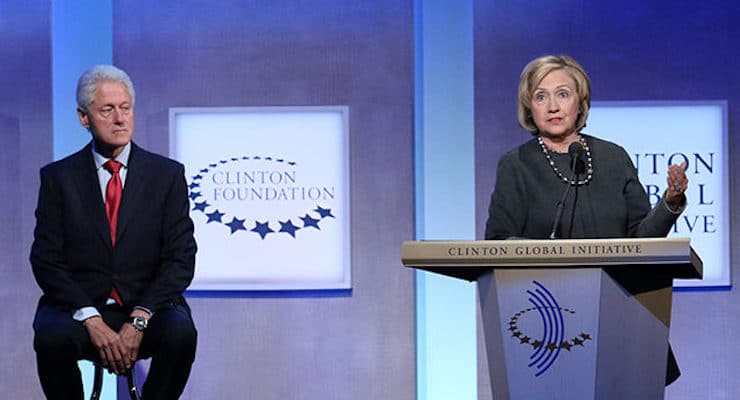 A new report confirms the Federal Bureau of Investigation (FBI) is conducting "very high priority" probe into public corruption at the Clinton Foundation. Fox News confirmed a prior report by People's Pundit Daily on Wednesday claiming multiple FBI offices–including regional locations in D.C., New York, Arkansas and California–have been investigating the Clinton Foundation for at least a year and, sources say, there is a high likelihood of an indictment.
That applies even if Hillary Clinton wins the White House on Tuesday or not.
The FBI's White Collar Crime Division is handling the investigation, which is looking into pay-for-play corruption between then-Secretary of State Hillary Clinton and the Clinton Foundation. Agents have interviewed several people twice, and plans to interview some for a third time. The laptops of longtime Clinton aides Cheryl Mills and Heather Samuelson were not been destroyed, and agents are currently combing through them.
Sources also told Fox News that even before the anti-secrecy group WikiLeaks released emails linked to the Clinton campaign, many of which not only indicated pay-for-play corruption but actually had subject lines using the term, FBI agents were collecting an "avalanche" of evidence.
PPD confirmed that evidence includes but is not limited to testimony and audio collected by an informant. Agents further said with 99% accuracy that Mrs. Clinton's server has been hacked by at least 5 foreign intelligence agencies, and that sensitive information had been taken from it.
"There is an avalanche of new information coming in every day," one source told Fox News, who added some of the new information is coming from the WikiLeaks documents and new emails. FBI agents are "actively and aggressively pursuing this case."
Agents are also going through what Clinton and top aides have said in previous interviews and the FBI 302, documents agents use to report interviews they conduct, to make sure notes line up, according to sources. They have also said that "an indictment is likely barring some obstruction in some way" from the Justice Department.
Officials from the FBI did not immediately respond Wednesday to requests for comment.