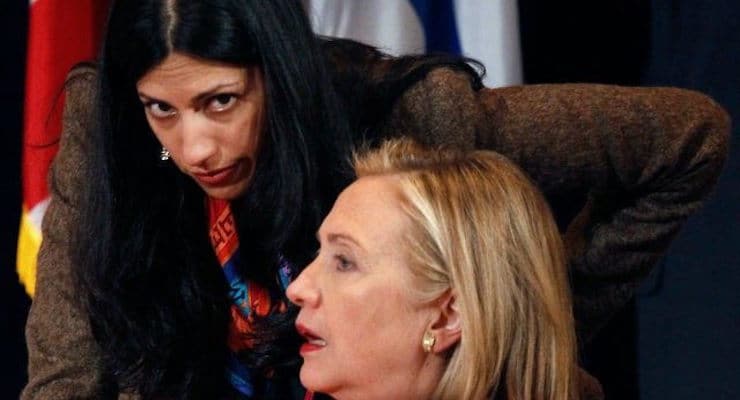 The Federal Bureau of Investigation (FBI) have found new emails between Hillary Clinton and top aide Huma Abdein on the computer seized last week, sources tell PPD. Despite the Clinton campaign's claims, these are not duplicate emails already reviewed by the Bureau.
Last Sunday, the FBI obtained a warrant to review newly discovered emails Director James Comey said were "pertinent" to the Clinton email investigation found on a laptop Ms. Abedin shared with her soon-to-be ex-husband, the disgraced New York Democratic congressman Anthony Weiner. The FBI was investigating Mr. Weiner for sexting with a 15-year old girl.
Sources tell PPD the laptop was used to make multiple back ups for Abedin's work at the State Department, which contain emails sent to and from Mrs. Clinton, a revelation indicating she lied to the FBI and under oath during a deposition for the watchdog group Judicial Watch. One source, who has knowledge of the probe, also said they are now taking the appropriate steps to determine whether or not the material was or is classified, which Mr. Weiner would not have had the legal authority to have in his possession or even have access to.
While investigators are attempting to complete the review of Ms. Abedin's emails expeditiously, it was unclear what developments would come before the election on on Tuesday, November 8.
The new discovery raises the potential Ms. Abedin will face legal troubles in the future. In February 2013, Abedin signed a routine State Department document under penalty of perjury in which she promised to "turn over all classified or administratively controlled documents and materials" before she left her government job, and promised that she was not retaining copies, "including any diaries, memorandums of conversation or other documents of a personal nature."
The Clinton email investigation, which closed without charges in July, was confirmed reopened last Friday when Director Comey alerted lawmakers in a letter. The latest development also comes after sources confirmed to Fox News an earlier report by PPD claiming FBI agents are "actively and aggressively pursuing" the Clinton Foundation public corruption case, calling it a "very high priority."
The FBI's White Collar Crime Division, which involves at least four regional Bureaus–including D.C., New York, Arkansas and California–have been investigating the Clinton Foundation for at least a year and uncovered an "avalanche of evidence" in the case.
Further, sources also say there is a 99% chance that as many as 5 foreign intelligence agencies accessed Mrs. Clinton's emails and stolen them, putting a lie to President Obama's claim that Clinton did not jeopardize national security.