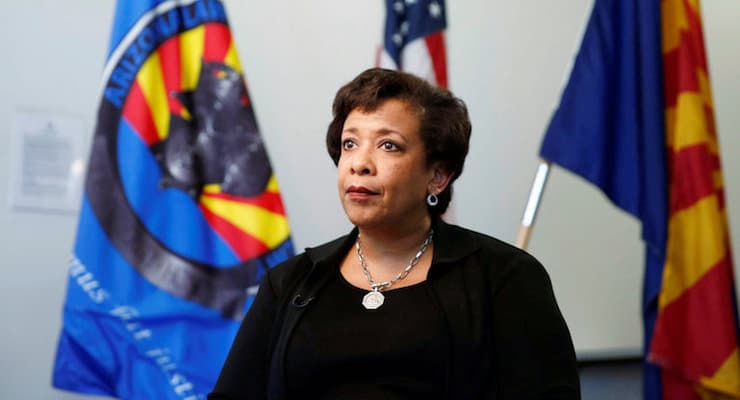 [brid video="72865″ player="2077″ title="James Kallstrom Head of the DOJ and her minions are part of the DNC"]
James Kallstrom, the former assistant director the Federal Bureau of Investigation (FBI), said the Justice Department (DOJ) under Loretta Lynch has been politicized. He said Lynch and her "minions are really working for the Democratic National Committee, not in the pursuit of justice.
"The head of the Justice Department and her minions are really part of the Democratic National Committee," he said of Lynch and her subordinates. They are acting that way."
Lynch, who was appointed to her role as U.S. Attorney in New York by former President Bill Clinton, first came under fire in July when it was revealed she met him in secret on her government airplane at Phoenix Sky Harbor International Airport. At the time, Mrs. Clinton was (and still is) the subject of two federal criminal investigations. Under mounting public pressure and fallout, Lynch vowed to accept the recommendation from the FBI and career prosecutors at DOJ.
But as we now know from multiple FBI agents, Lynch knew the investigation was a sham. Justice Department officials blocked agents investigating the case from obtaining subpoena power and convening a grand jury. In fact, they continue to do so even as at least 4 regional Bureau teams investigate public corruption at the Clinton Foundation.
"It usually hasn't been a problem in the United States," he said about political interference in the Justice Department. "On a few occasions it has been if you look back, but it is totally politicized today."
But Lynch isn't the only one who has come under scrutiny or made headlines in recent days.
An email released by the anti-secrecy group WikiLeaks revealed Assistant Attorney General Peter Kadzik tipped off Clinton campaign chair John Podesta. With an email reading "Subject: Fwd: Heads up" on May 19, 2015, Mr. Kadzik made headlines regarding the Clinton email investigation for the second time in a week.
"There is a HJC oversight hearing today where the head of our Civil Division will testify. Likely to get questions on State Department emails," Kadzik wrote. "Another filing in the FOIA case went in last night or will go in this am that indicates it will be awhile (2016) before the State Department posts the emails."
Why does that matter?
Last week, after FBI Director James Comey informed Congress the FBI was reopening its inquiry after discovering new "pertinent" evidence linked to Clinton aide Huma Abedin, congressional leaders wrote to the Department of Justice seeking more information.
Kadzik replied.
"We assure you that the Department will continue to work closely with the FBI and together, dedicate all necessary resources and take appropriate steps as expeditiously as possible," he wrote on October 31.
Mr.Kadzik also represented Podesta in 1998 when independent counsel Kenneth Starr was investigating Podesta for his possible role in helping ex-Bill Clinton intern and mistress Monica Lewinsky land a job at the United Nations.
"Fantastic lawyer. Kept me out of jail," Podesta wrote on September 8, 2008 to Obama aide Cassandra Butts, according to emails hacked from Podesta's Gmail account and posted by WikiLeaks.
He also lobbied for a tax cheat later pardoned by then-President Bill Clinton and led the effort to confirm Attorney General Loretta Lynch, who tried to stop the FBI from investigating the Clinton Foundation for public corruption. The DoJ is not only responsible for approving the Bureau's warrant applications but also for convening a grand jury.
Mr. Podesta and Mr. Kadzik kept up their relationship after he was appointed to the DoJ. In a May 5, 2015 email, Kadzik's son, PJ, wrote to Podesta seeking a job on Hillary Clinton's newly launched presidential campaign.
"I have always aspired to work on a presidential campaign, and have been waiting for some time now for Hilary [sic] to announce so that I can finally make this aspiration a reality," PJ Kadzik wrote.
The former assistant director of the FBI cited the revelations in the leaked emails and called on Lynch, as well as others, to step aside from the investigation.
"Just look at the stuff on WikiLeaks and see her connections, and look at her going on that airplane [with Bill Clinton]," Kallstrom added. "She should really recuse herself from the investigation, and so should some of the people in the FBI."