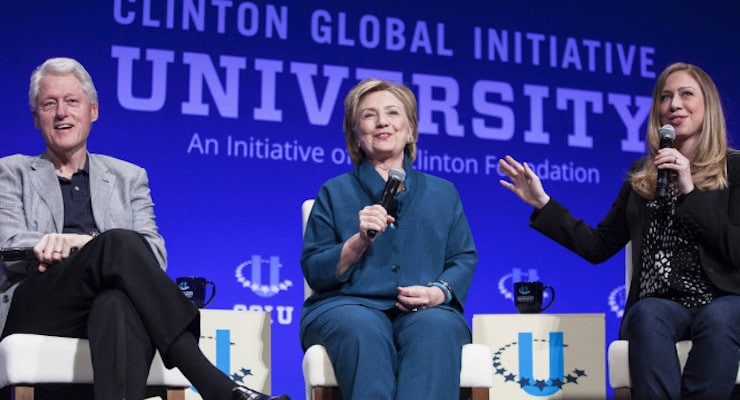 The State Department confirmed the Clinton Foundation accepted a $1 million from Qatar while Hillary Clinton served as secretary of state without informing the agency. The gift, which was revealed in an email from Clinton campaign chairman John Podesta's account released by WikiLeaks, goes against Mrs. Clinton's agreement with President Barack Obama and her promise to let the agency review new or significantly increased support from foreign governments.
Qatari officials pledge to give the money to the Clinton Foundation in 2011 to mark Bill Clinton's 65th birthday, the former president, under the premise they would gain an opportunity to meet the former president and husband to the future president. They agreed to give him the money in person the following year, according to the email. State Department officials say they have no record of the gift or any request to approve it, as the agreement stipulated.
As demanded by President Obama in exchange for her appointment to the State Department, Mrs. Clinton signed an ethics agreement relating to her family's foundation in 2009. The agreement was designed not only to avoid the appearances of a conflict, but actual influence on U.S. foreign policy by big wealthy global donors.
Any government request to "increase materially" in support of the Clinton Foundation was required to be reviewed by a State Department ethics official. But that did not happen. While Clinton Foundation officials last month declined to confirm the Qatar donation, spokesperson Brian Cookstra finally admitted this week that it accepted the $1 million contribution from Qatar. However, they maintain they do not consider it a "material increase" in support for the charity.
Even though Mr. Cookstra declined to say whether Qatari officials received their requested meeting with Bill Clinton, the email made the requirement for the money clear.
QATAR

– Would like to see WJC "for five minutes" in NYC, to present $1 million check that Qatar promised for WJC's birthday in 2011.

– Qatar would welcome our suggestions for investments in Haiti – particularly on education and health. They have allocated most of their $20 million but are happy to consider projects we suggest. I'm collecting input from CF Haiti team.
A State Department official, who spoke on the condition of anonymity, said the agreement made clear to the former secretary and her aides that it would be up to the Clinton Foundation to disclosure these gifts. They also said they were required to notify the State Department about donations that needed to be reviewed by ethics officers.
Other emails released by WikiLeaks indicate Mr. Clinton raised more than $21 million in connection with Bill Clinton's 65th birthday in 2011, alone.
As People's Pundit Daily previously reported in October, a review of tax returns and regulatory filings found the Clinton family charities to be in clear violation of New York law governing foreign contributions. Even though federal law does not require a charity to make government donors public, instructions from FORM CHAR500 provided by Democratic New York Attorney General Eric Schneiderman's office states charities operating or raising funds in New York must list them.
The contribution from Qatar were not listed.
Yet, Mr. Schneiderman, who has endorsed Mrs. Clinton for president and donated to the campaign, said his office believes the Clinton family charities are "in step" with state laws.