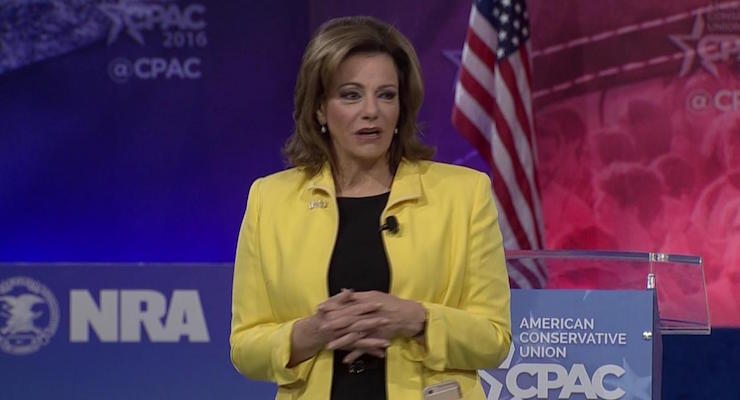 President-elect Donald J. Trump has chosen KT McFarland for the role of Deputy National Security Adviser, second to Lt. Gen. Michael Flynn. Currently Fox News' National Security Analyst and Contributor, she is also the host of FOXNews.com's DEFCON and a FOXNews.com Opinions page columnist.
Mrs. McFarland was born Kathleen Troia in Madison, Wisconsin, and is a graduate of George Washington University. She has a deep government resume highlighting a career that began while she was just a freshman at George Washington University. She got a part-time job in the White House Situation Room typing the President's Daily Brief.
"I am proud that KT has once again decided to serve our country and join my national security team," said President-elect Trump. "She has tremendous experience and innate talent that will complement the fantastic team we are assembling, which is crucial because nothing is more important than keeping our people safe."
The latest pick marks the fourth high-profile national security position filled since the Trump transition team got underway, adding to Lt Gen. Flynn as National Security Adviser, Rep. Mike Pompeo as CIA Director and Sen. Jeff Sessions as Attorney General.
"The American people chose Donald J. Trump to lead them for a reason," said Ms. McFarland. "He has the courage, brilliance and energy to Make America Great Again, and nobody has called foreign policy right more than President-elect Trump, and he gets no credit for it. I'm honored and humbled that he has asked me to be part of his team."
Big Media is hysterical in their attempt to paint the transition as being in disarray, but as PPD revealed last week the team is leaps and bounds beyond prior presidential transitions on appointments. Former President Bill Clinton didn't announce a single appointment until the sixth week, the current president made his first appointment during the third week and President Ronald Reagan didn't announce a pick until the eight week.
McFarland, largely a proponent of Reaganite realism, spent seven years in the West Wing of the White House before earning a spot on Henry Kissinger's National Security Council Staff. Returning to academics after the Ford Administration, she studied at Oxford University and the Massachusetts Institute of Technology. Mrs. McFarland also served as the Deputy Assistant Secretary of Defense for Public Affairs under President Ronald Reagan from 1982 to 1985 as a spokeswoman and senior speechwriter for Defense Secretary Caspar Weinberger, the architect of the realist Weinberger Doctrine.
She actually wrote the Weinberger Principles of War Speech, which outlined the limited threats to vital national security interests that justify the use of force.
The Deputy National Security Adviser is a position that does not require Senate confirmation, as is the case with Lt. Gen. Flynn. She has been a staunch critic of President Barack Obama's doctrine and strategy to combat Islamic terrorism.
Watch KT McFarland at CPAC 2015 — A Strong America: Protecting Opportunity For All
[brid video="80814″ player="2077″ title="CPAC 2015 A Strong America Protecting Opportunity for All"]