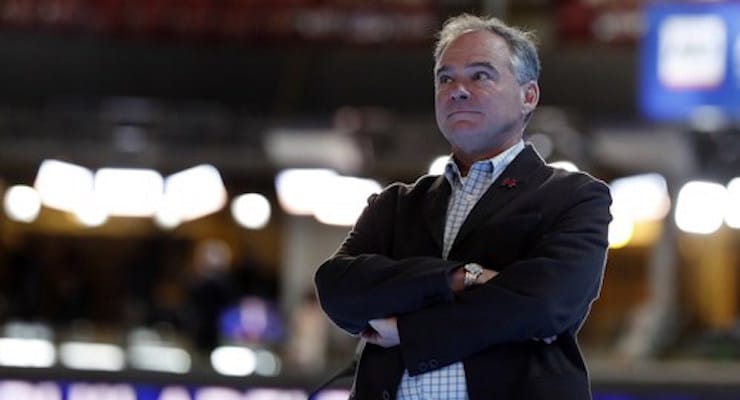 Sen. Tim Kaine, D-Va., Hillary Clinton's vice presidential running mate, blamed a "senseless act of gun violence" for the Ohio State University attack. In a knee-jerk reaction fueled by a desire to spout anti-Second Amendment talking points, Sen. Kaine apparently didn't bother to learn there was no gun involved in the attack.
Deeply saddened by the senseless act of gun violence at Ohio State this morning. Praying for the injured and the entire Buckeye community

— Senator Tim Kaine (@timkaine) November 28, 2016
In reality, Abdul Razak Ali Artan, an 18-year-old Somali refugee and student, was behind the attack that involved a car and a knife on the campus of Ohio State University Monday. It left nine people injured.
Sen. Kaine, who repeatedly questioned the judgement of President-elect Donald J. Trump, was forced to tweet a message clarifying his response. But rather than a true clarification, he blamed early reports for not waiting for adequate information or "updated reports."
Updated reports say attacker used a vehicle & knife. Horrifying & senseless. Relieved the scene is secure & praying for victims' recovery https://t.co/CzKRjM3qlO

— Senator Tim Kaine (@timkaine) November 28, 2016
For the record, it is common to get erroneous information in the early hours of the onset of a shooting or terror attack, which is something Sen. Kaine knows full-well. He, along with other Democrats, were obviously overwhelmed with excitement over the prospect of attacking the Second Amendment constitutional rights of law-abiding citizens.
Further, Sen. Kaine wasn't even the worst case of politicization. Vox, a leftwing off-shoot of The Washington Post, brought up gun violence even after they conceded a gun wasn't used in the crime.
As more of these events end up in the news, the the country is consistently forced to consider why the U.S., more than any other developed nation, suffers from such extraordinary levels of gun violence.
Again, in reality, crime statistics from the Federal Bureau of Investigation clearly show nearly three times more people are stabbed to death than killed with rifles & shotguns.