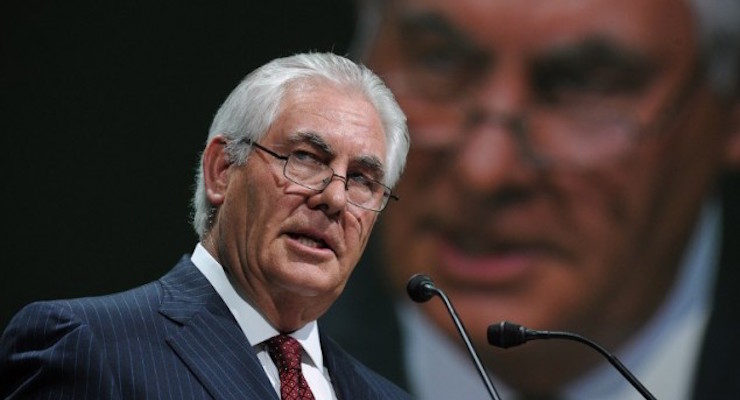 President-elect Donald J. Trump is set to confirm that he will nominate Exxon Mobil CEO Rex Tillerson for secretary of state (SOS) and reportedly his next secretary of energy (SOE). The announcement comes a few days after former New York City Mayor Rudy Giuliani withdrew his name from consideration and amid controversy Mr. Trump was seriously considering former Gov. Mitt Romney.
"It was an honor to have been considered for Secretary of State of our great country," Gov. Romney said in a statement. "My discussions with President-elect Trump have been both enjoyable and enlightening. I have very high hopes that the new administration will lead the nation to greater strength, prosperity and peace."
Gov. Romney, who was more than just the most vocal critic of the president-elect during the Republican primary, was an unacceptable choice to some in the inner-circle. But as PPD previously reported, the former Republican nominee's stock began to fall last week and Mr. Tillerson's began to rise. Sources also said that former U.N. Ambassador John Bolton is the top pick for the number two post at the State Department.
On Sunday, the president-elect during an interview on Fox News Sunday praised Mr. Tillerson and responded to critics claiming he did not have the requisite political experience. During the campaign, the New York businessman vowed to pass over "political hacks" and appoint the smartest private sector minds to the nation's top posts.
"He's more than just a businessman," President-elect Trump said. "He's a world-class player."
Meanwhile, multiple sources with knowledge of the process say that former Texas Gov. Rick Perry will be chosen to head up the Department of Energy.
President-elect Trump continues his unprecedented "Thank You" tour Tuesday in West Allis, Wisconsin. He was the first Republican presidential candidate to carry The Badger State since Ronald Reagan's landslide reelection win in 1984. As PPD previously reported, the Wisconsin recount requested by Green Party candidate Jill Stein, and backed by Hillary Clinton, resulted in Mr. Trump widening his lead slightly by more than 100 additional votes.
The final Wisconsin vote is in and guess what – we just picked up an additional 131 votes. The Dems and Green Party can now rest. Scam!

— Donald J. Trump (@realDonaldTrump) December 12, 2016
On Thursday, he make his next "Thank You" tour visit to Hershey, Pennsylvania, a state that hadn't voted Republican since 1988. On Friday, he will return to Orlando, Florida.