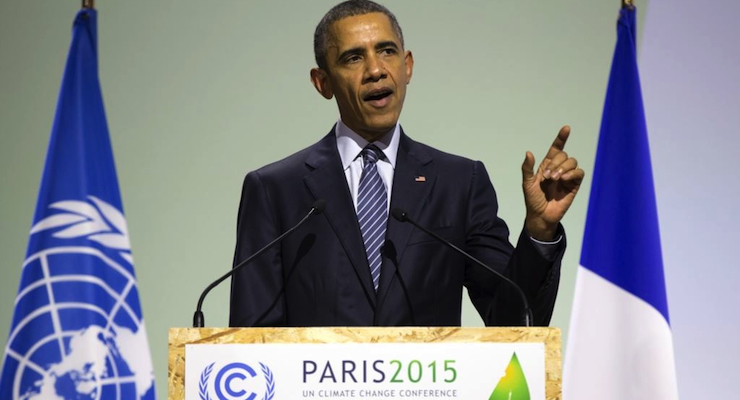 One month before the end of his presidency, President Barack Obama ordered large swaths of the Atlantic and Arctic oceans to be off-limits "indefinitely" to future oil drilling. The order was done with the hope his successor President-elect Donald J. Trump will be unable to reverse the order.
"Today, in partnership with our neighbors and allies in Canada, the United States is taking historic steps to build a strong Arctic economy, preserve a healthy Arctic ecosystem and protect our fragile Arctic waters, including designating the bulk of our Arctic water and certain areas in the Atlantic Ocean as indefinitely off limits to future oil and gas leasing," the White House said in a statement, issued while Obama is on vacation with his family in Hawaii.
Even though the order uses executive powers, Obama used a 1953 provision permitting the president to ban offshore leases in the outer Continental Shelf–permanently. President-elect Trump has pledged to open up more land and sea targets for energy production and has announced cabinet appointments demonstrating he intends to make good on those promises.
Shortly after confirming he has chosen Exxon Mobil CEO Rex Tillerson as his Secretary of the U.S. State Department, President-elect Trump announced last week he intends to nominate former Texas Gov. Rick Perry as Secretary of the U.S. Department of Energy (DOE). As the 47th top executive of Texas from 2000 to 2015, a still-popular Gov. Perry oversaw the world's 12th largest economy and major energy-producing state.
Those two picks followed outrage from leftwing environmental groups reacting to the selection of Oklahoma Attorney General Scott Pruitt as the new administrator of the Environmental Protection Agency (EPA). Mr. Pruitt, 48, has been a critic of the "activist agenda" at the EPA. Since 2011, Mr. Pruitt has repeatedly filed suit against the EPA and joined with other Republican attorneys general in opposing the Clean Power Plan and Clean Water Act.
Those industry heads who praised the new picks are now condemning the soon-to-be old president's new order.
Independent Petroleum Association of America (IPAA) Senior Vice President Dan Naatz said in a statement the group was "extremely disappointed in President Obama's eleventh hour decision to shut down economic development and lock away America's true energy potential for communities that need it most."
The order is meant to follow-up on another from earlier this year, when the administration removed potential Atlantic lease sales from its blueprint for offshore drilling. However, the prior ban related only to a five-year period starting in 2017, which could be easily reversed by President-elect Trump when he puts forward his own five-year blueprint.
Despite the language of the old law, most scoffed at the idea that the executive action would be permanent or safe from a Trump Administration.
"There's no such thing as a permanent ban," said Erik Milito, a policy director at the American Petroleum Institute.
While leftwing environmental activists and legal consul dispute that assertion, the bottom line is that President-elect Trump will likely issue an order reversing Mr. Obama's. Then, it would be up those groups and others to challenge that action in court. With at least one Supreme Court vacancy left for the new president to fill, the conservative members of the court will remain the majority.
If he doesn't, then it would be up to a Republican Congress, which will likely enjoy even larger majorities after 2018. They won't likely have to worry about mission creep pushback from the EPA or DoE.