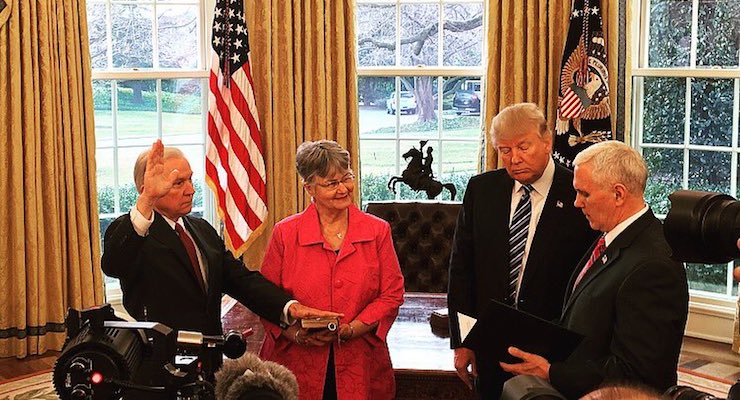 President Donald J. Trump fired back on Twitter Thursday pledging to root out the officials leaking classified information obtained illegally to he media. Lt. Gen. Michael Flynn resigned following leaks that contradicted an account of a telephone conversation he had with a Russian ambassador during the transition, which he relayed to Vice President Mike Pence.
The spotlight has finally been put on the low-life leakers! They will be caught!

— Donald J. Trump (@realDonaldTrump) February 16, 2017
A chorus of Democratic voices, including Maryland Rep. Elijah Cummings, have either flat-out claimed or raised the possibility Lt. Gen. Flynn violated the Logan Act. As fact-check has explained, this is not only factually false but was knowingly used incorrectly to overhype one element to a story and distract from the illegalities of another.
The White House will soon announce a significant review of the intelligence agency by Steven Feinburg. Taking a few questions from reporters, the president added to the
"We are going to find the leakers," he said. "They are going to pay a big price."
House Oversight Committee Chairman Rep. Jason Chaffetz, R-Utah, also said Wednesday night that he would ask the Justice Department's inspector general to investigate the leaks of classified, stating "no matter where you are on the political spectrum, you cannot have classified information migrating out into a non-classified setting."
In the letter to Inspector General Michael Horowitz, which was also signed by House Judiciary Committee Chairman Bob Goodlatte, R-Va., Rep. Chaffetz said he had "serious concerns about the potential inadequate protection of classified information" and asked that Mr. Horowitz's "office begin an immediate investigation into whether classified information was mishandled."
Meanwhile, The Office of the Director of National Intelligence (DNI) is pushing back hard on a story published by the Wall Street Journal claiming officials are holding back information from President Donald J. Trump. was published only days after the firing of Lt. Gen. Michael Flynn, whom sources tell People's Pundit Daily was just "the first victim in a political coup by members of the permanent government."
"It appears to me there has been a concerted effort to try to discredit not only General Flynn, but obviously, the entire Trump administration through him," D.W. Wilber, who has over 30 years of experience with the CIA and the Defense Department, told The Daily Caller. "He just happened to be the first scalp."