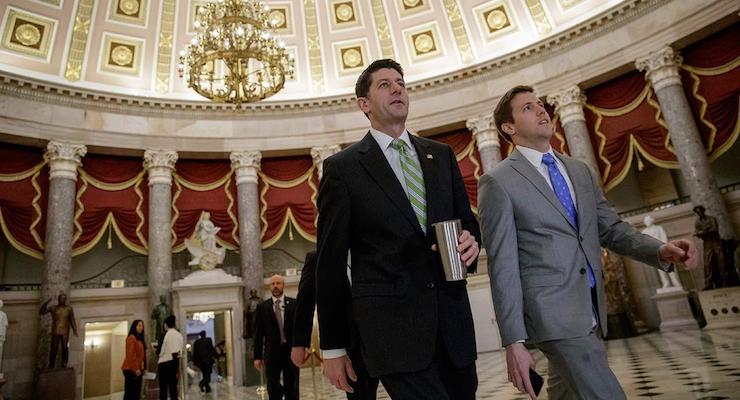 Over the last week, there was more traffic to and from the White House and Capitol Hill than reporters have seen in decades. Still, the vote has been postponed for the second time and the fate of the ObamaCare repeal bill is looking grim.
In an effort to muster enough support for the American Health Care Act, 9 amendments were introduced on Monday night and 3 more on Thursday. With each and every single Democrat voting against any bill to replace ObamaCare, period, the AHCA fails if more than 22 House Republicans vote against it.
MONDAY AMENDMENTS
Conservatives
Conservatives in the House Freedom Caucus (HFC) wanted funding provided by ObamaCare to states for Medicaid expansion removed from the bill. The original AHCA would allow states to expand Medicaid until the end of 2019. But with the amendment states that already expanded their programs by March 2017 could receive the higher amount of federal Medicaid money provided under current law.
The HFC also wanted states to have the ability to require able-bodied adults to prove that they are working or actively looking for work to qualify for Medicaid benefits. Children, pregnant women, parents of young children, most students and disabled people would be exempted from the work requirement.
Block-grant funding to states was another major sticking point. They wanted a fixed amount of federal funding not tied to the number of enrollees, as it is under current law. States that chose block grants would be permitted from federal mandates that require certain people to be covered by Medicaid with specific benefits.
The House Freedom Caucus also demanded an amendment that would push up the repeal of ObamaCare taxes–including taxes on insurers, prescription drugs, tanning beds and medical devices–from 2018 to 2017.
A delay in the legislation of the ACA's "Cadillac tax" on high-cost employer plans would be extended by a year from 2025 to 2026.
Moderates
But those the changes caused even more moderates, known as the Tuesday Group, to jump ship and demand $85 billion in additional aid for older Americans. Americans between the ages of 50 to 64 with higher health care costs could face big insurance price increases under the AHCA.
Along with inflation adjustment increases for the elderly and disabled, much of the deficit savings from the original Congressional Budget Office (CBO) score was cut from more than $300 billion to over $100 billion.
Despite Democrats' claims, Americans 65 or older are eligible for help under Medicare.
THURSDAY AMENDMENTS
Conservatives
ObamaCare mandated health plans make individuals and small businesses buy and/or offer insurance that covers 10 "essential health benefits." A conservative amendment to the American Health Care Act bill would allow each state to determine the basic health benefits that insurance must offer. Certain states would be free to keep the ObamaCare mandated benefits or not establish any minimum coverage.e
Moderates
But moderates wanted something in return, naturally.
Their first amendment on Thursday added maternity and newborn care to a list of ways that states could use federal money they would receive through an established "Patient and State Stability Fund." It would be funded by the repeal of the $15 billion Medicare tax on wealthy Americans.
The aforementioned repeal of the Medicare tax on individuals who earn above $200,000 and $250,000 on people married filing jointly, would be delayed for another six years, or 2023.