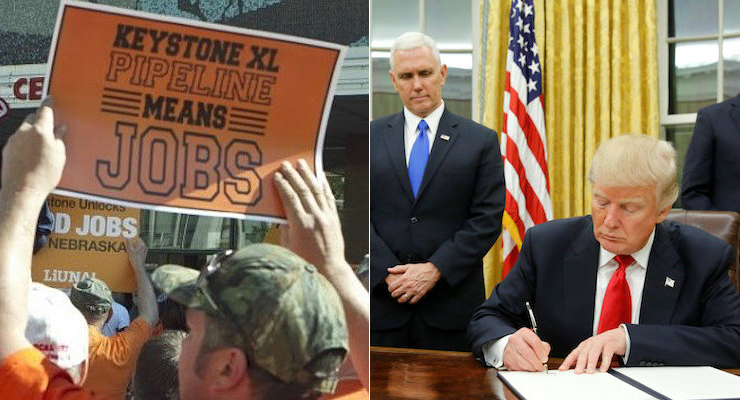 WASHINGTON –  The Trump Administration has issued a presidential permit to TransCanada to move forward with the construction of the Keystone XL pipeline. The permit comes after years of delay from the Obama Administration.
White House press secretary Sean Spicer tweeted that President Donald J. Trump would discuss the pipeline later Friday morning.
The State Department says it considered foreign policy and energy security in making the determination, and concluded that building the Keystone XL pipeline serves the U.S. national interest. Tom Shannon, a career diplomat serving as undersecretary of state for political affairs, signed the permit rather than Secretary of State Rex Tillerson, who previously recused himself due to his previous roles as CEO of Exxon Mobil.
According to multiple State Department reviews under both Hillary Clinton and John Kerry, the Keystone pipeline would've actually benefited the environment by reducing the amount of emissions from transporting oil via rail and other methods currently in place.
Further, the resources would've gone to foreign nations such as China, which have far more lax emission standards. Yet, the Obama Administration rejected the findings and the pipeline as not in the national interest. Then, in 2015, former President Barack Obama vetoed the bipartisan Keystone Jobs bill, marking his first veto of the Republican-led Congress and only the third of his presidency. TransCanada filed a federal lawsuit in response at the beginning of 2016.
The Alberta-based company claimed the White House arbitrarily, illegally and unconstitutionally rejected the project after multiple reviews gave the project the green light.
Americans overwhelmingly support construction of the Keystone XL pipeline, including a majority of Democrats (53%), over two-thirds of independents (68%) and nearly 9 in 10 Republicans (88%). According to a recent poll, 69% support the pipeline outright, up from 65% measured last year. However, 72% support its construction when respondents are told of the Obama administration's own findings.
Keystone will carry tar sands oil from Canada to refineries on the Texas Gulf Coast. Of the three executive orders President Trump signed related to pipeline construction projects, one aimed to expedite the environmental permitting process for infrastructure projects and another directed the Commerce Department to maximize the use of U.S. steel.