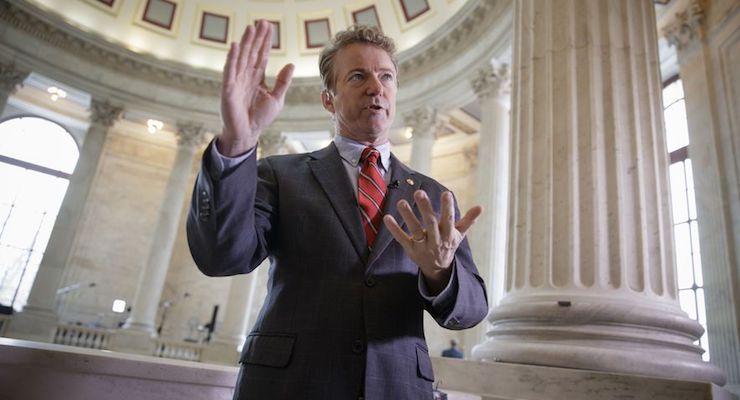 Sen. Rand Paul, R-Ky., called on former Obama national security adviser Susan Rice to testify on new reports revealing she was behind dozens of requests to "unmask" the names of President Donald Trump's transition officials caught up in surveillance. First reported by The Hill, Sen. Paul called the unmasking an "enormous deal" and said that it should be illegal, something Democrats have decided they will deny.
"I don't think we should discount how big a deal it was that Susan Rice was looking at these, and she needs to be asked, did President Obama ask her to do this? Was this a directive from President Obama?" Sen. Paul told reporters. "I think she ought to testify under oath on this. I think she should be asked under oath, did she reveal it to The Washington Post."
Rice is notorious for her role in the Benghazi coverup, which consisted of knowingly lying about the Benghazi terror attack on no less than five Sunday shows during her tenure as UN ambassador. For her loyalty during a heated presidential election, she was promoted to national security advisor.
"I think they were illegally basically using an espionage tool to eavesdrop or wiretap — if you want to use the word generally — on the Trump campaign," Sen. Paul added.
Last month, when asked about the revelations by House Intelligence Committee Chairman Devin Nunes, R-Calif., Rice again lied on national television by claiming she had no idea what the chairman was talking about. At the same time, within the same breath, Rice laid the groundwork for her defense in the interview on PBS Newshour.
"I know nothing about this. I was surprised to see reports by Chairman Nunes on this account today," Rice said. "I'm not sure to what Chairman Nunes was referring. but whatever he was referring to was a legal, lawful incidental collection of intelligence."
Rep. Nunes confirmed the "incidental collection" of intelligence unrelated to Russia. The content indicates in its closing days the Obama Administration was using the cover of legitimate surveillance on foreign targets to spy on members of the Trump transition team, and perhaps the then-president-elect himself. In his press conference, the chairman said he was "alarmed" and didn't understand "why people would need to know that about President-elect Trump and his transition team."
The announcement set off a political firestorm, one which Democrats responded to with calls for Chairman Nunes to step down or recuse himself. Sen. Paul clearly disagrees, stating the motives are more about protecting the surveillance state than finding the truth and protecting against abuses to civil liberties.
"I have been very impressed with Devin Nunes," Sen. Paul said. "All of the intelligence hawks don't like him because he appears to have found something and he's willing to talk about it with the president."
Of the spying on Americans without a warrant, he said "it is inappropriate and it should be illegal."
"I don't think you should be allowed to listen to Americans' conversations without a warrant," he continued. "They are doing it without a warrant. They are targeting a foreigner, and because they are targeting a foreigner they are gathering all of this information on Americans."
The Kentucky libertarian-leaning senator is now weighing legislation to protect against future surveillance abuses by the Executive Branch.
Smoking gun found! Obama pal and noted dissembler Susan Rice said to have been spying on Trump campaign.
https://t.co/SHJ41vhQu7

— Senator Rand Paul (@RandPaul) April 3, 2017