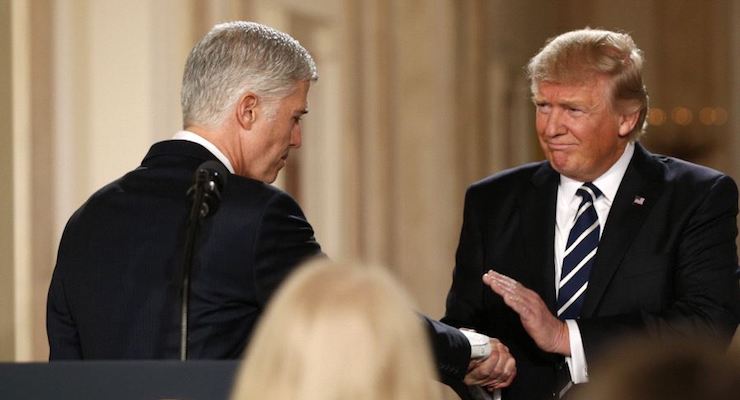 The Senate Judiciary Committee voted 11 to 9 Monday along party lines to advance the confirmation of Judge Neil Gorsuch for the U.S. Supreme Court. President Donald J. Trump nominated him to fill the vacancy on the high court following the death of conservative Associate Justice Antonin Scalia.
"The nominee's opponents have tried to find a fault with him that will stick. And it just hasn't worked," Chairman Sen. Chuck Grassley, R-Iowa, said in his opening statement. "Judge Gorsuch is eminently qualified. He's a mainstream judge who's earned the universal respect of his colleagues on the bench and in the bar. He applies the law as we in Congress write it."
Sen. Grassley allowed all 20 committee members to speak before the final vote. Ranking member Sen. Dianne Feinstein, D-Calif., used the time to lament over Judge Merrick Garland, Barack Obama's third nominee to the High Court, which she claimed should have been considered for the seat. But leaders of the Republican-controlled Senate held off until after the 2016 presidential election, during which large percentages of Americans reported the decision weighed heavy on their vote.
Judge Gorsuch, 49, who serves on the U.S. Court of Appeals for the 10th Circuit in Colorado, was appointed in 2006 by President George W. Bush. He was previously a deputy assistant attorney general at the Justice Department and is the youngest Supreme Court nominee in 25 years. The American Bar Association, which is a known leftwing association, has given him the highest rating available and his opinions have been in "the majority 99% of the time."
In July 2006, Judge Gorsuch was confirmed by the Senate unanimously by a voice vote, with the record including the vote of Minority Leader Chuck Schumer, D-N.Y., then-Sens. Barack Obama, Joe Biden and Dianne Feinstein.
But now Senate Democrats have had a change of heart and mustered enough votes to filibuster the cloture vote, which is a procedural motion to end debate and move to the actual confirmation vote. The decision to do so makes them the first party in U.S. history to ever stage a partisan filibuster, though historically Democrats have played a more obstructionist role on court nomination than Republicans.
However, the development only increases the likelihood that the Republican Senate majority will deploy the so-called "nuclear option" to ensure Judge Gorsuch is confirmed.