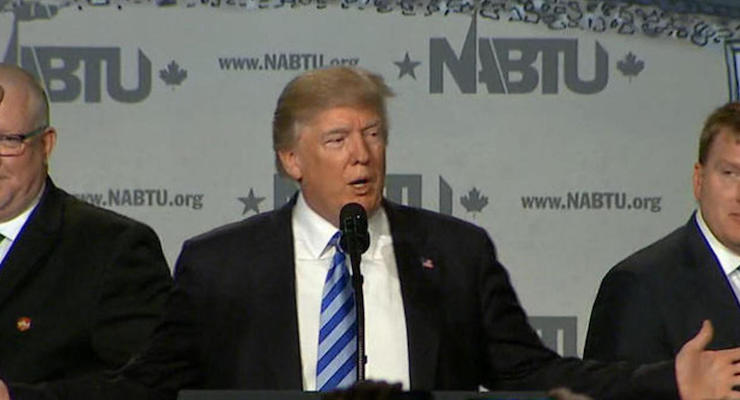 President Donald J. Trump told the North America's Building Trades Unions (NABTU) on Tuesday that labor "will always find an open door at the White House."
"We're a nation of builders and it was about time we had a builder in the White House," President Trump told labor leaders and workers. "I promise you America's labor leaders will always find an open door at the White House with Donald Trump."
At the organization's National Legislative Conference, the President spoke about trade, his goal of creating more jobs and withdrawing the U.S. from the deeply unpopular Trans-Pacific Partnership (TPP). He also touted his idea to require U.S.-made steel be used in the construction of the Keystone XL pipeline, a decision which made the NABTU "thrilled."
"You're the backbone in America. With the talent in this room we can build any city at any time and better than anyone," he added. "Together, we are going to rebuild our nation. You are the keepers of the great trades and secrets that built our nation."
Working class and union support for President Trump was pivotal in his electoral vote landslide against Hillary Clinton in November, enabling him to carry Midwest states in the Rust Belt no Republican has carried since President Ronald Reagan in 1984, including Wisconsin. The New York builder broke President Reagan's two-party vote record set that same year among white working class voters and cracked the Blue Wall in Pennsylvania and Michigan.
"Washington and Wall Street have done very well for themselves and now it's your turn and you are also going to be sharing the wealth," he said. "This election was all about returning power back to the people. I've spent my life working side by side with you as a builder. Now, you have a builder as a president."
The President, who continues to enjoy the highest approval in the heart of labor country, pledged he will no longer allow political leaders to export their work and opportunity.
"We didn't just offshore our jobs, we off-shored a big part of the American dream," President Trump said. "I'm not and don't want to be the president of the world. I'm the President of the United States and from now on it's America first."
The speech comes after the Trump Justice Department warned U.S. companies that it would investigate and prosecute employers that overlook qualified Americans for jobs. It was an announcement made on the same day that employers started to apply for H-1B visas.
"U.S. workers should not be placed in a disfavored status, and the department is wholeheartedly committed to investigating and vigorously prosecuting these claims," Tom Wheeler, acting head of the Justice Department's Civil Rights Division, said in a news release.
The president is expected to sign the order aiming to "end forever the use of the H-1B as a cheap labor program."
The program is mostly by technology companies to bring in programmers and other specialized workers from other countries. President Trump ended his address to the conference calling for bipartisan unity and participation in a "great rebuilding of America."
"I'm calling on all Americans, Democrat, Republican and Independent, to take part in the great re-building of America," he said, urging labor leaders to help drive his infrastructure proposal through Congress when they "meet with members of the House and members of the Senate."
When you see them you can tell them that America's building trades unions and America's President are very much united," President Trump added.