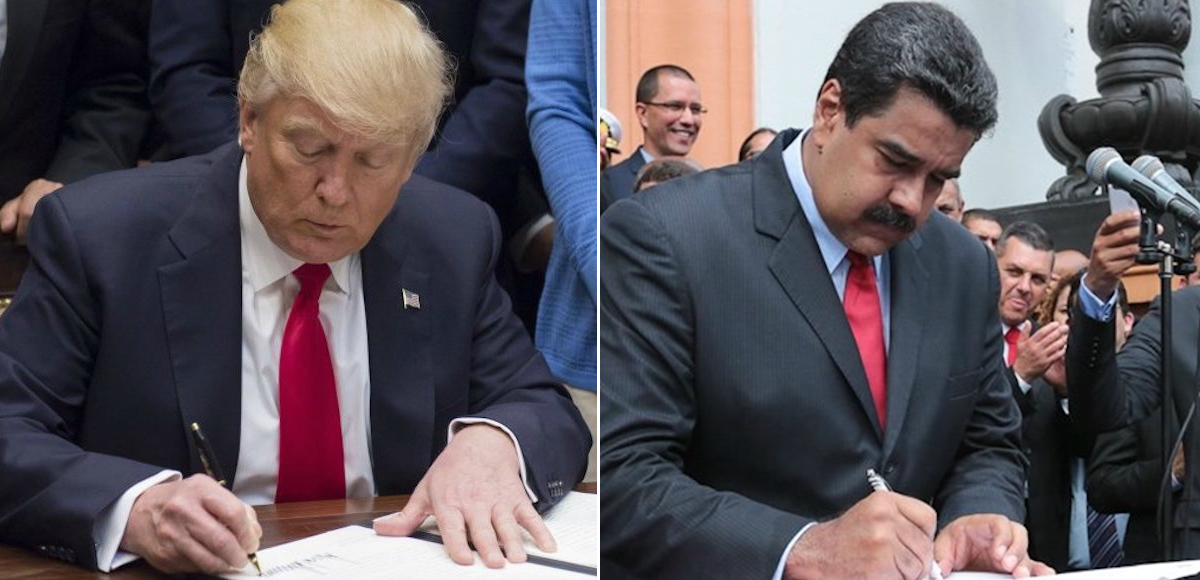 President Donald Trump signed an executive order imposing additional sanctions on Venezuela, targeting the financial activities of President Nicolás Maduro.
"The Maduro dictatorship continues to deprive the Venezuelan people of food and medicine, imprison the democratically-elected opposition, and violently suppress freedom of speech," White House Press Secretary Sarah Sanders said in a statement. "We will not stand by as Venezuela crumbles."
The new executive order prohibits dealings in new debt and equity issued by the government of Venezuela and its state oil company. It also prohibits dealings in certain existing bonds owned by the Venezuelan public sector, as well as dividend payments to the government of Venezuela.
"Maduro may no longer take advantage of the wholesale looting of the Venezuelan economy at the expense of its people," U.S. Treasury Secretary Steven Mnuchin said.
In July, the Trump Administration also imposed sanctions against President Maduro, himself, for holding "sham" elections to consolidate his party's power. As a result, the socialist leader's assets subject to U.S. jurisdiction were frozen, and U.S. persons are now prohibited from dealing with him.
The Maduro government held elections for a National Constituent Assembly (ANC) that aims to usurp the constitutional role of the democratically elected National Assembly. It would effectively rewrite the constitution, and impose an authoritarian regime on the people of Venezuela. neuter the constitution.
The socialist dictator was "elected" President of Venezuela on April 14, 2013, after the death of another leftwing dictator–Hugo Chavez. He previously held roles in the Venezuelan government under President Chavez, including as Executive Vice President and Minister of Foreign Affairs.