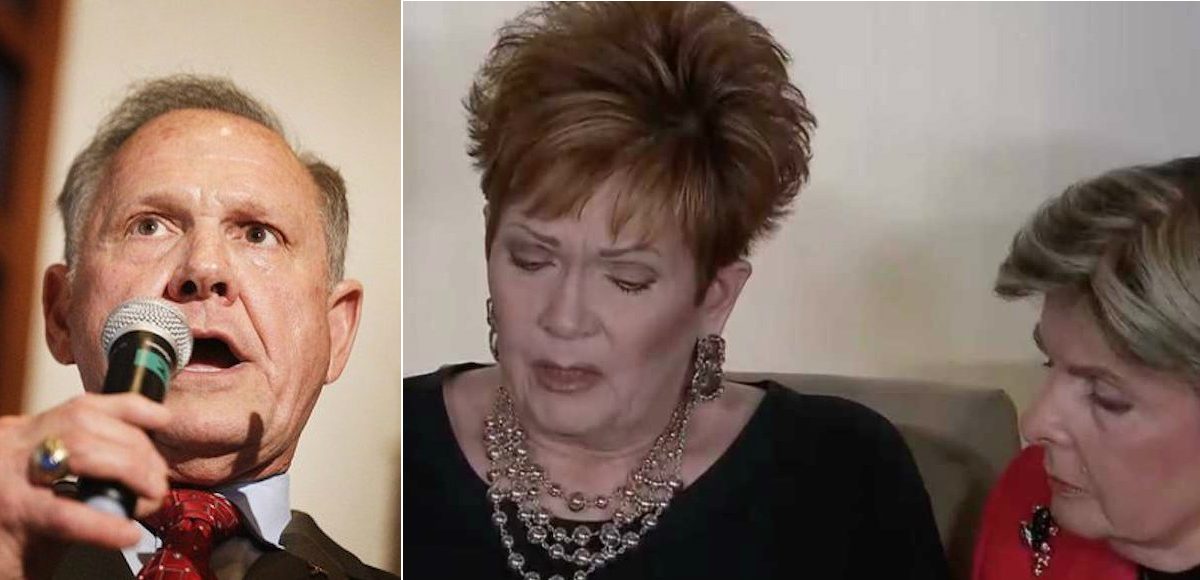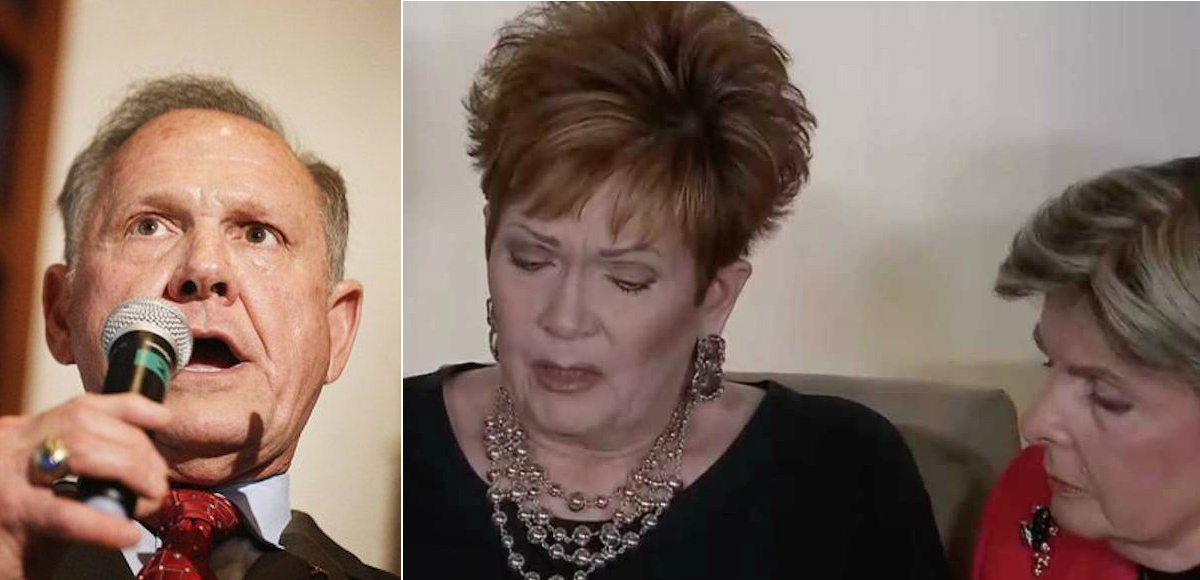 Phillip L. Jauregui, attorney for Judge Roy Moore, called on Gloria Allred to subject the yearbook brought forward by an accuser to handwriting analysis. Beverly Young Nelson accused the Republican candidate for U.S. Senate of sexually assaulting her when she was a 16 year-old waitress in Alabama.
Nelson, 56, made the allegations at a press conference on Monday with high profile attorney Gloria Allred. She said Judge Moore was a regular at the Old Hickory House, a restaurant once located off of Highway 431 in Gadsden, Alabama.
UPDATE: Gloria Allred responded during an interview on CNN, the least trusted name in news. She refused to produce the yearbook for independent analysis unless a Senate hearing is involved. For the record, Senate hearings are not forums for truth-seeking exercises. They're political charades where an independent analysis could never take place.
According to her allegation, Judge Moore had offered to give her a ride home but instead pulled the car around behind the restaurant. She says he then locked his car doors, grabbed her, and attempted to violently force her face into his crotch. She allegedly resisted, incurring bruises before he released her.
"I tried to get away, but he reached over and locked the door so I could not get out," she said. "I thought he was going to rape me. At some point, he gave up."
Ms. Nelson claimed Judge Moore told her, "You are just a child and I am the District Attorney of Etowah County; if you tell anyone, no one will believe you." He then let her out of the car.
She claims that Judge Moore offered to write a note in her yearbook, which she accepted.
"I felt flattered and I said yes," she stated. Moore then allegedly wrote in her yearbook a flirtatious note: "To a sweeter, more beautiful girl I could not say Merry Christmas. Christmas 1977, Love, Roy Moore D.A., Olde Hickory House."
However, at a press conference Thursday, Mr. Jauregui noted how the inscription is clearly written in two different color inks and claimed their analysts believe it's highly likely it does not match Judge Moore's signature. He brought attention to the disparity in the way "7" was written after "Christmas" and before "Olde Hickory House," which consequently is misspelled.
The restaurant has since closed, but it was not spelled with an "e," but rather "Old Hickory House."
Handwriting analysis can be difficult even when the actual material is provided and the Moore campaign wants Ms. Allred to produce the yearbook for independent review.
"Not once, not one time have I ever seen him acting inappropriately toward any woman," Mr. Jauregui said. "That's the man I know and have known for 24 years."
He also noted that Ms. Nelson claimed during her press conference with Ms. Allred that she had no contact with Judge Moore after the alleged assault. But that's not the case. In 1999, Ms. Nelson filed for a divorce against her husband and, as it turns out, the case ended up before Judge Moore. That stands in contrast to her story and is a difficult detail to overlook.
The inscription in the yearbook reads "Roy Moore D.A," which was purported to stand for "District Attorney." Others have pointed out and, Mr. Jauregui further stated, that the judge at the time was a D.D.A., not a DA. They also made the stunning claim that the "D.A." matches initials on the divorce records for "Delbra Adams," who was Judge Moore's assistant at the time.
"Judge Moore says he can't remember ever signing his name with DA after it. But he had seen it before. You know where he had seen it?" Mr. Jauregui asked. "When he was on the bench, his assistant whose initials are capital D. A. Delbra Adams would stamp his signature on a document and put capital D. A."
"That's exactly how this signature appears on the divorce decree that Judge Moore signed dismissing the divorce action of Beverly Nelson."
Campaign Chairman Bill Armistead, who introduced Mr. Jauregui, did not respond to a request to take questions at the press conference.
Roy Moore's attorney calls for release of yearbook allegedly signed by his client so a handwriting expert can examine it. pic.twitter.com/OUjW5LY11Y

— ABC News (@ABC) November 15, 2017
UPDATE: While the allegations against Judge Roy Moore are very serious and all should be taken seriously, so too should they be vetted. Ms. Nelson claimed to be a Trump voter, but People's Pundit Daily (PPD) found her voter registration status was listed as inactive.
Ms. Nelson also claimed Judge Moore reached over her to lock the doors while they were inside the vehicle, trapping her inside. Automatic door locks were technically offered in limited high-end vehicles in the 1970s — considering the possibility she recalled details of the assault incorrectly — but a passenger wasn't locked inside the vehicle. The door opened from the inside when the handle was pulled.
Child locks were not available in automobiles until the 1980s.
We will continue to responsibly report these allegations.