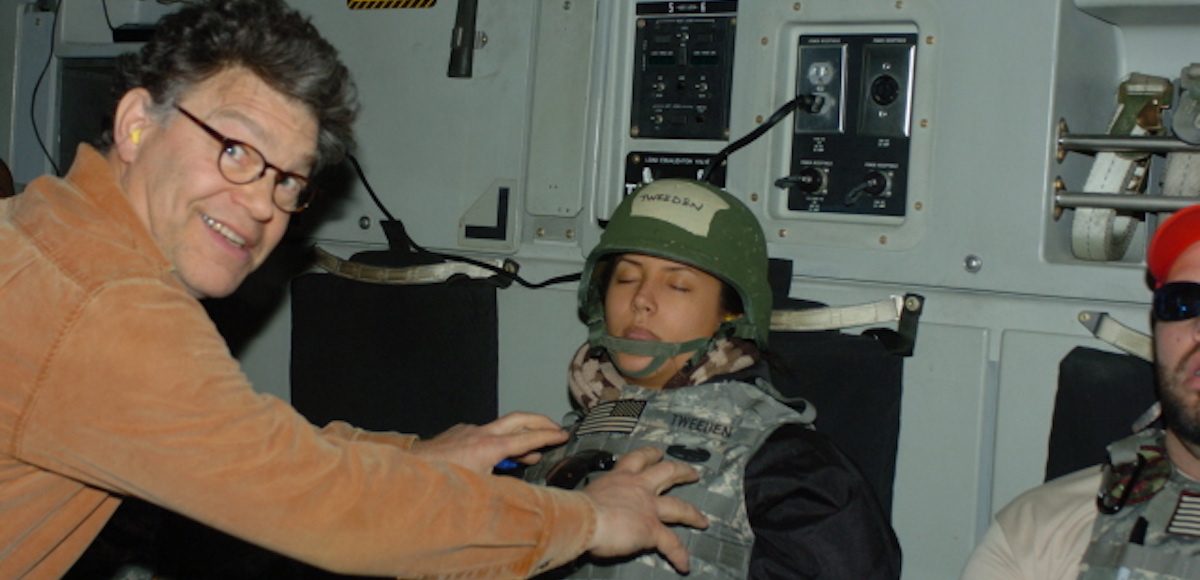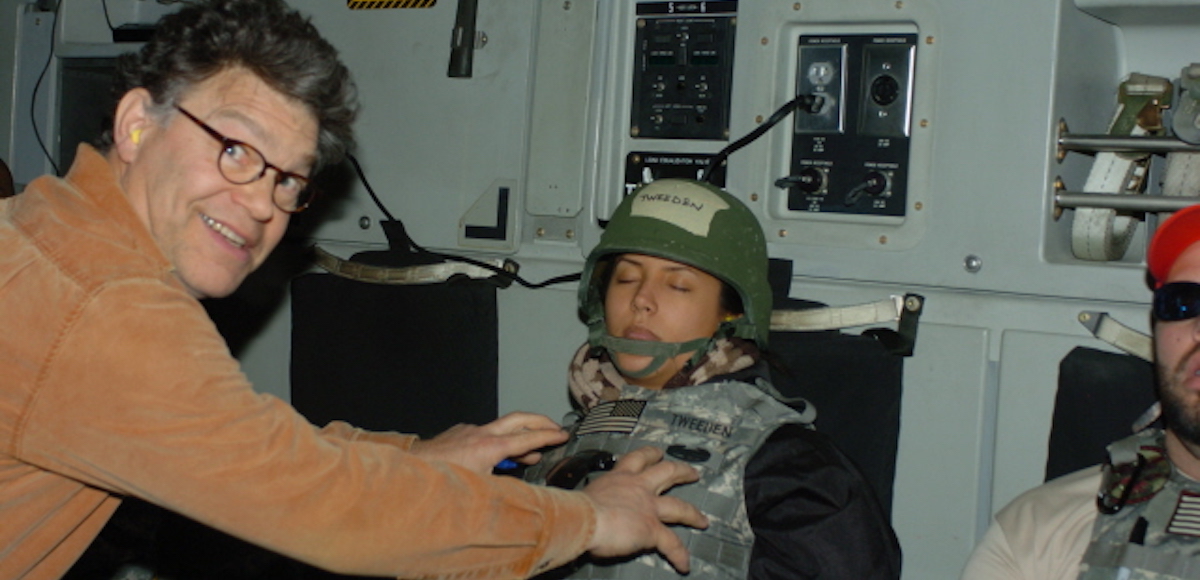 Leeann Tweeden, the morning news anchor on TalkRadio 790 KABC in Los Angeles, provided a photo image of Senator Al Franken groping her while she slept. She also alleged in her story that he forcefully kissed her and stuck his tongue down her mouth without her consent during a 2006 USO Tour in Afghanistan.
The image shows Senator Franken, then a comedian, groping her during the flight back to the United States (US).
The story begins in December of 2006, when Ms. Tweeden went on her ninth USO Tour to entertain U.S. troops, her eighth to the Middle East since September 11, 2001. She was joined by country music artists Darryl Worley, Mark Wills, Keni Thomas, and some cheerleaders from the Dallas Cowboys. But the headliner was then-comedian Al Franken.
"My father served in Vietnam and my then-boyfriend (and now husband, Chris) is a pilot in the Air Force, so bringing a 'little piece of home' to servicemembers stationed far away from their families was both my passion and my privilege," she wrote. Franken had written some skits for the show and brought props and costumes to go along with them. Like many USO shows before and since, the skits were full of sexual innuendo geared toward a young, male audience."
She goes on to reveal that he had wrote a kiss into the skit, and alleged Senator Franken repeatedly pressed the need to "rehearse" the kiss. She rebuffed his advances numerous times until he forcefully grabbed her, pulled her head in and stuck his tongue into her mouth.
When I saw the script, Franken had written a moment when his character comes at me for a 'kiss'. I suspected what he was after, but I figured I could turn my head at the last minute, or put my hand over his mouth, to get more laughs from the crowd.

On the day of the show Franken and I were alone backstage going over our lines one last time. He said to me, "We need to rehearse the kiss." I laughed and ignored him. Then he said it again. I said something like, 'Relax Al, this isn't SNL…we don't need to rehearse the kiss.'

He continued to insist, and I was beginning to get uncomfortable.

He repeated that actors really need to rehearse everything and that we must practice the kiss. I said 'OK' so he would stop badgering me. We did the line leading up to the kiss and then he came at me, put his hand on the back of my head, mashed his lips against mine and aggressively stuck his tongue in my mouth.

I immediately pushed him away with both of my hands against his chest and told him if he ever did that to me again I wouldn't be so nice about it the next time.

I walked away. All I could think about was getting to a bathroom as fast as possible to rinse the taste of him out of my mouth.

I felt disgusted and violated.
Tweeden said she went on to perform the skit as written, but would turn her head so that he could not kiss her on the lips. Franken retaliated against her with insults. He drew devil horns on at least one of her headshots she had been autographing for the U.S. troops.
On Christmas Eve, they boarded a C-17 cargo plane and began a 36-hour trip back from Afghanistan to Los Angeles. Tweeden says she was exhausted after 2 weeks of nonstop travel and performances, and fell asleep.
"It wasn't until I was back in the US and looking through the CD of photos we were given by the photographer that I saw this one," she says, referring to the picture above. "I couldn't believe it. He groped me, without my consent, while I was asleep. I felt violated all over again. Embarrassed. Belittled. Humiliated. How dare anyone grab my breasts like this and think it's funny?"
"I told my husband everything that happened and showed him the picture."
The revelation comes two days lawmakers acknowledged that sexual harassment is prevalent on Capitol Hill. Senator Franken originally issuing a brief apology and said he didn't recall the incident the way Ms. Tweeden told it, but eventually issued a longer apology and said he will "gladly cooperate" with an ethics investigation.
Read Leann Tweeden's Full Story Here
UPDATE: Media Equalizer Co-Founder Melanie Morgan has come forward recounting her own experience with Senator Al Franken, whom at the time was a comedian, liberal radio host and activist. Ms. Morgan's allegations describe a disturbing encounter that was brought on by a disagreement with Senator Franken during an August, 2000 edition of ABC's Politically Incorrect with Bill Maher.
Al Franken stalked and harassed me. He scared the living hell out of me. It's all true. https://t.co/nH3SsNeQJi

— Melanie Morgan (@MelMorgan1350) November 16, 2017
She had a dispute with Franken over the OMB's budget numbers during their appearance on a panel together with William Baldwin and then-Colorado Lt. Governor Joe Rogers.
"I was invited and unaware of who his guests were going to be that night. I've since learned that though few know this, Al Franken was actually a writer for the show," she said. "I made a statement about the budget numbers, Franken challenged me, I challenged him back. It was about spending priorities, actually just a mundane discussion. But he obsessed over it."
Ms. Morgan alleges after the show he wouldn't leave the argument alone, and eventually called the producer who gave her home telephone number to the would-be senator against protocol. He called her home repeatedly to berate her and only stopped when she threatened "to call the police and make a report that he was harassing me."
"He approached Carol, the show's producer and demanded my home phone number, which was a clear violation of network protocol. I had thought that was the end of the story and was shocked when he started calling my home, badgering me repeatedly," she said. "I became fearful and called Carol to complain and asked her to tell him to back off. But he made another call after that. I thought that he might end up stalking me at my home in Northern California, it was that bad."
"By the third phone call I was outraged and terrified, as he is really disturbed," Morgan recounted.