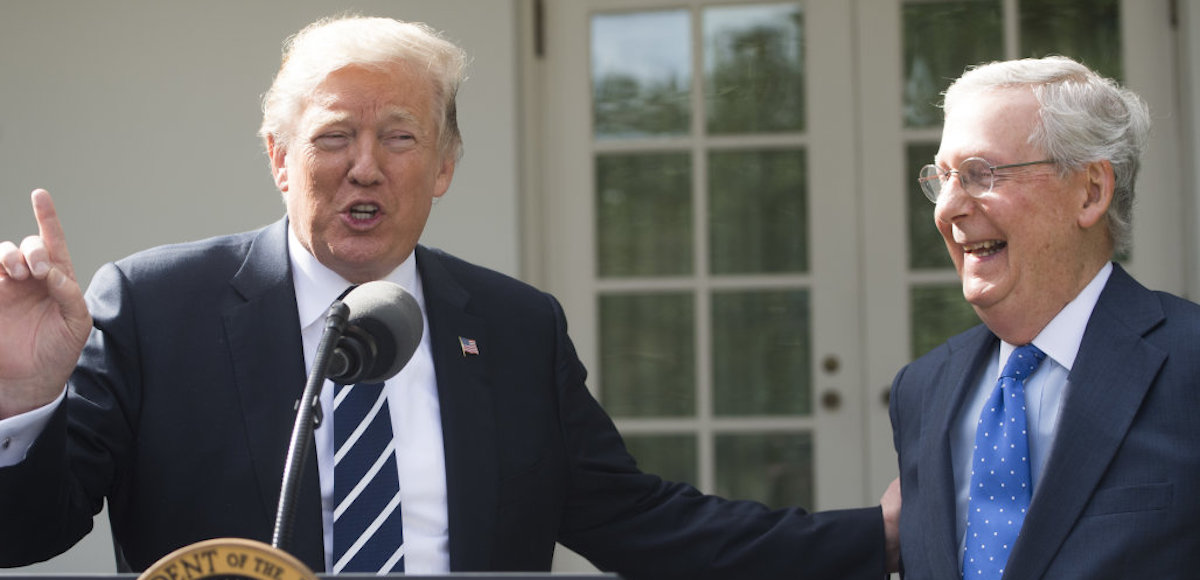 The U.S. Senate passed the Republican tax reform bill known as the Tax Cuts and Jobs Act, paving the way for the first overhaul to the U.S. tax code in 31 years. The vote is a major victory for President Donald Trump, who made tax cuts his key agenda item and signature piece of legislation for the first year of his presidency.
The bill now heads to conference between the upper and lower chambers, the House of Representatives having passed another version of the bill. Members of the House and Senate will meet Monday after House Majority Leader Kevin McCarthy, R-Calif., called the chamber into session early rather than Tuesday.
If an agreement is reached, which is expected, it will be sent to President Trump's desk for his signature.
"I commend my Senate colleagues for this historic action. For the first time since 1986, both the House and the Senate have passed a major overhaul of our nation's tax code," House Speaker Paul Ryan, R-Wis., said in a statement. "Now we will move quickly to a conference committee so we can get a final bill to President Trump's desk."
The bill got a boost on Thursday when Senator John McCain, R-Ariz., said in a statement he will vote "Yes" on the tax overhaul. The Arizona senator was one of a handful of Republicans uncertain about how they would vote. On Friday, his colleague Senator Jeff Flake, R-Ariz., announced he will vote in favor of the president's signature tax reform bill.
"According to the non-partisan Joint Committee on Taxation, every income bracket would see tax relief under this bill," Senator McCain said in a statement. "The child tax credit would be doubled to $2,000 per child and the tax code would be substantially simplified."
The corporate tax rate is also lowered to 20%, making the U.S. far more competitive in a global economy where other nations have moved to lower their rates.
President Trump was in Missouri this week pushing his tax cut and tax reform agenda, a Red State represented by vulnerable incumbent Democratic Senator Claire McCaskill.
"If we do this, then America will win again like never before. A vote to cut taxes is a vote to put America first, again," President Trump said. "It's time to take care of our workers, to protect our communities and to rebuild our great country."
Senator Bob Corker, R-Tenn., a holdout who wanted automatic triggers in place to re-hike taxes if growth didn't meet projections, was the only Republican defector. He's retiring this year due to his unpopularity and feud with President Trump. Senator Susan Collins, R-Maine, after she won a concession for a $10,000 deduction in local property taxes.
"Tonight's tax cut vote in the Senate was a historic victory for the American people," Vice President Mike Pence said in a statement. "Grateful for the support of Senate Republicans for passing President Trump's "middle-class miracle" for millions of hard-working families. On track to have the President sign the Tax Cuts & Jobs Act into law by Christmas!"
The push to get above 50 votes was worthwhile for Republicans, who had hoped at least 3 and as many as 5 Red State Democrats to crossover and vote for the bill. That did not happen.
Senator Joe Manchin, D-W.Va., repeatedly said that he wanted to be a part of the process but that Majority Leader McConnell saw to it that would not be an option. He proposed an amendment that failed, which increased the corporate tax rate. Republicans said his proposal demonstrated that he was never serious about working on reform.
Democrats did have a victory in the vote-a-rama, defeating a proposal by Senator Pat Toomey, R-Penn., to extend an exemption on endowments for colleges and universities that didn't take federal funding. They targeted Hillsdale College, one which focuses on the founding of the country and civil duty.
Worth noting, with the approval of the Tax Cuts and Jobs Act, Republicans voted for the repeal of ObamaCare's individual mandate, a major step forward toward ending an unpopular part of the healthcare law.
"Families ought to be able to make decisions about what they want to buy and what works for them –not the government," Sen. John Barrasso, R-Wyo., said after the vote. "I believe if people don't want to buy the Obamacare insurance, they shouldn't have to pay a tax penalty to the IRS."
Meanwhile, the markets are continuing to climb on overwhelmingly positive economic data and the potential for tax reform. The Dow Jones Industrial Average hit 24,000 for the first time ever, only days after the Bureau of Economic Analysis (BEA) earlier in the week revised gross domestic product (GDP) up to 3.3%.
If 4Q GDP forecasts hold, the first year under President Donald Trump will at least match the strongest year (2.7%) under Barack Obama. As People's Pundit Daily (PPD) recently reported, it's likely the first year under Mr. Trump will surpass the strongest year under Mr. Obama.
That's also much more likely if Republicans send tax reform to President Trump to sign. It will be the first time the U.S. economy grew at 3% or higher for 3 consecutive quarters since 2004.