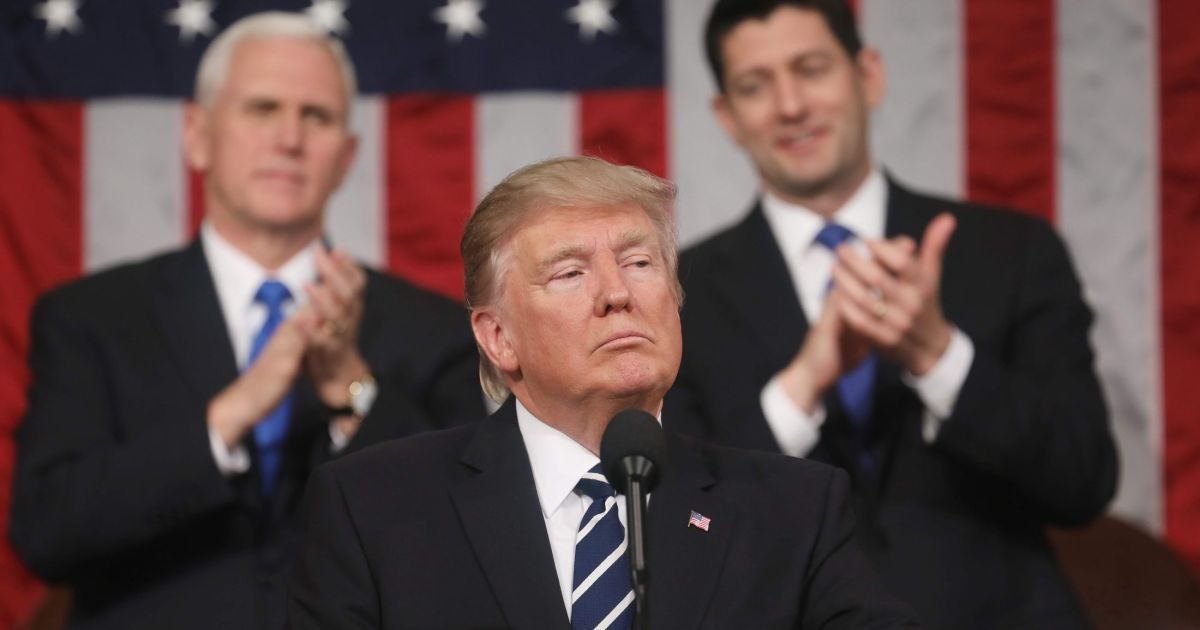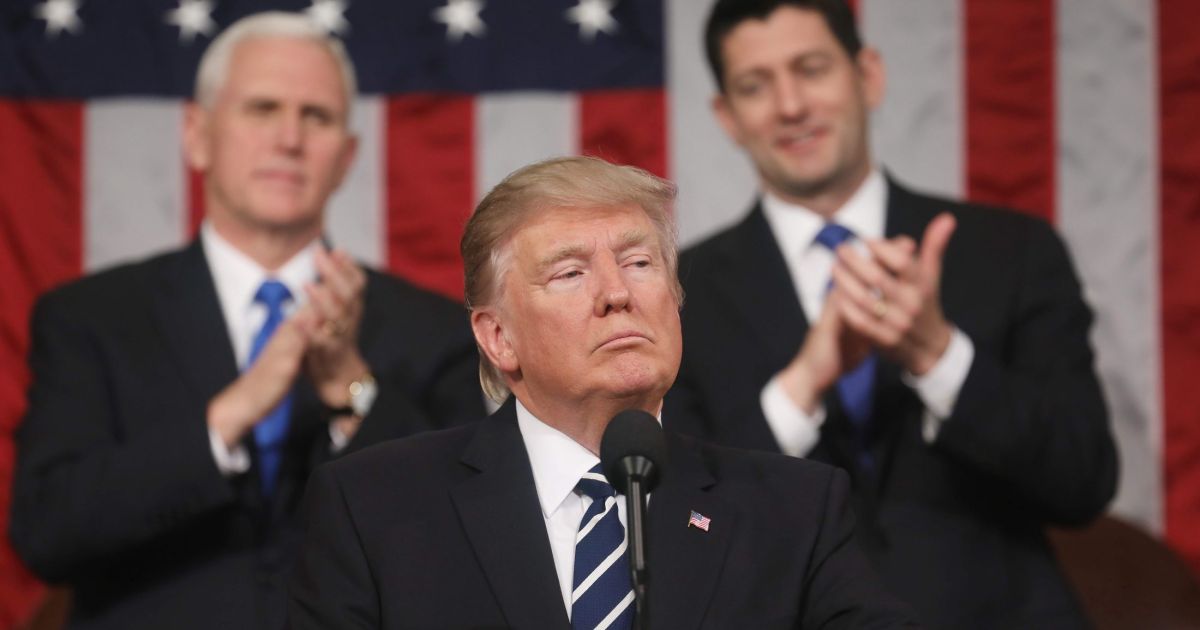 President Donald Trump will deliver his first State of the Union address on Tuesday. In an excerpt of the speech provided to People's Pundit Daily (PPD), President Trump will call for measures to reduce the number of illegal aliens permitted to enter the country, and tout the gains his administration has made in doing so during his first year in office.
"All Americans, not only in the States most heavily affected but in every place in this country, are rightly disturbed by the large numbers of illegal aliens entering our country," President Trump will tell Congress and the nation. "The jobs they hold might otherwise be held by citizens or legal immigrants. The public service they use impose burdens on our taxpayers."
Worth noting, a new Harvard-Harris Poll finds Americans overwhelmingly agree with the president on border security, reducing both legal and illegal immigration, putting an end to chain migration and the so-called diversity visa lottery.
"That's why our administration has moved aggressively to secure our borders more by hiring a record number of new border guards, by deporting twice as many criminal aliens as ever before, by cracking down on illegal hiring, by barring welfare benefits to illegal aliens."
President Trump made cracking down on illegal immigration the centerpiece of his campaign. End-of-year statistics from the Department of Homeland Security (DHS) confirm he has had historic success doing so during the first year of his administration.
For example, the U.S. Customs and Border Protection (CBP) in FY 2017 reported a 23.7% decline over the previous year. Illegal migration along the Southwest border declined sharply from January 21 to April, which was the lowest month of border enforcement activity on record. In FY 2017, CBP reported the lowest level of illegal cross-border migration ever on record.
The highly-anticipated address will come only days after the White House unveiled a four-pronged comprehensive immigration reform plan ahead of schedule. It would provide a pathway to citizenship for 1.8 million "dreamers" in the U.S. illegally.
While that's less than the Democrats' DREAM Act — which provided fast-track citizenship for up to 3.25 million illegals, plus millions of their foreign chain-migration relatives — it's also a complete reversal from his previous position and campaign promises.
President Trump's plan would severely limit — though not end — chain migration by restricting chains to spouses.
As PPD reported, Akayed Ullah, 27, a Bangladeshi national living in Brooklyn and the suspect behind an attempted terror attack on the Port Authority in New York City, was in the U.S. due to chain migration. PPD was first to report that Sayfullo Saipov, the 29-year-old Uzbekistan national who killed 8 and injured at least 11 others during a terror attack near the World Trade Center in November, came to the U.S. under the Diversity Immigrant Visa (DV) Program in 2010.
Still, even though President Trump's position mirrors the one top Democrats had just a few short years ago, the party relies too heavily on chain migration for their long-term electoral strategy. Their share of the white vote is so low, they need forced demographic changes to be successful at the ballot box, as a leaked memo clearly showed.
"The 50 percent cut to legal immigration in the framework and the recent announcements to end Temporary Protected Status for Central Americans and Haitians are both part of the same cruel agenda," House Minority Leader Nancy Pelosi, D-Calif, said in a statement. "They are part of the Trump Administration's unmistakable campaign to make America white again."
Roughly 8 in 10 Americans disagree with the minority leader and want legal immigration levels to be reduced.
"In the budget I will present to you, we will try to do more to speed the deportation of illegal aliens who are arrested for crimes, to better identify illegal aliens in the workplace," President Trump will also say during the address. "We are a nation of immigrants. But we are also a nation of laws."
"It is wrong and ultimately self-defeating for a nation of immigrants to permit the kind of abuse of our immigration laws we have seen in recent years, and we must do more to stop it."