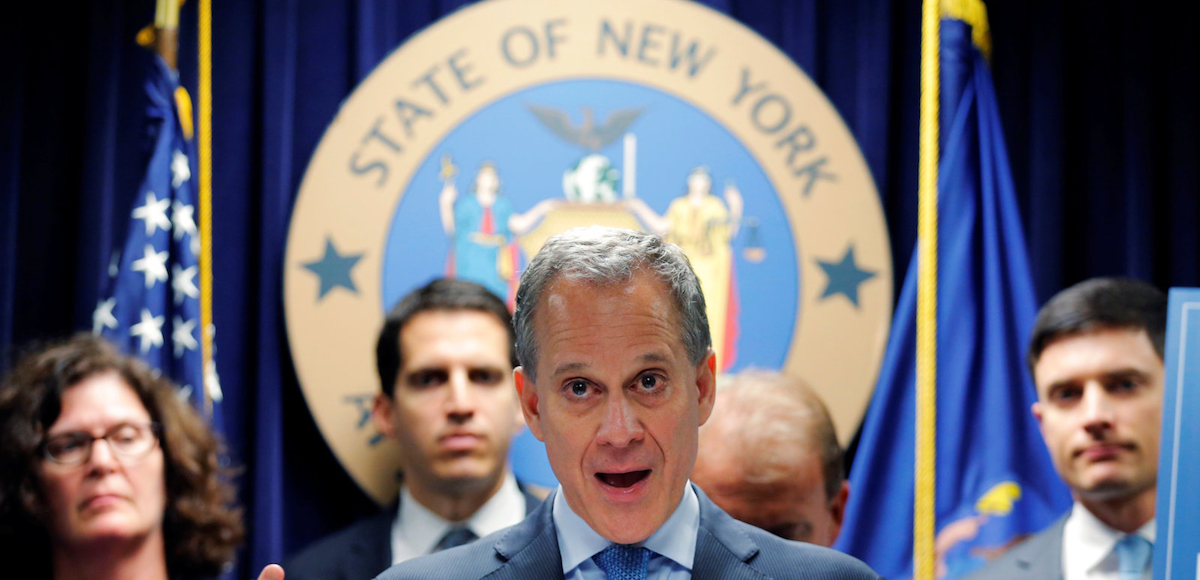 New York Attorney General Eric Schneiderman has resigned after four women made allegations of sexual and physical assault. Mr. Schneiderman, a liberal Democrat who has long claimed to be a champion of women's rights, is also a political enemy of President Donald Trump.
Four women have accused Mr. Schneiderman of "nonconsensual physical violence," including two who have gone on the record to The New Yorker with the hope it "could protect other women."
The New York attorney general recently was an outspoken figure in the #MeToo movement against sexual harassment, and was prosecuting Harvey Weinstein.
"It's been my great honor and privilege to serve as Attorney General for the people of the State of New York. In the last several hours, serious allegations, which I strongly contest, have been made against me," Mr. Mr. Schneiderman said in a statement. "While these allegations are unrelated to my professional conduct or the operations of the office, they will effectively prevent me from leading the office's work at this critical time."
"I therefore resign my office, effective at the close of business on May 8, 2018."
Michelle Manning Barish and Tanya Selvaratnam told The New Yorker that he repeatedly hit them, often after drinking, frequently in bed and never with their consent. They did not report their allegations to the police at the time, but claim they eventually did seek medical attention after he slapped them hard across the ear and face, and also choked.
Ms. Selvaratnam said that Mr. Schneiderman warned her he could have her phones tapped, followed and and both women alleged that he threatened to kill them if they broke off their relationship with him.
Mr. Schneiderman's spokesperson said that he "never made any of these threats."
Another one of the women who did not go on the record claimed that he slapped her across the face with enough force to leave a mark after she rebuffed his advances. She asked to remain unidentified, but shared a photograph of the injury with The New Yorker.
The Manhattan District Attorney's Office said Monday night it was opening a probe into the allegations.
"Our office has opened an investigation into the recently reported allegations concerning Mr. Schneiderman," a spokesman for District Attorney Cy Vance said.
The now-former attorney general in The Empire State also attended at least one meeting with the rogue officials at the Federal Bureau of Investigation (FBI), who sought to derail the presidency of Mr. Trump.
These same officials also handled the investigations into Hillary Clinton's use of a private email server and the Clinton Foundation.
In October 2016, People's Pundit Daily (PPD) ran an exclusive story examining tax returns and regulatory filings from Clinton family charities, which were in clear violation of New York law governing contributions by foreign governments.
Title 13 (13 CRR-NY 91.5) – the Official Compilation of Codes, Rules and regulations of the State of New York governing charitable organizations – states charities must publicly and annually "list the name of each agency" and "the amount of each contribution" received from any "government agency."
Mr. Schneiderman's office claimed to believe the Clinton family charities were "in step" with state laws, even though the Clinton Health Access Initiative (CHAI) ignored this requirement.
Mr. Schneiderman, who endorsed Hillary Clinton for President and donated to the campaign, did not require compliance.