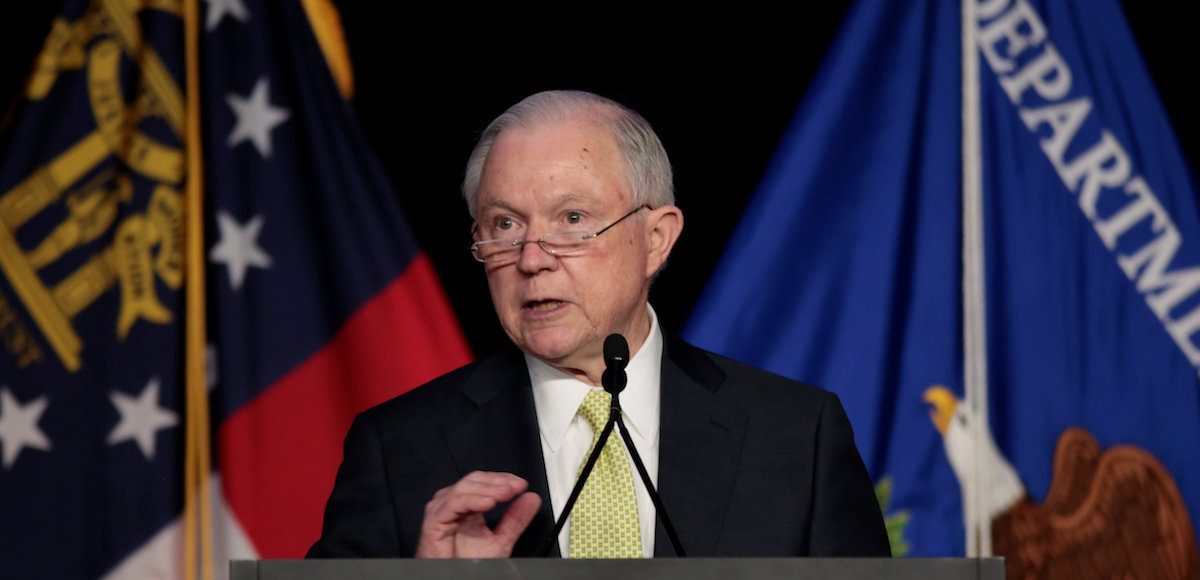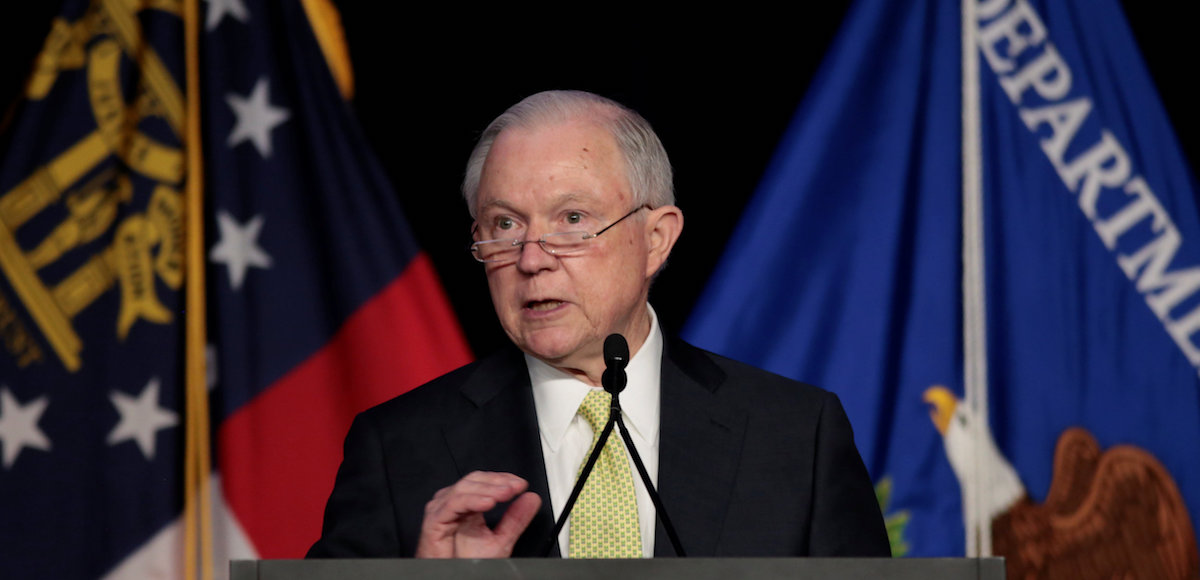 Attorney General Jeff Sessions said the Justice Department (DOJ) has implemented a "zero tolerance" policy for illegal immigration at the Southwest Border. The new initiative aims to refer 100% of illegal Southwest Border crossings for federal prosecution, as well as those who aide them.
During remarks to the Association of State Criminal Investigative Agencies 2018 Spring Conference on Monday in Scottsdale, Ariz., Attorney General Sessions said the U.S. is experiencing "a massive influx of illegal aliens across our Southwest Border," a number that tripled in April year-over-year.
"But we're not going to stand for this.  We are not going to let this country be invaded. We will not be stampeded. We will not capitulate to lawlessness," the attorney general said. "President Trump has made that clear to every agency and to Congress – and we need a wall."
Mr. Sessions announced that last month he put in place a "zero tolerance" policy for illegal entries on our Southwest border referred by the Department of Homeland Security. The initiative was rolled out last month and, as of Monday, the Department of Homeland Security (DHS) partnering with DOJ.
"And the Department of Justice will take up as many of those cases as humanly possible until we get to 100 percent. If you cross this border unlawfully, then we will prosecute you.  It's that simple," he said. "If you smuggle illegal aliens across our border, then we will prosecute you."
The moves comes in response to a wave of illegal immigration in the form of caravans of migrants, consisting mostly of Honduran nationals. Groups such as Pueblo Sin Fronteras, or People Without Borders, organize the roughly 1,000-strong caravans with the explicit intention of illegally crossing the U.S.-Mexico border to claim asylum.
But DOJ is now taking the position that those claims are fraudulent. Many ignored the Mexican government's offer to for asylum in clear defiance of U.S. law and of the wishes of the American people.
Attorney General Sessions also warned that parents will be held responsible for illegally crossing the border with a child. He said parents will be separated from their child if they decide to break federal immigration law.
"If you are smuggling a child, then we will prosecute you and that child will be separated from you as required by law," he added. "If you don't like that, then don't smuggle children over our border."
As People's Pundit Daily (PPD) has reported, the Justice Department under Mr. Sessions has prosecuted those who make false statements in their effort to obtain a favorable immigration status.
In April, DOJ denaturalized a child sex abuser and 4 Somali nationals who gamed the Diversity Immigrant Visa (DV) Program. Olugbenga Omopariola, 61, engaged in sexual contact with a 7-year-old minor, which he admitted and was later convicted of, making him ineligible for applying for U.S. citizenship.
However, he concealed his legal history during the naturalization process.
Mr. Sessions made it clear that the same actions will be taken and the same efforts will be made at the Southwest Border.
"If you make false statements to an immigration officer or commit fraud in our system to obtain an immigration benefit, that's a felony," he said. "We will put you in jail."
"If you help others to do so, that's a felony, too."