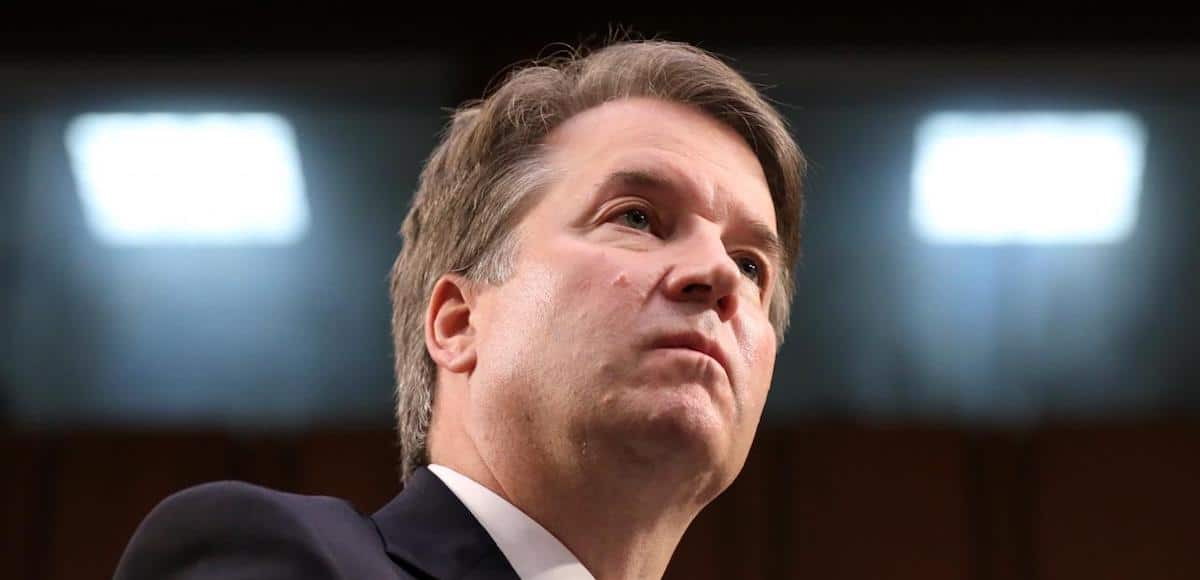 Several Republican senators are calling for Judge Brett Kavanaugh and his accuser to publicly testify before a vote is held. The once-unstoppable nomination to the U.S. Supreme Court could be derailed by a last-minute, previously-withheld accusation of sexual misconduct.
Christine Blasey Ford alleges the then-prep-school student "pinned her to a bed on her back and groped her over her clothes, grinding his body against hers and clumsily attempting to pull off her one-piece bathing suit and the clothing she wore over it."
"When she tried to scream, she said, he put his hand over her mouth," she told The Washington Post. Senator Dianne Feinstein, D-Calif., the Ranking Member of the Senate Judiciary Committee who finds herself under reelection siege from her own party, was aware of the allegations back in July.
Yet, she did not tell members of the committee and did not take the information public until after the hearings had been complete, a tactic Democrats have used before despite the veracity of the allegations.
Senator Susan Collins, R-Me., a swing Republican moderate targeted by Democrats, appeared first to criticize the Democratic tactics. She said it was "puzzling" Democrats kept the information for "more than six weeks," and "unfair" to both.
"If they believed Professor Ford, why didn't they surface this information earlier so that he could be questioned about it?" she asked. "And if they didn't believe her and chose to withhold the information, why did they decide at the 11th hour to release it? It is really not fair to either of them the way it is was handled."
Professor Ford is a professor of clinical psychology in California, and also happens to be a registered Democrat. Now, Senator Collins took to Twitter to tweet another tune.
"Professor Ford and Judge Kavanaugh should both testify under oath before the Judiciary Committee," Senator Collins tweeted on Monday.
Professor Ford and Judge Kavanaugh should both testify under oath before the Judiciary Committee.

— Sen. Susan Collins (@SenatorCollins) September 17, 2018
Senator Collins joins Senators Bob Corker, R-Tenn., and Jeff Flake, R-Ariz., both of whom are no longer accountable to voters. Mr. Corker and Mr. Flake didn't have the stomach to face the voters in November given the certainty of experiencing the embarrassment of defeat at the hands of primary challengers.
Following the accusations, a bipartisan group of 65 women wrote a letter to Senate Judiciary Committee Chairman Chuck Grassley, R-Ia., on behalf of Judge Kavanaugh. All of the women who signed the letter have known Brett Kavanaugh for more than 35 years and knew him while he attended high school between 1979 and 1983.
"Through the more than 35 years we have known him, Brett has stood out for his friendship, character, and integrity," the women stated in the letter. "In particular, he has always treated women with decency and respect. That was true when he was in high school, and it has remained true to this day."
Chairman Grassley issued a statement moments ago: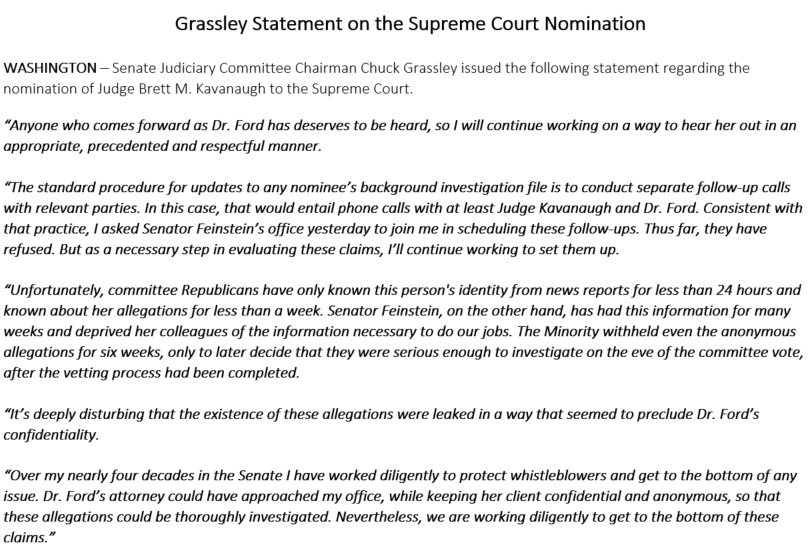 Judge Kavanaugh, 53, serves on the U.S. Court of Appeals for the District of Columbia Circuit. He, along with President Trump's first nominee — Justice Neil Gorsuch — both clerked for Justice Anthony Kennedy, who retired effective July 31.