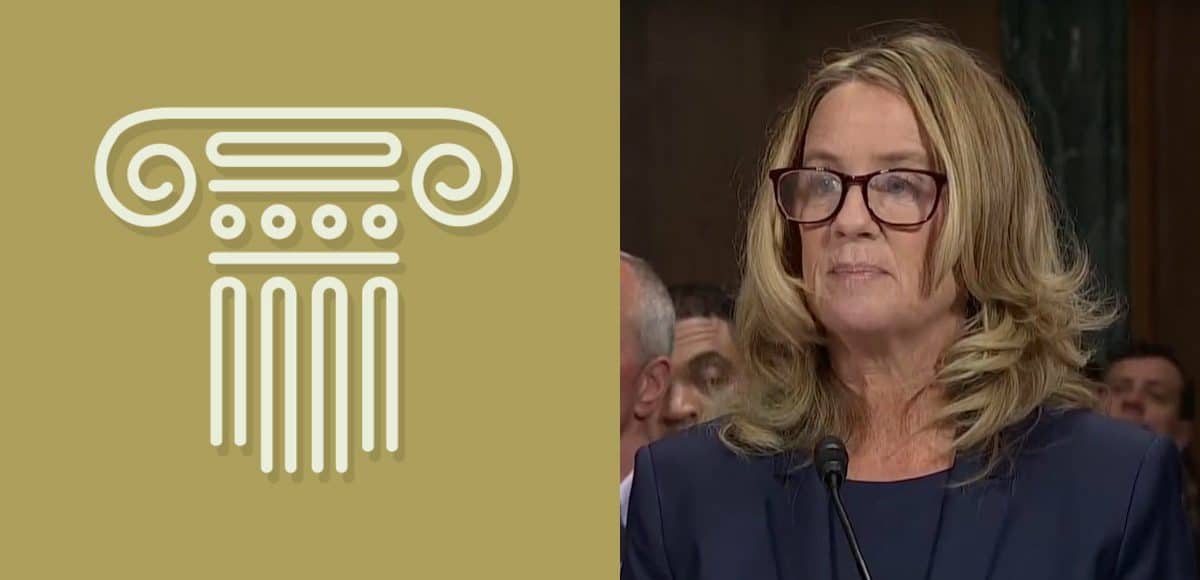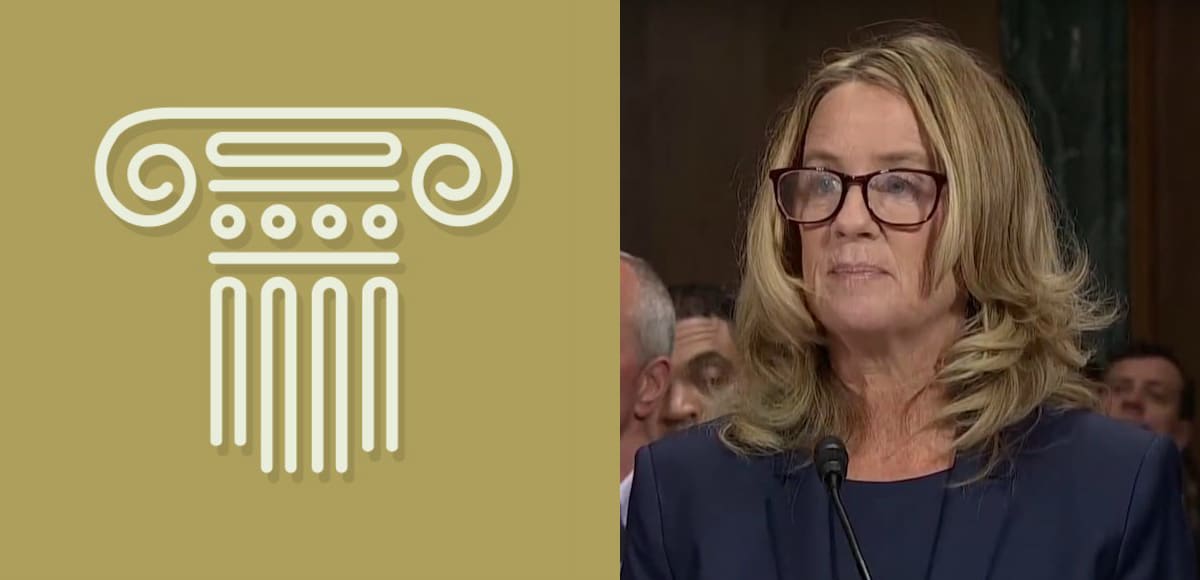 Democratic lawyers representing Professor Christine Blasey Ford are withholding therapist notes and polygraph results they claim to have prepared for the Federal Bureau of Investigation (FBI).
Senate Judiciary Committee Chairman Chuck Grassley wrote that the committee is requesting "material evidence relevant to allegations of sexual assault made by your client" against U.S. Supreme Court nominee Judge Brett Kavanaugh, and "I urge you to comply promptly with my requests."
[su_document url="https://www.peoplespunditdaily.com/wp-content/uploads/2018/10/Chairman-Chuck-Grassley-Letter-Ford-Lawyers.pdf" width="720″ height="860″]
Heather Sawyer and Michael R. Bromwich, who along with partner Debra Katz, are Democratic activist lawyers known for highly-politicized Democratic causes. The firm responded to Chairman Grassley Wednesday.
"Regarding the documents you have requested in your letter of October 2, 2018, Dr. Ford is prepared to provide those documents to the FBI when she is interviewed," Sawyer and Bromwich said in the letter to Chairman Grassley. "We have not yet heard from the FBI about scheduling an intervew with her.[sic]"
The initial letter came Tuesday evening shortly after allegations Professor advised her friend on polygraph examinations, something she denied testified under oath.
"The full details of Dr. Ford's polygraph are particularly important because the Senate Judiciary Committee has received a sworn statement from a longtime boyfriend of Dr. Ford's stating that he personally witnessed Dr. Ford coaching a friend on polygraph examinations," the chairman from Iowa added.
The Senate Judiciary Committee received a signed statement from a man claiming to be Professor Ford's ex-boyfriend. He said he "found her truthful and maintain no animus" during their relationship from 1992-1998, but that he "witnessed Dr. Ford help McLean prepare for a potential polygraph exam."
"During that time, it was my understanding that [Ford's roommate, Monica] McLean was interviewing for jobs with the FBI and US Attorney's Office," he claimed under penalty of perjury. "I witnessed Dr. Ford help McLean prepare for a potential polygraph exam."
[su_document url="https://www.peoplespunditdaily.com/wp-content/uploads/2018/10/Christine-Blasey-Ford-Boyfriend-Senate-Judiciary-Committee-Letter.pdf" width="720″ height="860″]
"Dr. Ford explained in detail what to expect, how polygraphs worked and helped McLean become familiar and less nervous about the exam," the letter continued. "Dr. Ford was able to help because of her background in psychology."
The FBI is wrapping up its seventh background probe into Judge Kavanaugh. Senate Majority Leader Mitch McConnell, R-Kty., said the entire chamber will vote by the week's end. The women who allege the nominee sexually assaulted them are facing greater scrutiny, and it's casting further doubt on their credibility.
The Senate Judiciary Committee on Tuesday received a signed statement from Mr. Dennis Ketterer, the former Democratic candidate for Congress and weatherman for WJLA Channel 7 in Washington. Mr. Ketterer had a relationship with Julie Swetnick, a third accuser represented by Democrat activist lawyer Michael Avenatti.
Ms. Swetnick initially alleged to have witnessed Judge Kavanaugh at "gang rape" parties and claimed to have become a victim of one of the ten she attended while in college. But Mr. Ketterer claimed in the statement made under penalty of perjury that Ms. Swetnick "liked to have sex with more than one guy at a time." Of the four corroborating witnesses she offered to media, one is dead, another disputes even knowing her and the other two haven't been reached for comment.
Professor Ford, a liberal activist and Palo Alto University psychology professor, alleged Judge Kavanaugh attempted to rape her at a high-school party in or about 1982, when he was 17 and she was 15. She can't be certain of the year, how she got to and from the event, and has even given various versions of the story.
There is no contemporaneous evidence.
Nevertheless, the more Professor Ford's story is told and scrutinized, the more it's becoming clear there are myriad inconsistencies and untruths.
For instance, Professor Ford's testimony conflicted with both her therapist's notes and text message she sent to the Washington Post. The therapist's notes stated Ford had been the victim of an attempted rape in her late teens. At that time, Judge Kavanaugh was already attending Yale University. In fact, Professor Ford initially told reporter Emma Brown she had been assaulted in the mid-1980s.
She also initially told the Washington Post the attack took place at a house not far from the country club. Yet, when sex crimes prosecutor Rachel Mitchell revealed a map of the relevant locations and reminded Professor Ford that she had described the attack as having occurred near the country club, she reversed course.
"I would describe [the house] as it's somewhere between my house and the country club in that vicinity that's shown in your picture," she responded.
Further, For instance, newly-obtained real estate and other records undercut a key part of Professor Ford's reasoning for why she finally came forward after 36-odd years. Under oath, Professor Ford testified that details of the alleged attack were not revealed until 2012, when she was in couples therapy with her husband.
She testified the memories came back to her as they revisited a disagreement they'd had over her insistence on installing a "second front door" when they had remodeled their Palo Alto, Calif., home. She further testified that she needed to explain this to her husband, who "didn't understand" she needed the door to treat the symptoms of "claustrophobia" and "panic attacks."
The symptoms, she claims, stem from the attempted rape by Judge Kavanaugh in high school some time during the early 1980s.
"Is that the reason for the second door — front door — is claustrophobia?" Senator Feinstein asked.
"Correct," Ford replied.
But the document reveal the door was installed more than 4 years before as part of an addition, and has been used by renters and even a marriage counseling business.
"The door was not an escape route but an entrance route," an attorney familiar with the ongoing congressional investigation told RealClearInvestigations. "It appears the real plan for the second front door was to rent out a separate room."
Property records also show Professor Ford and her husband, Russell Ford, bought a beach house located on Seaside Street in Santa Cruz in 2007. There is no building permits since 2007 or application for the construction of a second front door. However, this July – the same month Professor Ford sent the letter to Senator Feinstein — the Fords applied for permits to build a front porch and new decks at the home.
Meanwhile, the Senate Judiciary Committee, which does have subpoena power, made it clear it is the role of the committee to advise and consent.
"The Constitution tasks the Senate, not the media or the FBI, with providing advice and consent for Supreme Court nominees," the Senate Judiciary tweeted.