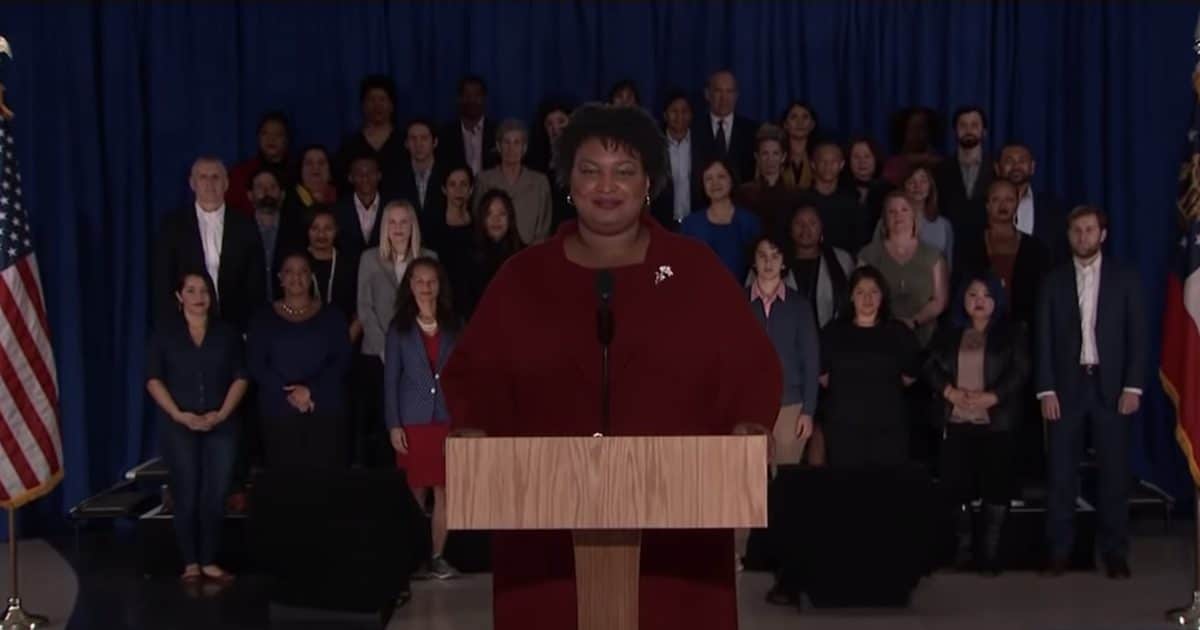 NRSC Had a Field Day, While Democrats Were Still "Mourning Abrams' Loss"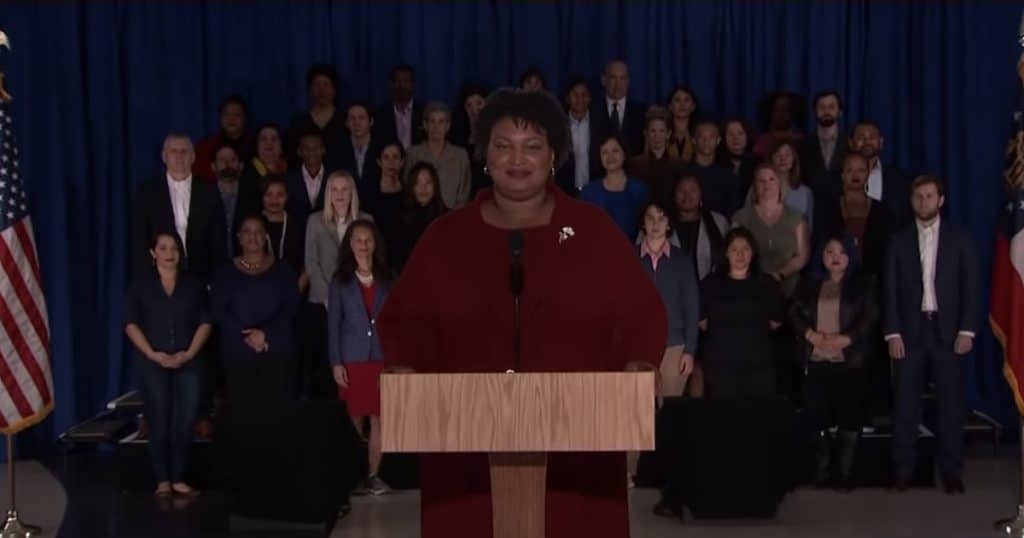 When Minority Leader Chuck Schumer, D-N.Y., announced Stacey Abrams would deliver the Democratic response to the State of the Union, Republicans were elated.
Ms. Abrams, the Minority Leader of the Georgia House of Representatives, launched a failed bid against Governor Jack Kemp in 2018. While the race was competitive, it was not as close as some Democrats had hoped.
That of course included Ms. Abrams, who had sold an idea to Democratic donors in 2014, one which claimed they could flip the state solely by registering black voters who allegedly had been suppressed from the rolls.
Despite a clear margin of victory and the race being called by numerous news outlets, she refused to concede the election and blamed the loss on continued voter suppression.
Yet, despite the failure, she is now widely expected to run for U.S. Senate against Republican Senator David Perdue in 2020.
Prior to the State of the Union Address on Tuesday night, the National Republican Senatorial Committee (NRSC), which is responsible for recruiting and supporting candidates, launched a series of preemptive strikes.
The NRSC released a video titled "What Stacey Abrams stands for in less than 30 seconds." The video shows clips of her refusing to concede the 2018 gubernatorial contest, a prospect Democrats characterized as a "direct threat to democracy" just two short years prior.
It also reminded viewers of her support for non-residents to vote in U.S. elections, and remarks and positions that are rather unpopular with the general electorate.
In a series of tweets with the video attached, the NRSC counted down the "Top 10 Reasons Why Stacey Abrams Was Chosen To Give the State of the Union Response." The Top 10 was also featured on the NRSC site under the registered domain whystaceyabrams.com.
President Donald J. Trump went on to give what has been lauded as an optimistic, upbeat address that called for national unity. The president touted the nation's economic boom, called on lawmakers to "choose greatness" and to put aside partisanship for the sake of the American people.
"What will we do with this moment? How will we be remembered?" he asked lawmakers gathered in the lower chamber. "We must choose whether we are defined by our differences."
"This is the time to rekindle the bonds of love and loyalty and memory that link us together as citizens, as neighbors, as patriots."
Two separate polls from CBS and CNN find 76% approved of the State of the Union Address.
Republicans viewed the Democratic response delivered by Ms. Abrams as if it was written for another occasion, and in response to another address.
Ms. Abrams quickly veered off into liberal orthodoxy. She again raised the possibility that her loss was due to voter suppression, a claim no serious news outlet has found evidence to support.
The speech was not well-received by the general audience, and Republicans wasted no time pouncing.
Republican National Committee (RNC) spokesperson Ellie Hockenbury said "Abrams' speech for a national audience replayed the same broken ideas that capsized her failed campaign."
"With extreme policies and an anti-free market agenda, Stacey Abrams was rejected by her home state of Georgia last November," she said in a statement to People's Pundit Daily (PPD) after the rebuttal.
"While President Trump outlined a unifying agenda to advance America's progress, Democrats are still living in the past, mourning Abrams' loss."
Following along on Twitter, PPD's election projection model director agreed the response by Ms. Abrams was not appropriate for the general electorate.
"It's always hard to follow a president's #SOTU. But that is usually because of optics and grandeur, not the message," he tweeted. "The rebuttal by Stacey Abrams was not a pitch to mainstream Americans. It was part self-explanatory for refusing to concede, and part off the rails incoherent."