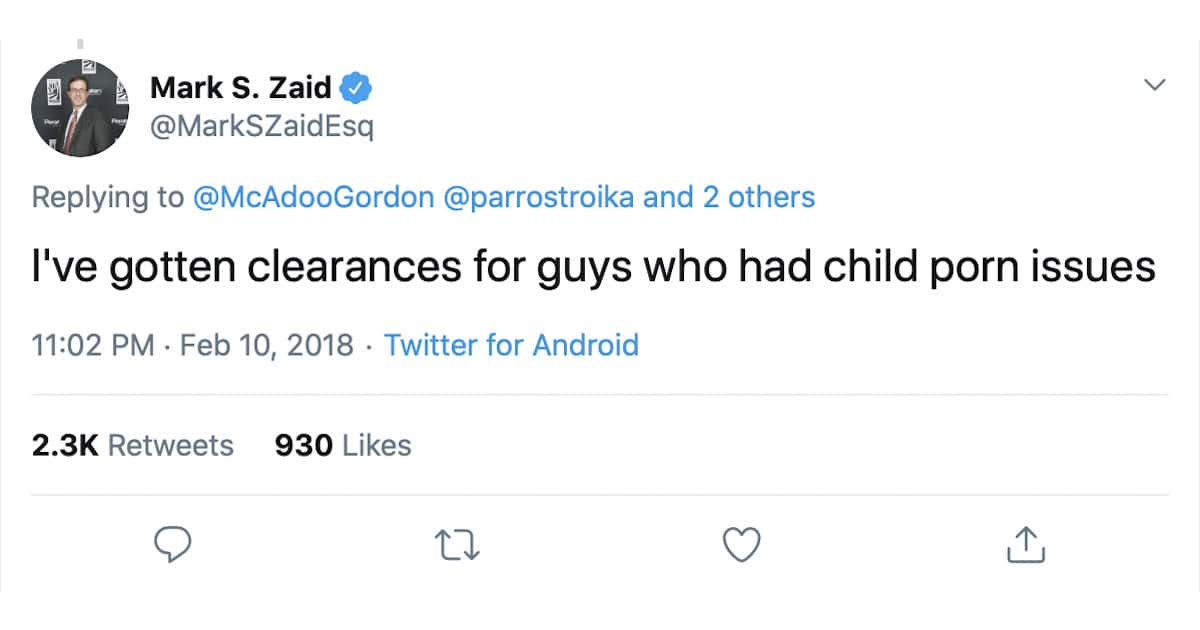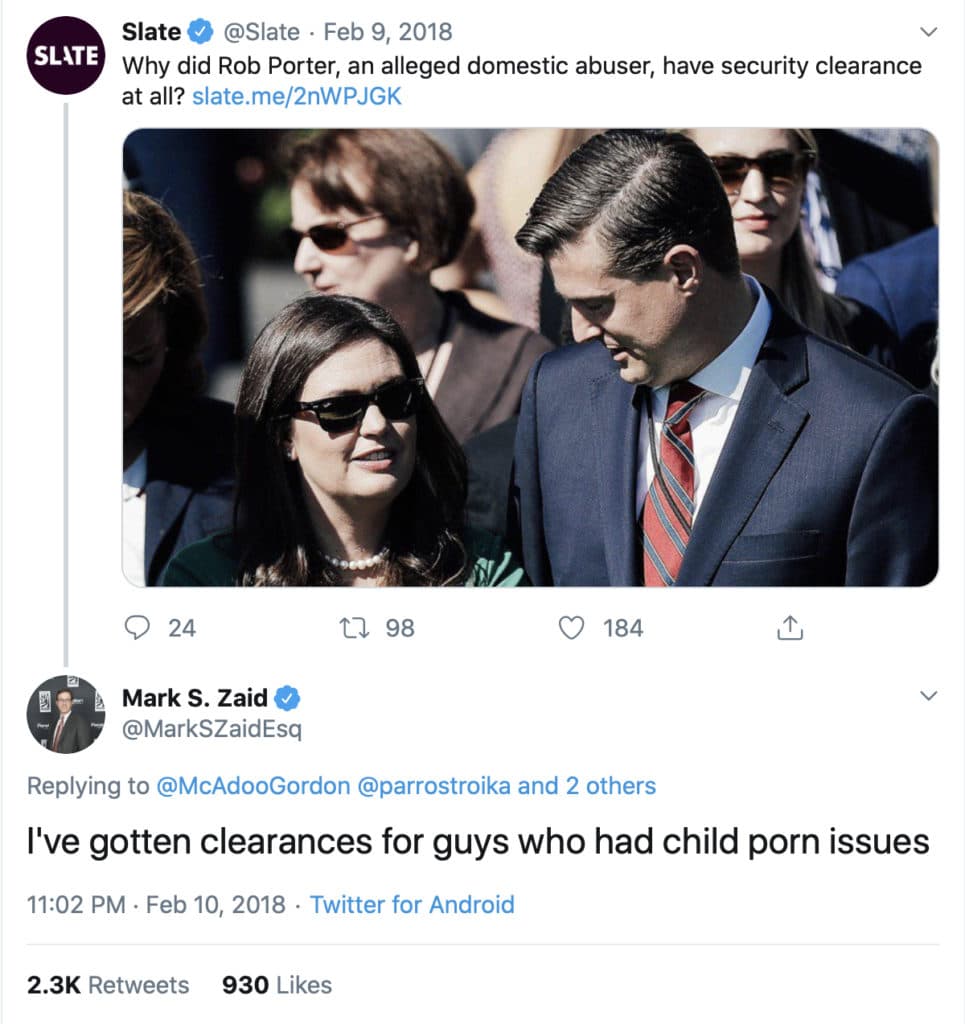 Mark S. Zaid, the lawyer for the "anonymous whistleblower" who sparked the impeachment inquiry in the U.S. House, bragged on Twitter about getting "clearances for guys who had child porn issues."
The tweet, which remains undeleted and live as of this article being published, was first uncovered by Mike Cernovich. He called it a "shocking admission on Twitter about the nature of some members of the intelligence community."
It was sent in response to a story published by Slate on former White House Staff Secretary Rob Porter, who was forced to resign amid allegations of domestic abuse.
As People's Pundit Daily (PPD) previously reported, unrelated questions surrounding Mr. Zaid have been raised, as well. He tweeted only 10 days after Inauguration Day that the "#coup has started" and that "#impeachment will follow ultimately."
In 2011, U.S. Senator Chuck Grassley, R-Ia., revealed thousands of intelligence community, defense department officials and contractors had been flagged for purchasing child pornography.
The revelation was the result of Project Flicker, a sting operation that started in 2006. But the results were "overlooked" and it was only years later that the findings were uncovered.
According to Senator Grassley, the report identified 5,200 defense department employees who had purchased child pornography and only 3,500 were cross-checked. The remaining 1,700 were not investigated and prosecutions have been scarce.
On July 7, 2011, Senator Grassley wrote a letter to then-Attorney General Eric Holder questioning the decision not to prosecute and delay disciplinary action. At least according to the public record, Mr. Holder took no additional action.
The rarely discussed issue of members of the intelligence community and other government employees viewing child pornography is less uncommon than most would like to believe. More concerning, few are ever investigated and even fewer are ever prosecuted.
In 2011, the Justice Department (DOJ) Inspector General found an Assistant U.S. Attorney was viewing child pornography and other adult content on his government computer. The U.S. Attorney's office declined to prosecute the case.
On August 13, 2019, former Foreign Service Officer Steven Hadley Hassan, 52, of Frederick, Maryland, was sentenced to 40 years in federal prison, followed by lifetime supervised release, for sexually abusing minors to produce child pornography and transporting those images to the United States.
On October 19, 2018, Skydance MacMahon, 45, a Digital Media Administrator at the Foreign Services Institute of the U.S. Department of State in Arlington, Virginia, was sentenced for conspiring with an adult in Canada to produce over a thousand sexually explicit images and videos of minor children in Canada.
On October 4, 2019, Air Force Colonel Mark Visconi, 48, of Fairfax, Virginia, plead guilty to receiving and attempting to receive child pornography.
UPDATE: People's Pundit Daily (PPD) reviewed webarchives from Mr. Zaid, including his professional website and a previously linked YouTube channel.