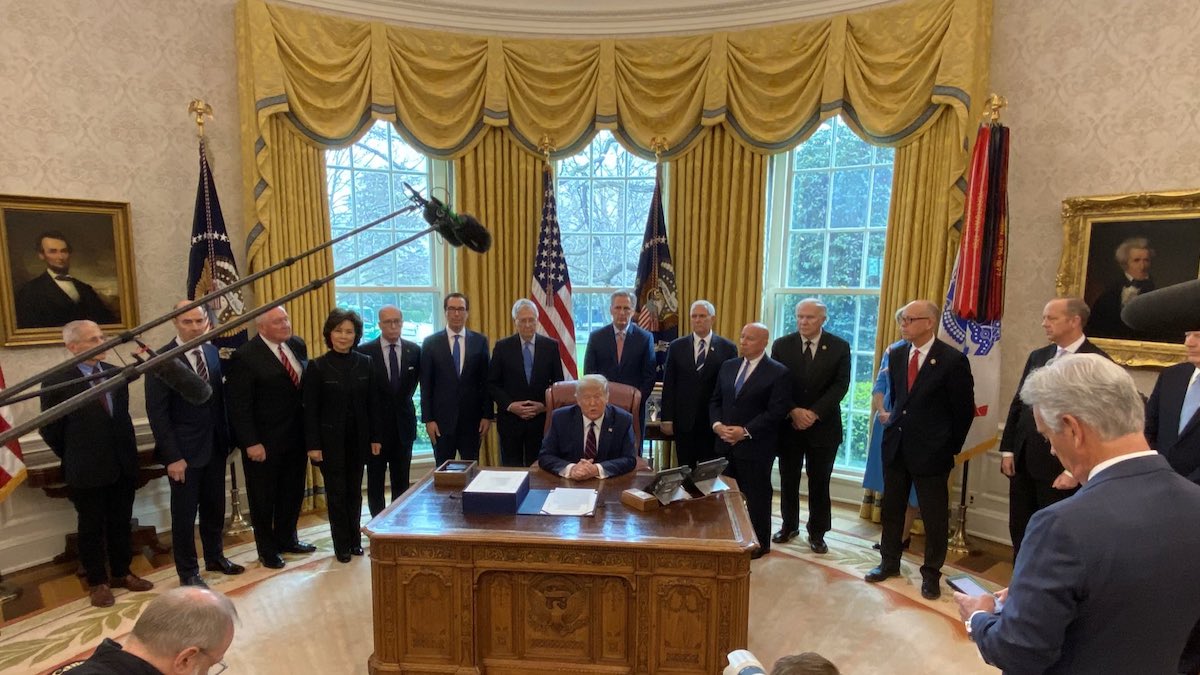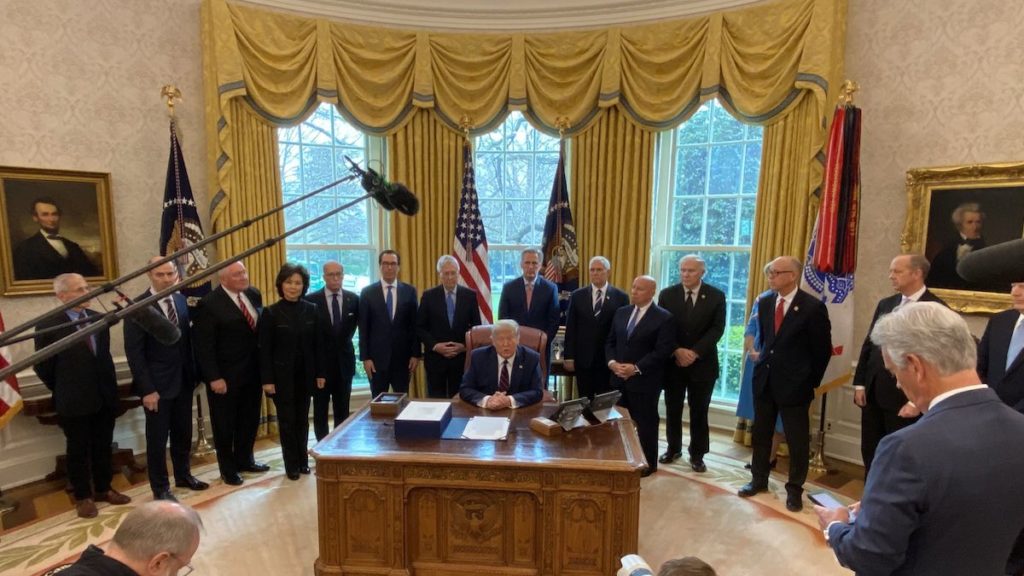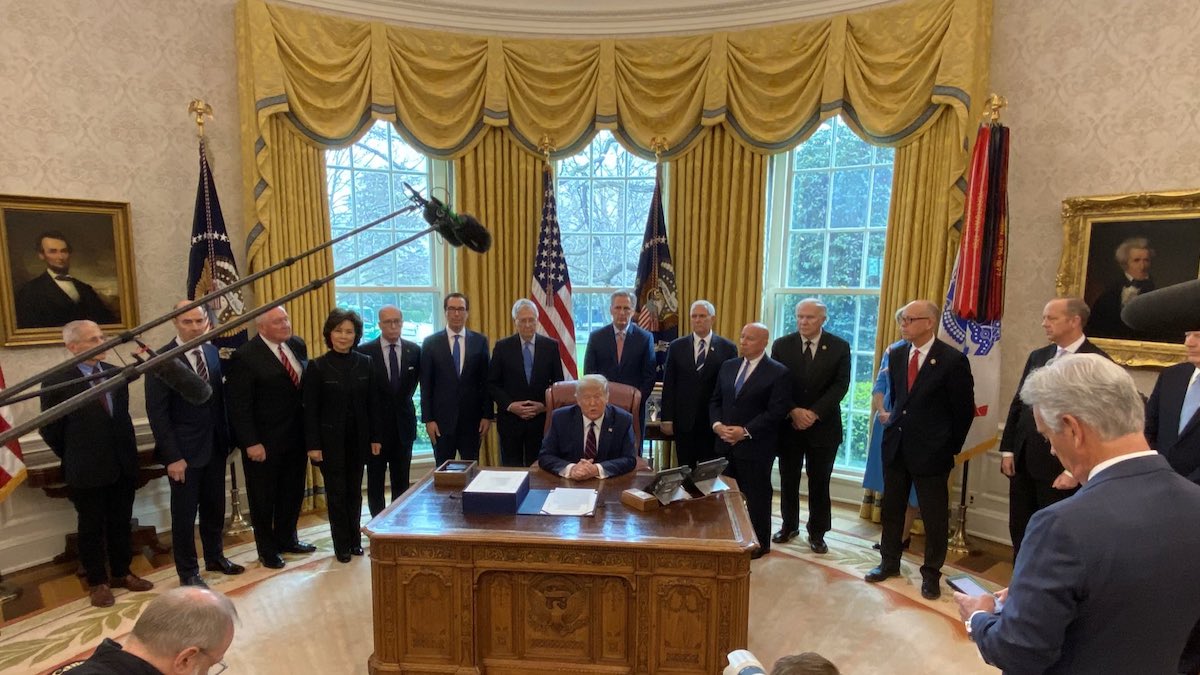 Washington, D.C. (PPD) — President Donald J. Trump signed a historic $2 trillion coronavirus relief bill on Friday, providing unprecedented support for unemployment and relief to companies and workers.
The U.S. House passed the bill by voice vote earlier Friday and U.S. Senate passed it unanimously on Wednesday.
"I want to thank Democrats and Republicans for coming together and putting America first," President Trump said during the signing ceremony in the Oval Office.
The Coronavirus Aid, Relief, and Economic Security Act, or the CARES Act, includes direct payments to most Americans, and a significant expansion of unemployment benefits. It also includes a $367 billion program for small businesses to meet payroll while workers are forced to stay home and $500 billion program for corporations in vital industries such as airlines.
"This bill is not only a rescue package, it is a commitment," House Minority Leader Kevin McCarthy, R-Calif., said. "To the American public: If you do your part, I promise we will do ours."
While the president signing the bill was widely anticipated, it was first held up first by deadlock in Congress, and later almost delayed by an attempt by Rep. Thomas Massie, R-Kty., to force a traditional roll call vote.
Last week, a deal had been struck in the U.S. Senate until House Speaker Nancy Pelosi, D-Calif., returned to D.C. with a laundry list of last-minute, leftwing demands. It included large parts to the Green New Deal, elections reforms believed to aid Democrats at the ballot box, other failed progressive agenda items.
The CARES Act was nearly held up again on Friday in the lower chamber. House Democrats and Republicans used a convoluted parliamentary procedure to prevent that delay.
"I came here this week to make sure our republic doesn't die in an empty chamber by unanimous consent," Rep. Massie told reporters as he left the Capitol Building. "If they're telling people to drive a truck and they're telling people to bag groceries and grow their own food, then by golly they can be in there and they can vote."
President Trump slammed Rep. Massie, whom he called "a third rate Grandstander" who should be thrown "out of the Republican Party."
Rep. Peter King, R-N.Y., said on his way to the chamber that his colleague will now have a hard time finding allies in the U.S. Congress.
"Massie has now become the most hated person on Capitol Hill."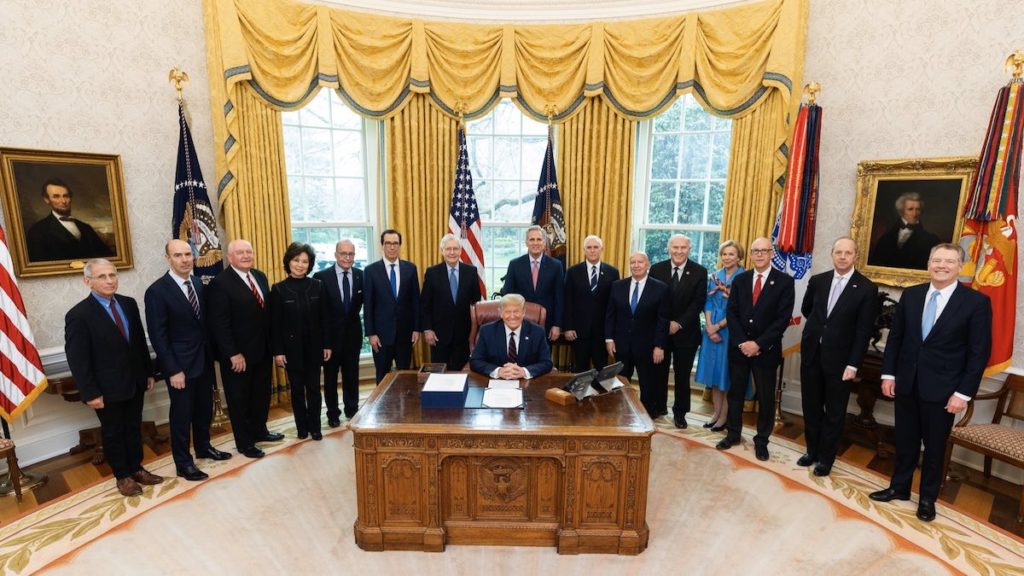 The Coronavirus Aid, Relief, and Economic Security Act, or the CARES Act, has a price tag of roughly $2.2 trillion, more than half the annual federal budget.
It provide one-time direct payments to Americans of $1,200 for adults making up to $75,000 a year and $2,400 for married couples making up to $150,000. There is another $500 for each additional child.
But the unemployment provision — which Senate Republicans opposed — will almost assuredly lead to prolonged periods of high unemployment. It incentivizes many to remain out of the labor force at least until the summer.
There's an additional $600 per week added to regular state jobless payments through the end of July.
The bill also allocates $150 billion for the health care system, including $100 billion for grants to hospitals and other health care providers under stress from the Chinese Coronavirus (COVID-19).