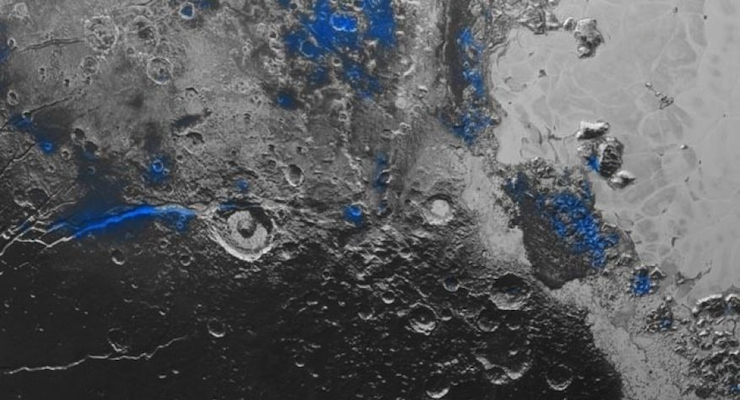 In the first images from NASA's New Horizons spacecraft taken during the historic flyby of the icy dwarf planet in July, scientists discovered Pluto has a blue sky. The images of Pluto's blue atmospheric haze were returned last week from Pluto currently orbiting on the far reaches of the solar system, known as the Kuiper Belt, and released by NASA on Thursday.
"Who would have expected a blue sky in the Kuiper Belt? It's gorgeous," said Alan Stern, principal scientist for New Horizons from Southwest Research Institute (SwRI), Boulder, Colorado.
NASA scientists say the particles in the atmospheric haze are likely red and gray, but the way the particles scatter blue light tells them much of the composition in the dwarf planet's atmosphere.
"That striking blue tint tells us about the size and composition of the haze particles," said science team researcher Carly Howett, also of SwRI. "A blue sky often results from scattering of sunlight by very small particles. On Earth, those particles are very tiny nitrogen molecules. On Pluto they appear to be larger — but still relatively small — soot-like particles we call tholins."
Because the dwarf planet is 3.6 billion miles from the sun, it is constantly twilight. Scientists believe these findings show Pluto is comparable to Saturn's moon Titan. NASA explains the interaction of molecules further:
Tholin particles form high in the atmosphere, where ultraviolet sunlight breaks apart and ionizes nitrogen and methane molecules and allows them to react with one another to form more and more complex negatively and positively charged ions. When they recombine, they form very complex macromolecules, a process first found to occur in the upper atmosphere of Saturn's moon Titan. The more complex molecules continue to combine and grow until they become small particles; volatile gases condense and coat their surfaces with ice frost before they have time to fall through the atmosphere to the surface, where they add to Pluto's red coloring.
In another discover, which scientists are calling a "significant finding," images uncovered numerous ice patches on Pluto's surface. The exposed water ice appears to be, mysteriously, red. Scientists said they are uncertain why the ice appears in certain places at Pluto and not others.
"Large expanses of Pluto don't show exposed water ice," said science team member Jason Cook, of SwRI, "because it's apparently masked by other, more volatile ices across most of the planet. Understanding why water appears exactly where it does, and not in other places, is a challenge that we are digging into."
Launched in 2006, New Horizons is now 63 million miles beyond Pluto. Johns Hopkins University in Maryland is operating the spacecraft for NASA.