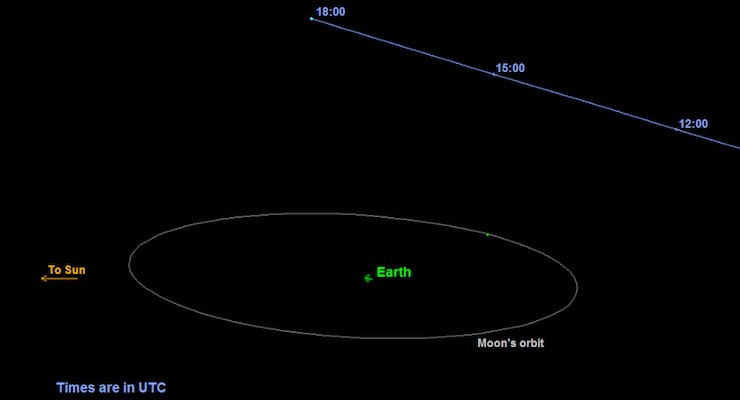 On October 31, star-gazers will get a special Halloween treat from space, as the massive asteroid 2015 TB145 is on course to fly by Earth at 1:05 p.m. ET. This asteroid, a.k.a. "Spooky," poses no trick or threat to us even though it is an estimated 1,300-foot-wide (400-meter) rock. It will be zipping on by at 480,000 kilometers, just past the orbit of the moon, allowing instruments on "spacecraft Earth" to scan it during the close pass.
"The trajectory of 2015 TB145 is well understood," said Paul Chodas, manager of the Center for Near Earth Object Studies at NASA's Jet Propulsion Laboratory, Pasadena, California. "At the point of closest approach, it will be no closer than about 300,000 miles — 480,000 kilometers or 1.3 lunar distances. Even though that is relatively close by celestial standards, it is expected to be fairly faint, so night-sky Earth observers would need at least a small telescope to view it."
There has not been an asteroid this enormous to pass Earth. The next asteroid 1999 AN10 will not make an appearance until August 2027.
"The close approach of 2015 TB145 at about 1.3 times the distance of the moon's orbit, coupled with its size, suggests it will be one of the best asteroids for radar imaging we'll see for several years," said Lance Benner, of JPL, who leads NASA's asteroid radar research program. "We plan to test a new capability to obtain radar images with two-meter resolution for the first time and hope to see unprecedented levels of detail."
Scientists are very excited to bounce radar off of the asteroid to learn key details, including the space rock's size, shape, surface features and if we are fortunate, its true identity. There are some scientists that think that this space rock may not just be an asteroid.
"The asteroid's orbit is very oblong with a high inclination to below the plane of the solar system," said Benner. "Such a unique orbit, along with its high encounter velocity — about 35 kilometers or 22 miles per second — raises the question of whether it may be some type of comet. If so, then this would be the first time that the Goldstone radar has imaged a comet from such a close distance."
Although we may not be able to catch it with the naked eye, fear not the Slooh Community Observatory has us covered. You can peek on in through the Virtual Telescope Project.
Remember to watch your clocks and peek on in to catch a glimpse of this rare occurence.