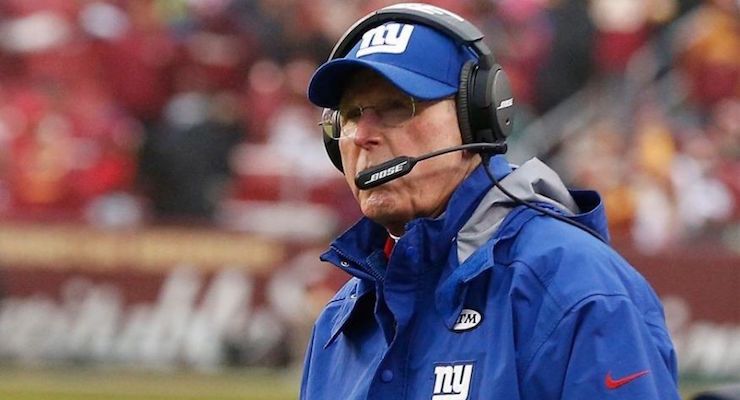 New York Giants head coach Tom Coughlin resigned Monday after missing the playoffs for the fourth consecutive year. The Giants just ended their losing season with a 35-30 defeat against Philadelphia, marking their third straight and sixth in the final seven games.
Still, Coughlin led the Giants to two winning Super Bowls.
"I met with (owners) John Mara and Steve Tisch this afternoon, and I informed them that it is in the best interest of the organization that I step down as head coach," Coughlin said in a statement. "I strongly believe the time is right for me and my family, and the Giants organization."
Though the 69-year-old Coughlin didn't say as much, the decision could mark the end of a 20-year NFL head coaching career for one of 13 coaches to win multiple Super Bowls.
"It is difficult to come up with words adequate to describe the appreciation we have for everything Tom Coughlin has done for our franchise," Mara said."In addition to delivering two Super Bowl titles, Tom represented us with class and dignity, and restored the pride to our entire organization. He has all the qualities you could ever ask for in a head coach, and set very high standards for whoever will succeed him."
Coughlin, Mara, Tisch and general manager Jerry Reese reportedly plan to hold a news conference Tuesday morning. Despite what is said, everyone knew before the 2015 season that Coughlin had to get the Giants back to the postseason to keep his job. Of course, that didn't happen. However, he himself started the season with a handicap. The team had the shallowest bench talent-wise in years, which was made worse when defensive end Jason Pierre-Paul was sidelined by a July 4 fireworks accident that mangled his right hand.
"Obviously, the past three years have not been what any of us expect, and as head coach, I accept the responsibility for those seasons," he added. The news of Coughlin's decision was met with nothing but praise and emotion from quarterback and two-time Super Bowl MVP Eli Manning.
"He's been a great coach to play under," Manning said, who was visibly emotional when he spoke about his only NFL coach. "We have a great relationship, great trust. I appreciate the way he works, I think he appreciates the way I handle my business and play quarterback and prepare and get ready. We've had a good run, could've been better, obviously, but I appreciate everything he's done for me."
Also, Pierre-Paul said he saw no loss of competence or style in Coach Coughlin, saying he was consisted from the past six seasons until his final meeting with the team, during which he thanked them for their effort.
"Coach Coughlin is always Coach Coughlin," Pierre-Paul said. "He's going to be straight blunt with it, he's not going to sugarcoat anything, he's going to keep it original and that's what he did."
The Giants made the playoffs in four of the first five seasons under Coughlin following the 2004 firing of Jim Fassel, and one other time beyond that in 2011. Coach Coughlin also posted a 110-93 record in 12 seasons with the Giants, winning three division titles in addition to his two league crowns.