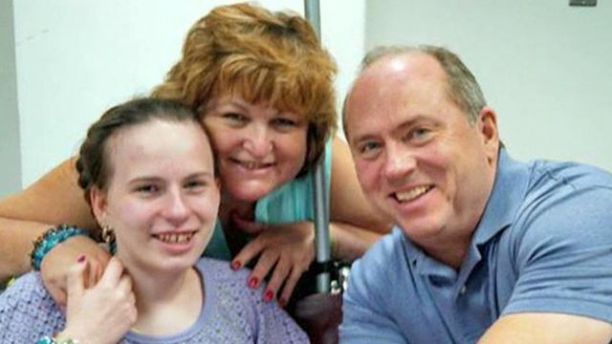 Justina Pelletier is finally coming home now that a Massachusetts judge okayed the 16-year-old Connecticut girl's and her family's request. The ruling says Pelletier, who was taken from her family by so-called child welfare advocates more than a year ago, is to be returned to her mother and father effective Wednesday.
The ruling ends a long-running medical custody dispute that first got way out of hand when two of Boston's top children's hospitals disagreed over the girl's diagnosis. The case sparked national outrage across the nation, resulting in a legal and public opinion battle led by Lou and Linda Pelletier, of West Hartford, Connecticut.
"To hear the news is overwhelming," Lou Pelletier said just moments after learning of the ruling. "Now we can certainly begin the healing process."
The controversy and dispute began when the girl's parents challenged a psychiatric diagnosis given by Boston Children's Hospital and said they wanted their daughter returned to her original physician at another top Boston child hospital, Tufts Medical Center. Tufts had been treating Justina for mitochondrial disease, a group of rare genetic disorders that negatively affects cellular energy production.
Then, the Massachusetts Department of Children and Families got involved, and took the outrageous step to accuse Justina's parents of "medical child abuse." But sadly, as is typically the case with careless and arrogant state intervention, the parents knew what was the better course for their child. While in state custody, Justina's condition deteriorated significantly, leading Mr. Pelletier to say during an interview that his "daughter's life is literally at stake."
In May, Justina was moved from Massachusetts to a facility in Thompson, Connecticut, which is allowed her parents to visit. In a 45-second, videotaped plea, first posted on a Facebook support page last week, a weakened Justina was seen sitting in a chair and pleading with the powers that be to go home.
"All I really want is to be with my family and friends," the girl says, her voice faltering at times. "You can do it. You're the one that's judging this. Please let me go home."
The judge obliged.
Former Arkansas Gov. Mike Huckabee and others have helped to give voice to this case of state and DCF overreach. After doing serious harm to the health and well-being of Ms. Pelletier, not to mention the anguish the family was put through, the Department of Children and Families simply decided to give up. They confirmed last week that they would simply reverse their position, without apology or policy changes.
"The People's Republic of Massachusetts," as Huckabee referred to the state, has made no effort to make amends save for agreeing with the family in court. For the Pelletier family, that is more than enough, for now.
"She's coming home tomorrow," Mr. Pelletier said. "I think she will want to get adjusted.
"Think of it like a prisoner of war who has been held captive for 16 months," he added. "There will be an adjustment period."