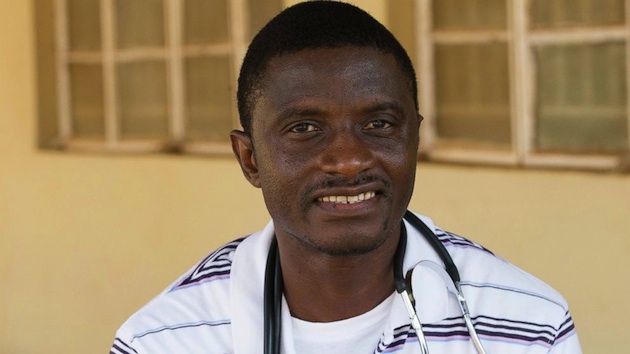 The doctor with Ebola died Monday shortly after 4 AM at a Nebraska hospital where he was transported for treatment, spokesman Taylor Wilson said in a statement.
The statement released Monday by the Nebraska Medical Center said Dr. Martin Salia, a surgeon who contracted the virus while working in Sierra Leone "has passed away as a result of the advanced symptoms of the disease."
Dr. Salia, 44, was being treated in the medical center's biocontainment unit, which he had just arrived at Saturday by plane from West Africa. He was transported by ambulance for treatment at the hospital upon landing, where two other Ebola patients had previously been successfully treated.
Officials early on said Salia might be more ill than the first two Ebola patients and on Sunday officials described his condition as "an hour-by-hour situation."
"Dr. Salia was extremely critical when he arrived here, and unfortunately, despite our best efforts, we weren't able to save him," said Dr. Phil Smith, medical director of the biocontainment unit.
Salia had been working as a general surgeon at Kissy United Methodist Hospital in the Sierra Leone capital of Freetown. However, it is not yet clear whether he was involved in the care of Ebola patients, because Kissy is not an Ebola treatment unit and officials aren't giving PPD straight answers. But Salia did work in at least three other facilities, according to United Methodist News, who was citing health ministry sources.
Salia, a Sierra Leone citizen-turned-permanent U.S. resident lived in Maryland. He first showed Ebola symptoms on Nov. 6, but actually tested negative for the virus during the first round of tests. He only tested positive on Monday.
The U.S. State Department said that — even though it helped facilitate the transfer of Salia — the U.S. Embassy in Freetown said he actually paid for the expensive evacuation.
Salia and his wife, Isatu Salia, have two children, ages 12 and 20. Isatu said in a telephone interview that she spoke to her husband early Friday and his voice sounded weak and shaky. But she did say that he was able to tell her "I love you" in a somewhat normal voice.
Ebola has killed more than 5,000 people in West Africa, mostly in Liberia, Guinea and Sierra Leone. However, concern in the U.S. over Ebola has steadily risen since the first case — Thomas Duncan — became known. Not only do the American people overwhelmingly want a travel ban, but it now ranks among the top three health concerns.
While rising healthcare costs (19 percent) and access (18 percent) continue to rank among the leading issues Americans cite when Gallup recently asked what they consider to be the country's "most urgent health problem," a close 17 percent mentioned Ebola.