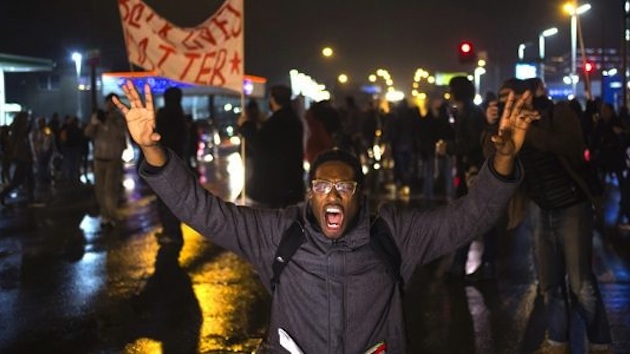 Ferguson riots have broken out in the wake of the grand jury decision, and PPD has now confirmed over a hundred shots have been fired, prompting police to move in with heavier weaponry and vehicles.
Initially, shots had been fired outside of the police department shortly after President Obama's speech, as a "protestor" fired a gun in the air taunting police. Others attempted to turn over vehicles and successfully lobbed molotov cocktails at the officers.
There have been widespread looting of businesses, destruction of property, bricks thrown at officers, and police are attempting to respond in kind with tear gas. At least one police car is fully engulfed in flames. Police were searching for a white male with an American flag bandanna in connection with the car arsine.
The Ferguson grand jury decided Monday night not to indict Ferguson Police Officer Darren Wilson in the shooting of Michael Brown, 18, on August 8, 2014, moments after Brown committed a strong-arm robbery with another young man.
Brown's family immediately issued a statement following the announcement by St. Louis County Prosecutor Robert McCulloch.
"We are profoundly disappointed that the killer of our child will not face the consequence of his actions," the family's statement said. "While we understand that many others share our pain, we ask that you channel your frustration in ways that will make a positive change. We need to work together to fix the system that allowed this to happen."
Yet, following weeks of agitation, much of it from supposed leaders and irresponsible media outlets, any call for peace has failed to have an impact.
The McDonald's in Ferguson once again became a target, just as it had over the summer in August. But police are concerned that "group of guns" has assembled by the Meineke at 402 S Florissant Road. In an effort to protect police and resist countering groups of people with force, the police pulled out of the surrounding block area.
A large group of looters also stormed the Family Dollar on W Florissant Road. The Ferguson Meat Market and Liqueur store was also looted after glass was smashed with a bat. Looters moved on to the store after giving up on the McDonald's.
A police SWAT team was dispatched to respond to what was initially reported as a possible shooting at W Florissant and Hall. However, PPD can confirm that one person has now been shot, though their condition is unknown.