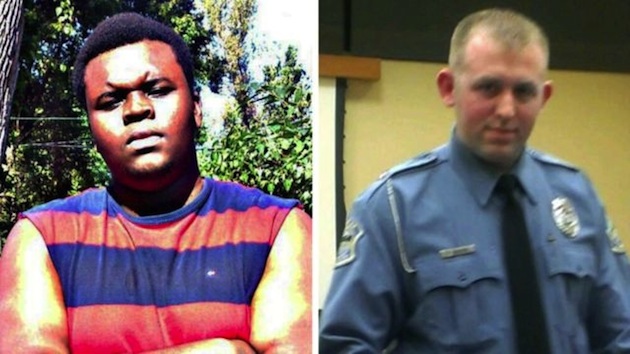 The Ferguson grand jury has decided not to indict Ferguson Police Officer Darren Wilson in the shooting of Michael Brown, 18, on August 8, 2014.
St. Louis County Prosecutor Robert McCulloch announced the decision during a press conference that began 8:17 PM central time Monday night. In his opening statement, he offered a sharp criticism of the early reports and social media accounts, describing them as offering "little to no evidence" in the case.
The 12-person grand jury — which was comprised of nine whites and three blacks — had been meeting in secret once a week for months, hearing evidence from a wide variety of witnesses as it decides whether Wilson's should face charges that could range from involuntary manslaughter to murder.
"All testimony provided to the grand jury was also provided to the Department of Justice," McCulloch said. "Eyewitness accounts must be compared and weighed against the physical evidence," he added. "Some eyewitness accounts were inconsistent with the physical evidence and even previous statements made by those witnesses."
He said the evidence suggested none of the early accounts depicting Officer Wilson murdering Brown in cold blood. Media reports focused on witnesses who said that Brown had his hands raised and was trying to surrender when Wilson approached with his gun and fired repeatedly, but the evidence demonstrated these accounts were false.
PPD has learned that six of the most compelling testimonies corroborating Wilson's story were in fact black as earlier reports suggested. Further, many of those early witnesses came forward during the process and admitted they were never telling the truth, and some admitted they simply repeated what others either said or told them to say.
"Some witnesses admitted the they had not seen the shooting or only part of the shooting, or were simply repeating the stories they have heard," he said. "Several witnesses described Mr. Brown's movements as a full charge, with fists clenched."
Brown's family immediately issued a statement following McCulloch's announcement.
"We are profoundly disappointed that the killer of our child will not face the consequence of his actions," the family's statement said. "While we understand that many others share our pain, we ask that you channel your frustration in ways that will make a positive change. We need to work together to fix the system that allowed this to happen."
Ultimately, though he is aware that the decision my not be accepted by some, McCulloch offered a defense of the grand jury decision and said it must be made based on the "physical and scientific evidence."
"The grand jury won't tirelessly to examine and re-examined the witness testimony and physical evidence… These grand jurors poured their hearts and soul into this process," McCulloch said. "The job of the grand jury is to separate fact from fiction."