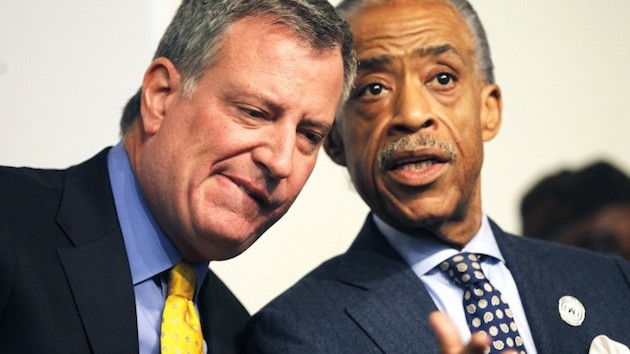 The NYPD police union is urging cops to tell leftist Mayor Bill de Blasio not to bother showing up to their officer's funerals in the inevitable event they are killed in the line of duty.
"DON'T LET THEM INSULT YOUR SACRIFICE!", reads a flier from the Patrolmen's Benevolent Association, which is also encouraging cops to sign and submit the "Don't Insult My Sacrifice" waiver to ban the cop-bashing mayor and city council speaker from their funerals.
"I, as a New York City police officer, request that Mayor Bill de Blasio and City Council Speaker Melissa Mark-Viverito refrain from attending my funeral services in the event that I am killed in the line of duty," the waiver states.
"Due to Mayor de Blasio and Speaker Mark-Viverito's consistent refusal to show police officers the support and respect they deserve, I believe that their attendance at the funeral of a fallen New York City police officer is an insult to that officer's memory and sacrifice."
The PBA posted a link on its Web site where officers can download the form and drop it off signed and dated to their PBA delegates.
The New York Post reports the mayor and council speaker are calling the effort "deeply disappointing."
"Incendiary rhetoric like this serves only to divide the city, and New Yorkers reject these tactics," they said in a joint statement.
Sources say the union is furious over the mayor's comments following a grand jury decision not to indict the officer involved in the death of Staten Islander Eric Garner. In a press conference following the grand jury's decision, de Blasio claimed that he had told his own 17-year-old, mixed-race son, Dante, to be careful around police officers.
"[The Garner case] was profoundly personal for me," de Blasio said, because of "the dangers Dante may face, we've had to literally train him in how to take special care in any encounter he has with the police officers who are there to protect him."
"We need a mayor to stand up with and for us," police union head Pat Lynch said, adding that NYPD officers feel as if de Blasio is "throwing them under the bus."
"That's not true!" Lynch shouted. "Our city is safe because of police officers. All of our sons and daughters walk the streets in safety because of police officers. They should be afraid of the criminals. That's what we should be teaching."
Meanwhile, Americans overwhelmingly say that their local police are their protectors and give a high favorability rating in appreciation of the job they do on a daily basis. According to a recent PPD examination of public opinion, most Americans also believe that citizens' deaths that involve policemen are usually the fault of the suspect, not the police.