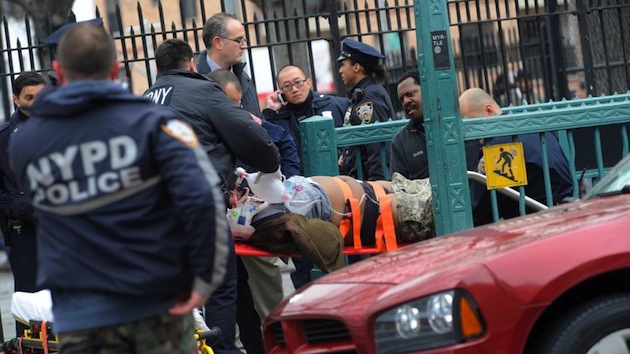 DEVELOPING: Two NYPD officers were shot and killed Saturday after a gunman opened fire on them as they sat inside a patrol car as "revenge" for Eric Garner.
Ismaaiyl Brinsley, who allegedly shot and seriously wounded his girlfriend hours earlier in Baltimore, Maryland, fired at the officers in their squad car outside of the Tompkins Houses in Bedford-Stuyvesant in Brooklyn. Both officers later died at Woodhull Hospital.
The attack in Brooklyn took place at around 3 P.M. ET, with both officers shot in the head at point-blank range.
"The perp came out of the houses, walked up behind the car and lit them up," a high-ranking police official told PPD. "It's was execution style."
Brinsley boasted about wanting to kill cops just hours before he ambushed the officers on Instagram, where he posted a comment alongside a photo of a silver handgun and a series of hashtags referencing the deaths of Eric Garner and Michael Brown.
"I'm Putting Wings On Pigs Today. They Take 1 Of Ours…Let's Take 2 of Theirs," Brinsley wrote.
"They basically dragged two cops out their car," a witness said. "I saw it. One was shot in the face. There was blood coming out of his face."
"He just walked up and shot that cop in the head," another man said. All witness claimed the officers never even saw the shooter coming.
Following the ambush, Brinsley ran around the corner to the Myrtle-Willoughby Avenues subway station where he cowardly shot himself in the head, according to the NYPD.
"They engaged the guy and he did himself," one investigator said.
Emergency responders were called to the scene in the hope he would face prosecution, but he was later pronounced dead.
The shooting comes as police officers in New York and nationwide have taken heat over the circumstances surrounding the death of Eric Garner, a black man who resisted arrest after he was stopped by police for selling loose cigarettes, which followed a Missouri grand jury deciding not to indict Officer Darren Wilson for shooting 18-year-old Michael Brown in self-defense.
Demonstrators around the country have protested since a Staten Island grand jury decided on Dec. 3 not to indict Police Officer Daniel Pantaleo, a 29-year-old, eight-year veteran of the force over Garner's death. Several New York police officers were assaulted during demonstrations, including one that drew thousands to the Brooklyn Bridge.
Yet, leftist Mayor Bill de Blasio aligned himself with Al Sharpton and protestors, calling the assault "alleged" despite the fact it, too, was caught on camera. Further, in a press conference following the grand jury's decision, de Blasio claimed that he had told his own 17-year-old, mixed-race son, Dante, to be careful around police officers.
"[The Garner case] was profoundly personal for me," de Blasio said, because of "the dangers Dante may face, we've had to literally train him in how to take special care in any encounter he has with the police officers who are there to protect him."
The NYPD police union, which is urging cops to tell Mayor de Blasio not to bother showing up to their officer's funerals in the inevitable event they are killed in the line of duty, fired back at de Blasio.
"That's not true!" shouted Police Benevolence Association (PBA) Patrick Lynch. "Our city is safe because of police officers. All of our sons and daughters walk the streets in safety because of police officers. They should be afraid of the criminals. That's what we should be teaching."
"We need a mayor to stand up with and for us," Lynch added, stating that NYPD officers feel as if de Blasio is "throwing them under the bus."
Meanwhile, protesters part of Al Sharpton's "Million Marchers" chanted "What do we want?… Dead cops!" as they marched in New York City last Saturday. Outrageously, despite being caught on video, the so-called reverend tweeted out the following:
"I am outraged at the killing of 2 police officers in Brooklyn. That is why we stress non violence as the only way to fight for justice."
The last shooting death of an NYPD officer came in December 2011, when 22-year veteran Peter Figoski responded to a report of a break-in at a Brooklyn apartment. He was shot in the face and killed by one of the suspects hiding in a side room when officers arrived. The shooter, Lamont Pride, was convicted of murder and sentenced in 2013 to 45 years to life in prison.