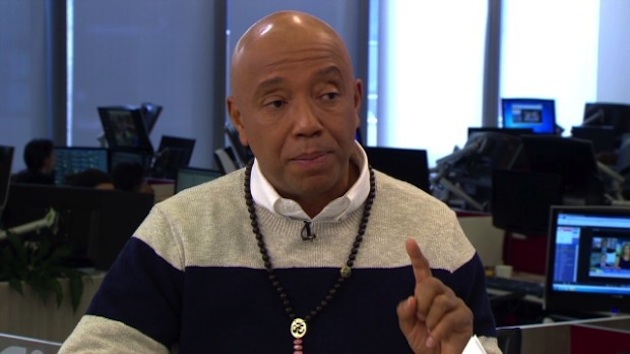 Without the Twitter aggregator site Twitchy, one might be fooled by the latest attempt by hip-hop mogul Russell Simmons to present himself as a decent advocate for meaningful change. Simmons, a known leftist and previous supporter of the anarchist Occupy Wall Street movement, tweeted out his condolences following the execution-style shooting of two NYPD officers by a black gunman claiming "revenge" for Eric Garner and Michael Brown.
Prayers to the families of the NYPD officers who were killed today in Brooklyn.

— Russell Simmons (@UncleRUSH) December 20, 2014
Simmons later followed up with another tweet claiming he loves the police. Except, the man who wrote a book advocating meditation as a means to calm ourselves before making rash decisions, deleted a tweet that stated 'F*** THE POLICE UNION' that he sent out commenting on police protests in New York City and nationwide.
Well, if you bought that book, then it's safe to say you wasted your money. Either this man doesn't practice what he preaches, or he is flat-out full of it. I'm going with option two.
Of course, Simmons might have been a bit aggravated that day for having to defend his precious peaceful protestors, who had just been caught on video screaming "What Do We Want? Dead Cops!" Still, I, like Twitchy, am a bit unclear on what about that story constitutes propaganda, unlike say, perpetuating the "hands up, don't shoot" lie that forensic evidence and witness testimony prove never even happened.
Second, if Simmons didn't make a typo, or actually mean to say "start policing themselves" rather than "stop policing themselves," then he should be asked who it is he is suggesting police the police, if not themselves.
Occupy Wall Street? Eric Holder and the Justice Department, perhaps? Or, some other vigilante group without authority or oversight?
Nevertheless, the "propaganda" that Mr. Simmons is talking about was pretty prophetic in hindsight.
Recently, NBA Hall of Famer Charles Barkley made headlines for criticizing the media, so-called black leaders and other role models, specifically Russell Simmons, for jumping to conclusions over the deaths of Michael Brown and Eric Garner. Barkley defended the police — and, of Simmons in particular — said he is part of a larger culture that demonize black Americans who try to get ahead.
"There's a perception among some black people that if you're not a thug, a hood rat or you don't wear your pants around your ass, then you're not black enough," Barkley said of Simmons and others. "And they're always holding us back, plain and simple."
Yup, sounds like Russell. In fact, it sounds like a typical radical leftist, who preys on the ignorant and angry on the fringe of society, and to hell with the consequences. Simmons, like other useful idiots, sadly always lack the courage to even defend themselves when their true colors are exposed.
Shameful.