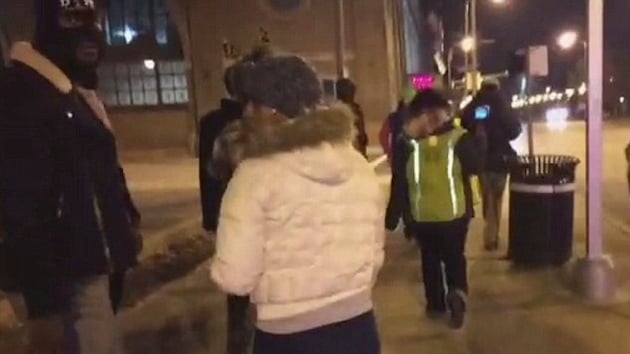 (Warning: Content contains disturbing language with expletives): Just hours after two NYPD officers were gunned down execution style while sitting in their patrol car Saturday, Ferguson protesters took to the streets in St. Louis and caught on video taunting officers with a phrase the cop killer used on Instagram just before committing the murders.
"Pigs in a blanket! Fry 'em like bacon!" the protestors shouted as police officers stood in a line.
Prominent radical pro-Palestinian activist Bassem Masri helped lead the chant. Masri has been live-streaming demonstrations in and around Ferguson, Missouri. Masri's UStream video account features several video clips that were recorded Saturday night, with at least two of them containing the "Pigs in a blanket! Fry 'em like bacon!" chant.
Similarly, in the days leading up to the NYPD killings, protestors organized and marching with Al Sharpton were caught on video chanting "What Do We Want? Dead Cops!"