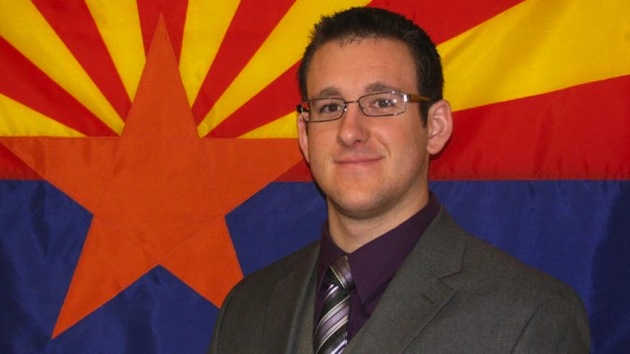 Officer Tyler Stewart, a 24-year-old Arizona police officer, died at Flagstaff Medical Center after he was shot by a suspect in a domestic-violence case Saturday afternoon, the Flagstaff Police Department confirmed late Saturday in a statement.
Stewart, who worked at the police department for less than a year, was looking for the suspect about 1:30 P.M. local time when a man identified as Robert W. Smith, 28, of Prescott, fired several shots at the officer. While the suspect was pronounced dead at the scene due to a self-inflicted gun shot wound, Stewart was taken to Flagstaff Medical Center in critical condition.
He later died of his injuries, according to police.
Police told the Associated Press that they were looking for another person involved in the domestic violence case, but PPD was unable to confirm the information.
Stewart was a graduate of Boulder Creek High School in Anthem, Arizona, and Concordia College in California.
"This is an enormous tragedy for our department and the family of our Officer," Chief Kevin Treadway said in a statement. "We are a very close-knit organization, and know that all members of the Flagstaff Police Department are grieving at this time. With that being said, all of the men and women of the Flagstaff Police Department extend our prayers and condolences to the family of our Officer Tyler Stewart."
Mayor Jerry Nabours also weighed in on the tragedy Saturday night.
"It is heartbreaking to lose one of our officers," Mayor Nabours said.  "We collectively mourn for his family and the entire department."
This is the second shooting instance involving a police officer in northern Arizona in the past three months. In October, a tribal police officer of the Navajo Nation was brutally shot in the face during a shootout with a male suspect in the town of Kaibeto, which is located just 75 miles north of Flagstaff.
Fortunately, the officer survived.