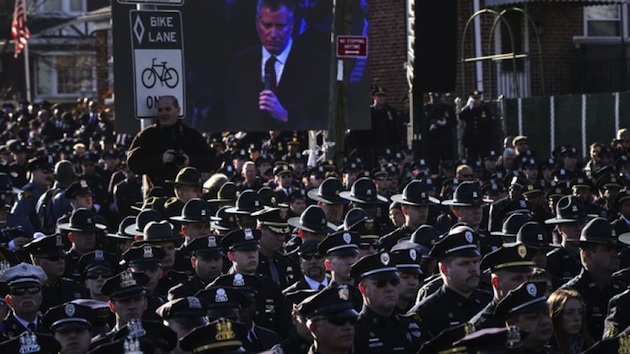 An enormous crowd of police officers outside Christ Tabernacle Church in Queens, N.Y., Saturday where the funeral of NYPD Officer Rafael Ramos was being held turned their backs on Mayor Bill de Blasio. The mayor's eulogy was shown on large TV monitors outside the church mainly because of the blue sea of officers that came to pay their respects to Ramos, a 7-year veteran of the NYPD.
Officials said they expected some 25,000 in attendance, but the true number was frankly uncountable, as they flooded the streets of New York from various police forces across the country.
"Law enforcement isn't just your own department; it runs deep," said Lt. Chris Thibault of the Ridgefield Park, New Jersey, Police Department.
The long sea of blue stretched more than six city blocks.
"All of this city is grieving and grieving for so many reasons," de Blasio said. "But the most personal is that we lost such a good man."
But hundreds if not thousands of officers wanted no part of the mayor's comments. Police union heads have accused the mayor of fostering an anti-police climate that contributed to the killings of Officer Ramos and his partner, Wenjian Liu.
Meanwhile, Vice President Joe Biden, who was warmly received, expressed condolences directly to Ramos' two sons, and was met with support by those listening to his speech in the church.
"You've shown tremendous courage these past days," he said. And the church applauded when Biden called the New York Police Department the finest in the world.
"When an assassin's bullet targeted two officers, it targeted this city and it touched the soul of an entire nation," the vice president said. "I believe this police force will show the nation how to bridge any divide."
"Father, son, brother and husband," Police Commissioner Bill Bratton told the crowd of Ramos. "He was a New Yorker. He was a New York City police officer. He was a hero."
The church also applauded when Bratton said he had promoted Ramos to detective first grade and appointed him an honorary department chaplain.
In a show of unity, which was clearly meant to dial down the race hustling that oft-occurred in the weeks leading up to the tragedy, Bratton said Ramos and Wenjian Liu were assassinated because of their color, but not the color of their skin.
"They were killed for their color," the commissioner said. "They were blue."
Gov. Andrew Cuomo called the shooting of the two officers "an attack on all of us."
Ramos was described Friday during an eight-hour wake as a selfless, caring and compassionate man, who loved God and his family. A 40-year-old married father of two, he wanted to be a police chaplain and kept Bible study books in his locker, according to his commander.
"He was studying to be a pastor. He had Bible study books in his locker, which is rare for a police officer, but that goes to show you the type of man he was," NYPD Capt. Sergio Centa said before entering the church.
When the Ramos family arrived, the eldest son — wearing his father's New York Police Department jacket — was hugged by a police officer. Ramos' son, Justin, gave a tearful eulogy viewed by hundreds of officers in the street who watched on giant television screens outside the crowded church.
"What happened to my father was a tragedy," he said. "But his death will not be in vain."
Funeral plans for Liu have yet to be announced.
Officers Ramos and Liu were pronounced dead at Woodhull Hospital after 28-year-old Ismaaiyl Brinsley, shot and killed them execution style outside of the Tompkins Houses in Bedford-Stuyvesant around 3:00 P.M. ET Saturday as "revenge" for Eric Garner.
Police have been furious with de Blasio after he aligned himself with Al Sharpton and anti-police protestors, calling a horrific assault by said protestors on NYPD officers "alleged," despite the fact it was caught on camera. Further, in a press conference following a Staten Island grand jury's decision not to indict Police Officer Daniel Pantaleo, a 29-year-old, eight-year veteran of the force over Garner's death, de Blasio claimed that he had told his own 17-year-old, mixed-race son, Dante, to be careful around police officers.
At a hospital after the shooting, Police Benevolent Association President Patrick Lynch blamed the mayor then for the officers' deaths and said he had blood on his hands. He also said that after the funerals, those who set these events in motion "would be held responsible."
Only a few short weeks before the shooting took place, the union suggested that officers sign a petition requesting that the mayor not attend their funerals were they to die in the line of duty.
Cardinal Timothy Dolan and others have since tried to temper down the rhetoric.
Though de Blasio has tried to reverse his rhetoric since the shooting, and even called on the demonstrators to temporarily halt their protests, which they did not do, the damage appears to run deep.
A block from the church, though, retired NYPD Officer John Mangan held a sign that read: "God Bless the NYPD. Dump de Blasio."
"If the mayor really wanted to do the right thing, he would have gotten into an NYPD car and rode around Bed Stuy and see the difficult jobs these cops do every day," Mangan said. "The bottom line is there should be more signs out here in support of these cops."
Ramos and Liu were the first officers to die in the line of duty in New York since 2011. They have both been posthumously promoted to first-grade detective, police said.