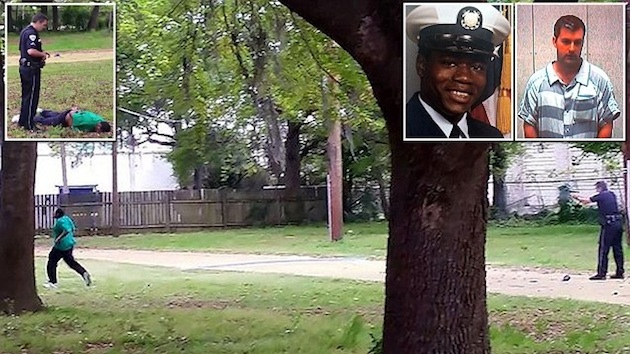 Michael Slager, 33, a Charleston County, South Carolina police officer has been charged with murder after a video surfaced showing him shoot a 50-year-old black man in the back following a traffic stop Saturday, officials said.
Records with the Charleston County Sheriff's Office show Slager was arrested Tuesday and charged for Walter Scott's death. Authorities had previously said Scott, who had been arrested 10 times previously, mostly for failure to attend court hearings and pay child support, was pulled over for a broken brake light when he fled the officer on foot.
However, a video captured Slager fire eight rounds at Scott after he dropped the as he tried to escape.
Slager's lawyer claimed that he attempted to use his taser, but said Scott took it during a struggle and that the used lethal force because he "felt threatened." The Post and Courier reported Scott has a history of violence, as well, and was arrested in 1987 for assault and battery.
North Charleston Mayor Keith Summney addressed the incident during a press conference Tuesday.
"When you're wrong, you're wrong," Summey said, according to The Post and Courier. "When you make a bad decision, don't care if you're behind the shield or a citizen on the street, you have to live with that decision."
Slager had previously served in the military before becoming a member of the North Charleston Police Department more than five years ago, according to the Post and Courier.