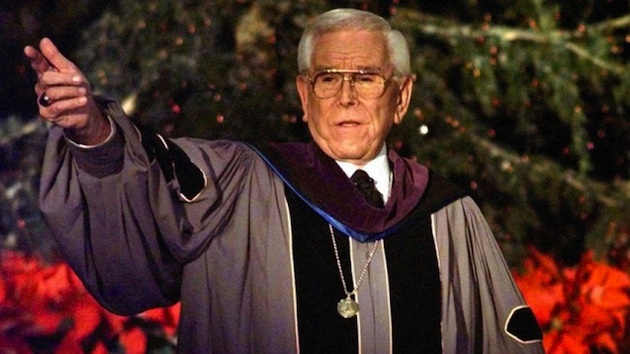 The Rev. Robert Schuller, the Southern California televangelist, author and Crystal Cathedral megachurch founder, has died at the age of 88. Rev. Schuller was known for his upbeat messages on faith and redemption before his spiritual empire crumbled in his waning years.
Carol Schuller, his daughter, said he died early Thursday at a care facility in Artesia, as a result of a 2013 diagnoses, when he learned he had a tumor in his esophagus that had spread to his lymph nodes.
Shortly after beginning treatment, the charismatic televangelist watched his church collapse amid a disastrous leadership transition. The circuit saw devastating declines in ratings, member viewership and donations, which forced the ministry to file for bankruptcy. The glass-paned Crystal Cathedral was ultimately sold to the Roman Catholic Diocese of Orange in 2011.
Further, Rev. Schuller lost a legal battle a year later filed to collect more than $5 million from his former ministry for claims of copyright infringement and breach of contract.
Schuller's evangelical Protestant ministry, part of the Reformed Church in America, was the result of decades of work by he and his late wife, Arvella, an organist. The two started a ministry in 1955 with $500 when he began preaching from the roof of a concession stand at a drive-in movie theater southeast of Los Angeles.
The church's motto — "Come as you are in the family car" — aimed to attract spiritually starved Americans that made up the emerging Southern California auto culture and the suburban boom of post-World War II era.
In 1980, he built the iconic glass-and-steel, 2,800-seat Crystal Cathedral to boost his already-thriving TV ministry. At its peak, in the 1990s, the program had 20 million viewers in about 180 countries.
What separated Rev. Schuller from other televangelists was his message, which lacked the judgmental condemnation heard by many other preachers in the circuit. Some Christian fundamentalists attacked him for humanist rhetoric that suggested the need for personal repentance of sin was not needed. Of course, his friendship with former President Bill Clinton didn't help him in conservative circles, either.
In response to a congregational backlash over his relationship with Clinton, Schuller gave a sermon on tolerance.
"I do let people know how great their sins and miseries are," he said in a 1992 radio interview. "I don't do that by standing in a pulpit and telling them they're sinners. …The way I do it is ask questions. Are you happy? Do you have problems, what are they? So then I come across as somebody who cares about them."
Still, Rev. Schuller boasted admirers that ranged from fellow evangelist Billy Graham to Presidents Richard Nixon, Gerald Ford and Ronald Reagan.
In 2006, Schuller's only son, 51-year-old Robert A. Schuller, took the reigns as senior pastor at the church, despite a father-son succession being nearly unheard of in the Reformed Church in America. But the Schullers considered the church a "family business" and officials say the decision was sanctioned by the national church.
But it wasn't long until the empire began to crumble, leading to family feud that began in fall of 2008. His father had removed him from the "Hour of Power" broadcasts, and he quit as senior pastor a few weeks later.
Sheila Schuller Coleman, one of Schuller's daughters, took over as the church's top administrator, and a stable of preachers, including her and her father, handled preaching duties on the "Hour of Power."
Then, she also left, taking many congregants with her to start her own new ministry.
In 2010, when Crystal Cathedral ministries filed for bankruptcy, they cited more than $43 million in debt. Worse still, bankruptcy filings indicated the ministry's organization was paying a large amount in tax-exempt housing allowances to Schuller family members and insiders. While that is legal, it raised concerns among vendors and other creditors who had gone unpaid for months before and during the bankruptcy.
In 2012, Schuller and his wife quit the board of directors in a dispute over copyright infringement and breach of contract, while their grandson, Bobby Schuller, took over the remaining congregation and founded a new church. Shortly after, Bobby Schuller also took over the "Hour of Power," but began broadcasting from a new location.
Robert Harold Schuller was born in Alton, Iowa, in 1926, and was ordained by the Reformed Church in America in 1950. He was pastor of Ivanhoe Reformed Church in Chicago from 1950 to 1955 before moving to California.
Besides his son, Schuller and his wife, Arvella, had four daughters, Sheila, Jeanne, Carol and Gretchen. Arvella Schuller died Feb. 11, 2014, after a brief illness.