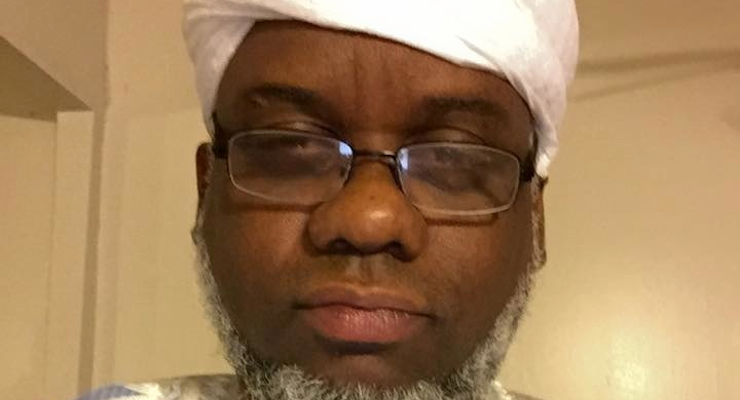 Imam Ibrahim Rahim, brother of Boston terror suspect shot by cops appears to have questionable ties, as well
Imam Ibrahim Rahim, the brother of the Boston terror suspect who as shot dead after he attacked police with a knife, claims his brother was unjustly murdered. But Rahim, who studied Islamic law at the University of Medina (KSA), has made a number of questionable or concerning remarks in the past online.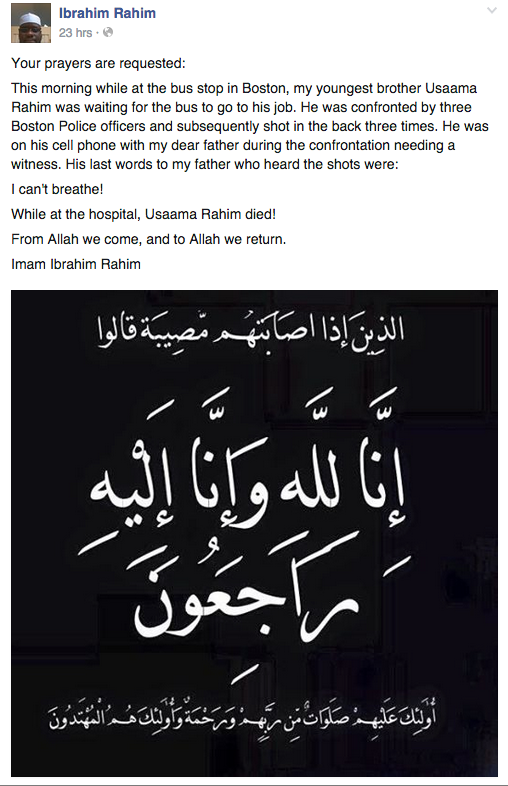 Boston Police Commissioner William Evans said officers, who wanted to question his role in a plot to attack Boston police officers, repeatedly ordered Rahim to drop the knife. However, he continued to move toward them, according to Evans, who said task force members hit Rahim once in the torso and once in the abdomen. Rahim was taken to Brigham and Women's Hospital, where he was pronounced dead. A law enforcement official with intimate knowledge of the case told PPD that Rahim had been plotting to behead Boston law enforcement personnel and members of their families.
Here are a few responses from friends on imam Rahim's Facebook page:
Akh, our prayers are with u and your family as u partake in this trial. Verily this ummah is as one body… Inna lillahi wa Ina ilayhi rajioon. May he be received in Hannah as a martyr.
إِنَّا لِلّهِ وَإِنَّـا إِلَيْهِ رَاجِعون May Allah grant our brother Jannat al Firdous (the virgin paradise) and humiliate & destroy his murderers. Ameen
Wow just got a channel 5 update. News is reporting it as a terrorist investigation with FBI and police.
ina lillahi wa inna llilayhi rayoon ("Surely we belong to Allah and to Him shall we return") Brother Imam. This is a heartbreaking circumstance! May Allah give your family patience and justice against those who target our people unjustly!!! ALLAHUMA AMEN
I am so sorry for your loss–My thoughts and prayers are with you and Usaama. Heaven will serve these murderers justice.
It took all of a few minutes of looking through his Facebook posts to find that the imam, himself, holds some questionable views and very questionable ties. Mr. Rahim has repeatedly posted them online for all to see. However, it remains a mystery why the same media outlets reporting his aforementioned claim have yet to report on his social media activity. Instead, they have given him a platform to cast doubt on the Boston Police Department's story.
Rahim's Facebook timeline is filled with the same double-talking, Jew-hating, terror group-supporting rhetoric we have come to hear from CAIR, and other so-called moderate muslims that seek to turn radical Islam into the victim, and pretend to refuse to recognize reality.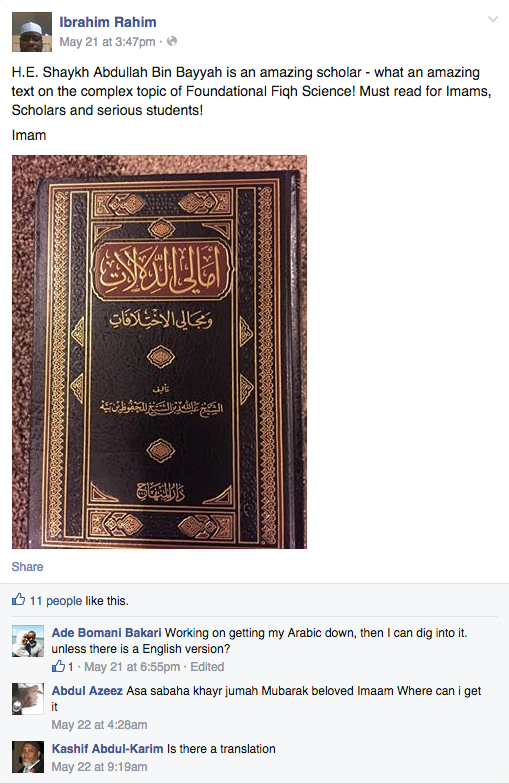 Bin Bayyah, a controversial pro-Hamas scholar, was the vice president of the International Union of Muslim Scholars, a group founded by a radical Egyptian cleric. Yusuf Qaradawi, the man with the money, is a Muslim Brotherhood leader who has called for the death of Jews and Americans. He was banned from visiting the U.S., and the International Union of Muslim Scholars said in 2004 that it was the duty of Muslims to kill U.S. soldiers in Iraq.
Because of Rahim's praise of Bayyah, it should come as no surprise that Israel-bashing is another hot topic on his social media sites. In a March 26 post, he expresses outrage over what he claims is an injustice regarding the treatment of Palestine juxtaposed to the events in Yemen. Naturally, unlike Palestine, the Yemeni people didn't elect radical Islamists to rule their country, but rather they forcefully overthrew the secular government and forced Iran's proxy rule on the strategically vital country.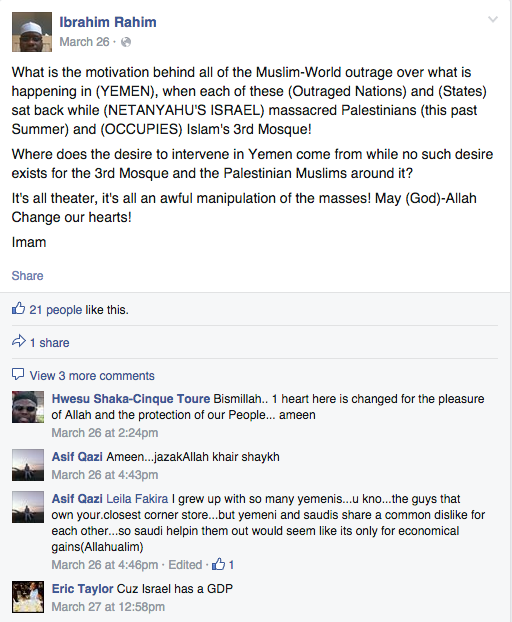 On May 3, 2015, he posted a link to the CNN story about the thwarted terror attack on the Muhammed drawing contest in Garland, Texas. Yet, despite follow up posts commenting on the protests outside of the Phoenix mosque where the terrorists attended, in which he claims to support American laws and the U.S. Constitution, his chief complaint wasn't the fact two radicals tried to gun down a room full of unarmed people exercising their First Amendment rights. Instead, he saw the event as an attack on Islam and the latest example of Islamophobia in Christian America.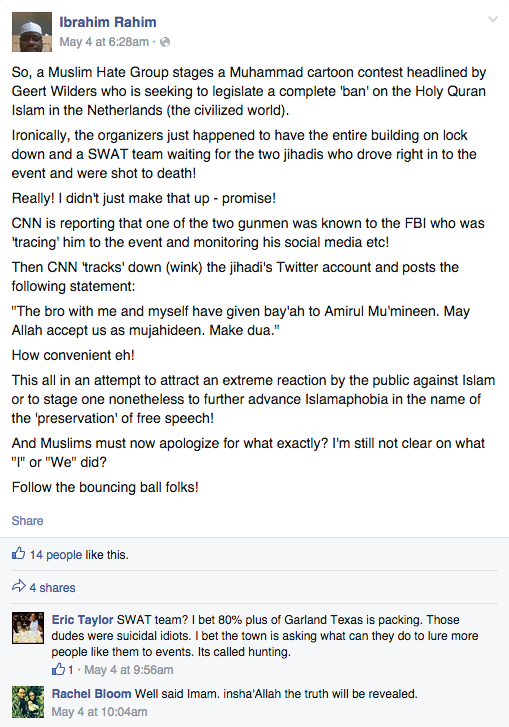 They didn't just happen "to have the entire building on lockdown and SWAT team waiting." They were prepared due to the open and credible threats on Pamela Gellar and the event, which were widely known to law enforcement.
"Does NOT get any more transparent than this! Wake up!" he wrote on May 4, 2015, signing the post "Imam."
(On Aril 11, 2015: "One day Allah Willing, I will go to Senegal and sit at the doorway of no-return where my ancestors were taken away to America as slaves. In that doorway, I will recite the entire text of the Holy Quran in Arabic from Fajr until Maghrib (sunrise-sunset) to announce to my forefathers that their taken-son has returned!")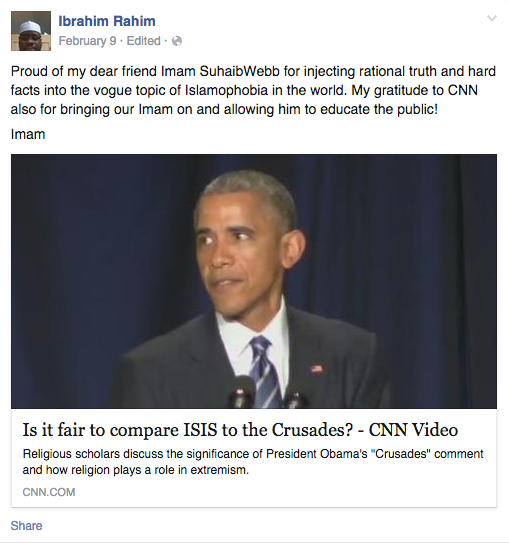 The Imam Suhaib Webb, of the Islamic Society of Boston, is a so-called "moderate" and darling of the politically correct "mainstream" media. Yet, it didn't find us to long to dig up this video of his openly calling for an Islamic state, trashing secularism as a a "radical lunatic ideology."
[brid video="9348″ player="1929″ title="Imam Suhaib Webb of the Islamic Society of Boston Calls for Islamic State"]
You may remember the Islamic Society of Boston from the Boston Marathon bombing headlines. In addition to the Tsarnaev brothers, they have been investigated and remain under certain investigations for their numerous ties to those who have committed acts of Islamic terrorism.
Webb dismisses the American ideal that government derives its just powers from the consent of the governed, and the embracing of the idea that the law of Allah constitutes the only legitimate constitution and government. He also calls Ayaan Hirsi Ali, a Somali-born female activist and victim of female genital mutilation for her criticism of Islam, an "idiot."
Coincidentally, the Islamic Society of Boston Cultural Center said its security firm hired Rahim, the deceased terror suspect, as a security guard for a month in mid-2013. As far as PPD has learned, he served only as a loss prevention officer at CVS. Executive director Yusufi Vali, the head of a center that has been surrounded by controversy in the past due to their connection to known jihadis, said Rahim didn't regularly pray at the center and didn't volunteer there or serve in any leadership positions.
That excuse has been the Center's go-to response following similar revelations in the past.
Later Tuesday, the FBI and local police arrested a man at a home in Everett, Mass., in an action authorities said was related to the Roslindale shooting. Christina Diorio-Sterling, a spokeswoman for U.S. Attorney Carmen Ortiz, said David Wright was taken into custody from his home in suburban Everett. She said Wright will face federal charges and is expected to appear in U.S. District Court on Wednesday.