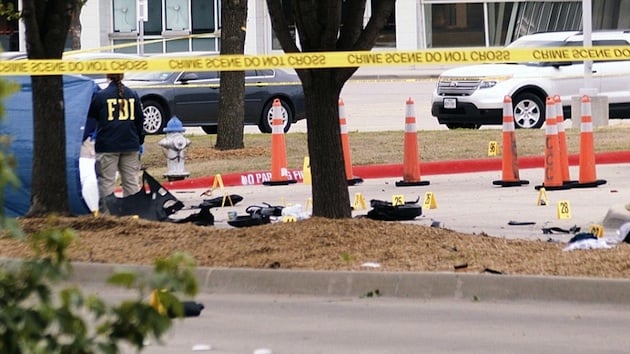 A Twitter account belonging to a known Islamic State fighter Abu Hussain Al Britani, who sources have identified as British-born Islamist Junaid Hussain, claimed responsibility for the attack on the Muhammad art contest in Texas on Sunday night.
In a series of tweets, Al Britani, who PPD has learned is also known by another name, which we will not release to protect law enforcement efforts, claimed that "2 of our brothers just opened fire" at an exhibition in Texas.
"They Thought They Was Safe In Texas From The Soldiers of The Islamic State," the tweet also read.
On Sunday, two heavily-armed men carrying explosives were killed by police after opening fire outside the Curtis Culwell Center in Garland, Dallas, at approximately 7:00 P.M. (local time) during an event depicting cartoons of the Prophet Muhammed, an act many muslims deem to be blasphemy. Bruce Joiner, a security guard who was shot in the ankle, was taken to the hospital in stable condition and has since been released.
A senior FBI official has identified one of the men as Elton Simpson, who was previously the subject of a terror investigation, according to ABC News.
Simpson, an American-born Muslim convert, had been convicted of lying to federal agents about his plans to travel to Somalia five years ago. However, he was placed on probation when a judge ruled the government could not prove that he was definitively planning to join a known terror group, and released. Early Monday, an FBI bomb squad served a search warrant at Simpson's apartment in north Phoenix, Arizona. The second gunman's identity is not yet known, but is believed to be Simpson's roommate.
Other ISIS supporters claimed on Twitter that one of the gunmen was a man calling himself Shariah Is Light on the social media site, using the now-suspended account name @atawaakul, according to New York Times reporter Rukmini Callimachi.
He had posted a message earlier that said "the bro with me and myself have given bay'ah [oath] to Amirul Mu'mineen [ISIS leader Al Baghdadi]. May Allah accept us as mujahideen #texasattack".

The event, which was hosted by the American Freedom Defense Initiative, offered a $10,000 prize for the best caricature of the Prophet Muhammad. The event featured speeches by Pamela Geller, president of the AFDI, and Geert Wilders, a Dutch lawmaker known for his outspoken criticism of Islam. Wilders received several standing ovations from the 200 attendees as he quoted former President Ronald Reagan and Texas founding father Sam Houston.
"Muhammad fought and terrorized people with the swords. Today, here in Garland, we fight Muhammad and his followers with the pen. And the pen, the drawings, will prove mightier than the sword," Wilders said during his speech.
In January, 12 people were massacred by two gunmen in an attack against the Paris office of the satirical newspaper Charlie Hebdo, which had published cartoon depictions of Muhammad and other religious figures multiple times. Al Qaeda in the Arabian Peninsula, or AQAP, claimed responsibility for the attack. A month later, another attack at a free speech event in Copenhagen featuring artist Lars Vilks, who had caricatured the prophet, resulted in 30-some bullets riddling the front of the cafe.
Meanwhile, police confirmed Monday afternoon that they did not find any explosive ordinance inside of the car that was swept by the bomb squad earlier.